Donald Trump using Adolf Hitler's 'Mein Kampf' playbook, says world expert on Nazi leader
President's 'views come out of a playbook written in German' says author — 'the playbook is Mein Kampf'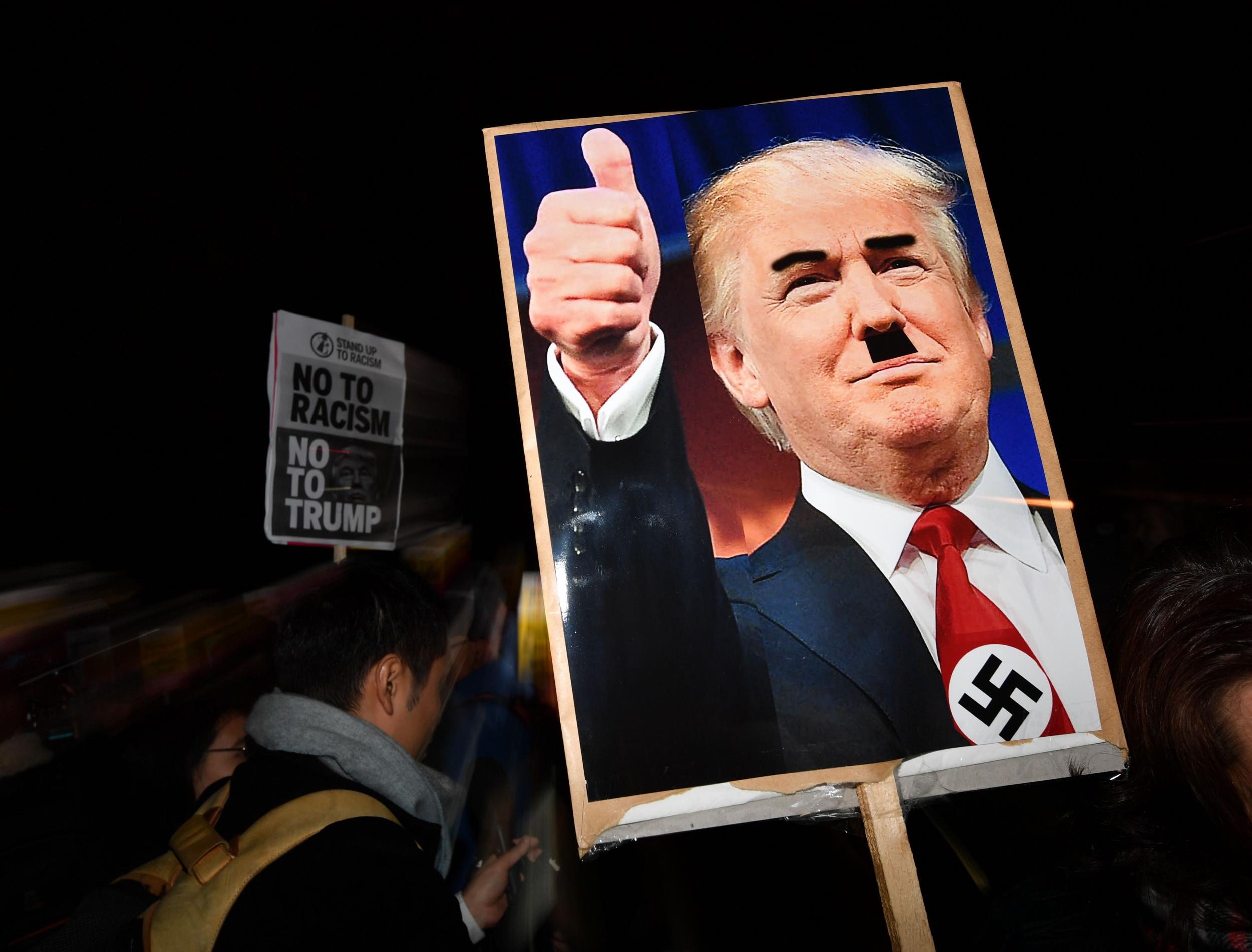 A leading expert on the Nazi party has said there are similarities between Donald Trump and Adolf Hitler.
Both men "bluffed" their way into power, confounding an establishment that did not know what to do but normalise them, according to author Ron Rosenbaum.
The Adolf Hitler biographer said he had refused to compare Mr Trump to the Nazi leader during the campaign period for fear of trivialising genocide, but after the election things changed.
Trump calls leak "fake news" and "something that Nazi Germany would have done"
"Now Trump and his minions are in the driver's seat, attempting to pose as respectable participants in American politics, when their views come out of a playbook written in German," said Mr Rosenbaum, who wrote Explaining Hitler: The Search for the Origins of His Evil.
"The playbook is Mein Kampf."
In an article for the Los Angeles Review of Books, Mr Rosenbaum offers a brief historical look at the rise of the Nazi party, emphasising how Hitler targeted one of the only German newspapers to continually investigate and expose him.
The Munich Post was first ransacked by Nazis in 1923, and was eventually closed down by the party when Hitler came to power in 1933. Many of the local paper's journalists were disappeared or sent to Dachau concentration camp under Nazi rule.
In contrast, other newspapers, and virtually all politicians, did not know how to handle Hitler, and consequently failed to recognise the extent to which he was a threat, or to meet the need to actively oppose him.
"Hitler used the tactics of bluff masterfully, at times giving the impression of being a feckless Chaplinesque clown, at other times a sleeping serpent, at others yet a trustworthy statesman," Mr Rosenbaum said.
"The Weimar establishment didn't know what to do, so they pretended this was normal. They 'normalised' him."
As part of this normalisation — a phenomenon Mr Rosenbaum said also happened with Mr Trump — Hitler and the Nazi party were allowed back onto electoral lists — in an act of "democracy destroying itself democratically".
"Hitler's method was to lie until he got what he wanted, by which point it was too late," Mr Rosenbaum said, adding there is no comparison between Hitler and Mr Trump in terms of scale. But, he said, it was important to see that, like Hitler, Mr Trump is "defining mendacity down" by normalising lies and lowering expectations of truthfulness.
"While marchers and the courts have put up a fight after the Muslim ban, each new act, each new lie, accepted by default, seems less outrageous," Mr Rosenbaum said. "Let's call it what it is: defining mendacity down."
The author continued with a caution: "Trump's outrageous conduct and shamelessly lying mouth seemed so ridiculous we wouldn't have to take him seriously. Until we did."
Citing a conversation with Hitler biographer Alan Bullock, Mr Rosenbaum suggested the Nazi might not even have believed in his own anti-Semitism, and could have "just used the Jew-hatred to advance his cause with the nitwit thug segment of the German people".
Calling Hitler a "mountebank" - a con man, he compared his behaviour to how "Trump appealed to his nitwit thug racist, anti-Semite followers", adding "this is the comparison I'd been seeking".
A Day That Shook The World: Hitler elected German Chancellor
Show all 3
Mr Rosenbaum continued: "He saw that this tactic of playing the fool, the Chaplinesque clown, had worked over and over again, worked like a charm. It kept the West off balance. They consistently underestimated him and were divided over his plans"
"Cut to the current election. We had heard allegations that Trump kept Hitler's speeches by his bedside, but somehow we normalised that.
"We didn't take him seriously because of all the outrageous, clownish acts and gaffes we thought would cause him to drop out of the race.
"Except these gaffes were designed to distract. This was his secret strategy, the essence of his success — you can't take a stand against Trump because you don't know where Trump is standing.
"You can't find him guilty of evil, you can't find him at all. And the tactics worked. Trump was not taken seriously, which allowed him to slip by the normal standards for an American candidate. The mountebank won. Again."
Join our commenting forum
Join thought-provoking conversations, follow other Independent readers and see their replies