African American women 'ordered off Napa Valley Wine Train' for #LaughingWhileBlack
The company has since refunded their money but the women want a public apology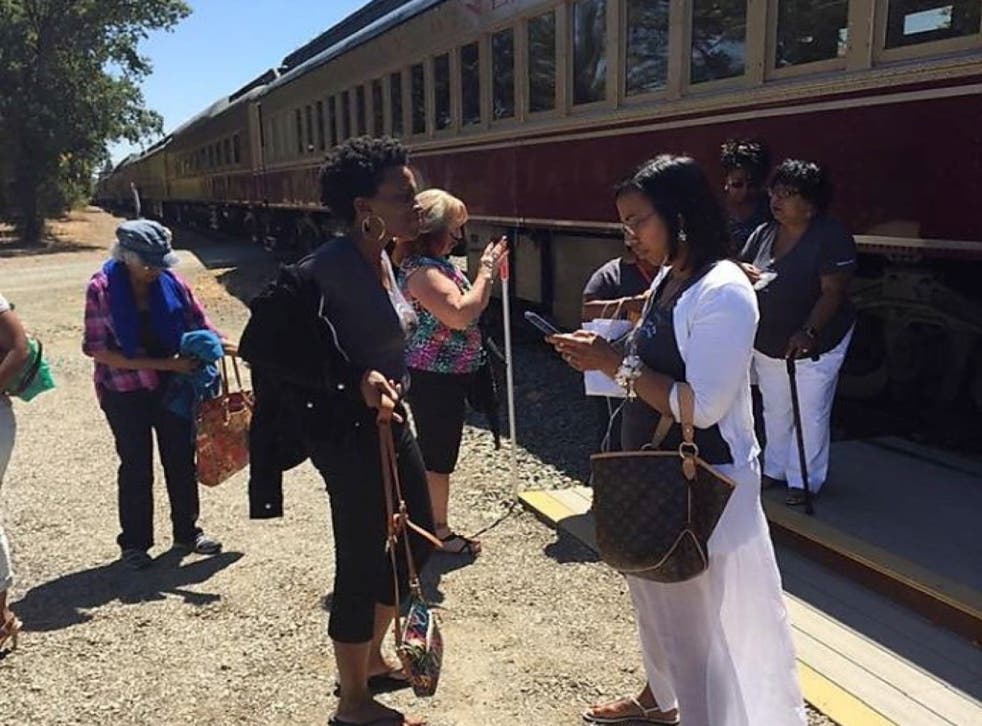 They may have been, by her own admission, a little rambunctious.
But Lisa Johnson is not so sure that she and ten of her female friends would have been asked to get off the Napa Valley Wine Train if they had been white.
At the weekend, Ms Johnson endured what they said was a humiliating experience after forced to get off the train for allegedly laughing and talking too loudly.
Sfgate.com reported that the women posted online images and accounts of what happened to them, sparking the hashtag #LaughingWhileBlack.
"It was humiliating. I'm really offended to be quite honest," said 47-year-old Ms Johnson.
"I felt like it was a racist attack on us. I feel like we were being singled out."
In a statement Sunday, Napa Valley Wine Train spokeswoman Kira Devitt said the company "received complaints from several parties in the same car and after three attempts from staff, requesting that the group keep the noise to an acceptable level, they were removed from the train and offered transportation back to the station in Napa."
The company posted its own take on the incident on its Facebook page but it has since been taken down.
The incident began when Ms Johnson and her book club, the Sisters on the Reading Edge, embarked around 11am for their annual trip through the celebrated wine country.
The women, all wearing matching T-shirts, were all seated in the same car in adjacent tables and seats. They and the other passengers on the sold-out train were ordering tastings and glasses of wine as they rode the 18-mile stretch.
After a short time, a manager approached them and asked them to keep down the noise, the website reported.
"The train is set up to be with your friends, to drink wine and have a good time," Johnson said. "We were thinking, 'Who are we offending?'"
When the train pulled into the St. Helena station, the group had to do the "walk of shame" as they were escorted past passengers on the six other cars, Ms Johnson said.
At the station, the group was met by officers from the Napa Valley Railroad and St. Helena police departments.
Chief Jeff Hullquist of the Napa Valley Railroad Police Department said: "When someone is removed from a train, they have to be dropped off at a station, and our policy is if someone is let off the train we'll stand by. We keep them safe until someone can get them."
Register for free to continue reading
Registration is a free and easy way to support our truly independent journalism
By registering, you will also enjoy limited access to Premium articles, exclusive newsletters, commenting, and virtual events with our leading journalists
Already have an account? sign in