Newspaper documents 'everything that happened in Sweden last night' following Donald Trump comments
Aftonbladet put together a helpful guide for those left puzzled by the President's references to terrorist attacks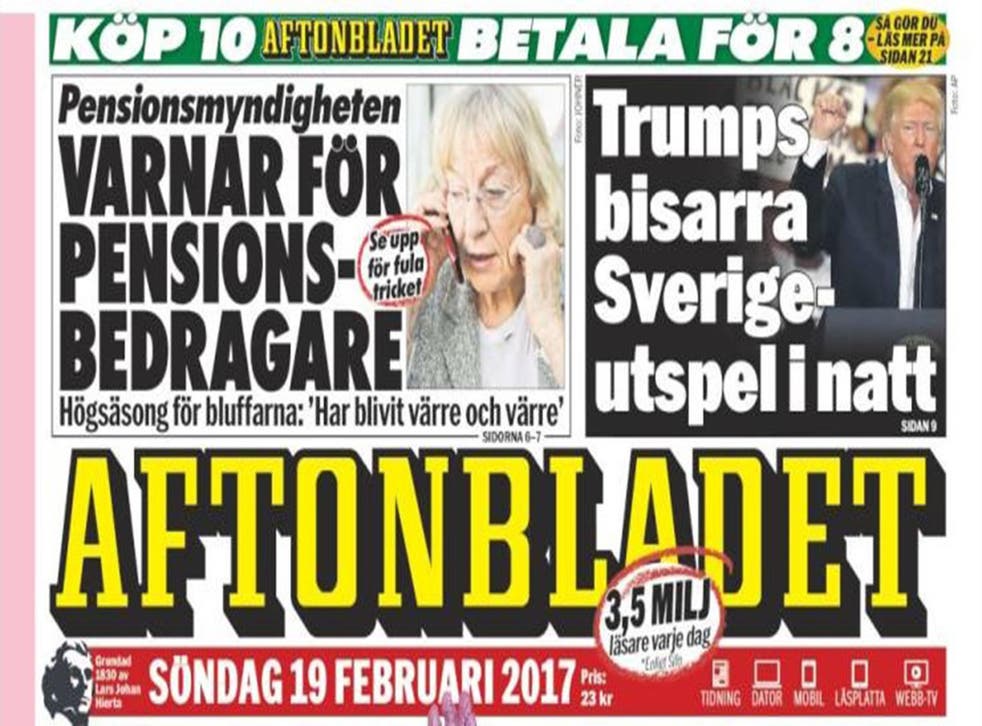 A newspaper has documented "everything that happened in Sweden last night" in a bid to solve the mystery of what President Donald Trump might have meant when he referred to an alleged terrorist incident in the country involving migrants.
Mr Trump left journalists, officials and the public scratching their heads at a rally in Florida on Saturday when he referred to terrorist attacks in Nice, Paris and Brussels – and in the same sentence, pointed to an unspecified incident in Sweden.
"You look at what happened last night in Sweden," he said.
Donald Trump: Sweden baffled by reference to unknown terror incident
He has since taken to Twitter to claim he was not referring to a specific incident but to a Fox News story broadcast the previous evening – but not before the newspaper Aftonbladet went to the trouble of writing an article explaining "what happened in Sweden Friday night".
• 3:24 PM (local time): A man set himself on fire at Sergels torg, a plaza in central Stockholm. He was taken to hospital with severe burns. There is so far no information on his motives but the intelligence service is not part of the investigation.
• 6:42 PM: The singer Owe Thörnqvist had some technical problems during rehearsal for the singing competition "Melodifestivalen". (However, the 87 year old singer still managed to secure victory the very next day.)
• 8:23 PM: A man died in hospital after an accident in the workplace earlier that day in the city of Borås.
• 8:46 PM: Due to harsh weather in the northern parts of Sweden the road E10 was closed between Katterjåkk and Riksgränsen. Due to strong winds and snow in the region the Met office also issued an avalanche warning.
• 12:17 AM: Police officers chased a fleeing Peugeot through central parts of Stockholm. The pursuit ended in police officers ramming the suspect at Engelbrektsgatan. The driver is now accused of driving under the influence, traffic violation and car theft.
And in lighter news, according to the paper:
11:23 AM: Ok, let's not be fake news, this story took place in the autumn, but was reported Friday before lunch and we thought you would like it. A wooden moose got the attention of a lovesick moose bull. It all happened in 79 year old Ove Lindqvist's garden in Byske outside Skellefteå, northern Sweden. "I thought it was going to start a fight, instead it humped the wooden moose thrice", he said.
The newspaper put together its helpful guide following frenzied speculation on twitter as to what Mr Trump could have been referring to, with some users suggesting he might have meant herds of migrant reindeer crossing the border.
Mr Trump claims he was referring to a Fox News story that Sweden is "covering up" migrant rape and violent crime for the sake of "humanitarianism".
Join our new commenting forum
Join thought-provoking conversations, follow other Independent readers and see their replies