Alabama congressman says Muslims are trying to 'kill every homosexual in America'
Republican Mo Brooks argued that Muslims are fundamentally homophobic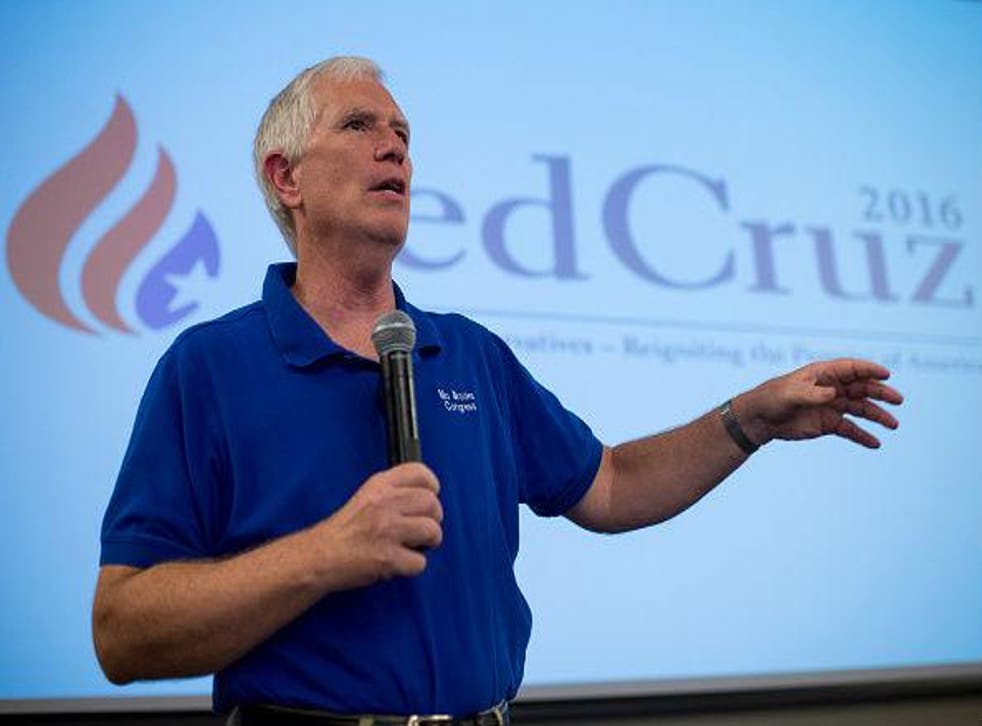 An elected official in Alabama said that if Muslims "had their way" they would "kill every homosexual in America".
Speaking on the Matt & Aunie show on WAPI radio in the wake of a mass shooting in a gay nightclub in Orlando, congressman Mo Brooks was asked why "progressives" are "running away from the reality" that anti-gay sentiment is "mainstream Muslim thought".
He responded that the Democrats are "counting votes" amongst the Muslim community which is "growing in political power".
"On the one hand, [Democrats are] trying to appeal to the gay community, but, on the other hand, they're trying to also appeal to the Muslim community, which, if it had its way, would kill every homosexual in the United States of America," he said.
Mr Brooks insisted that Muslims believe they are killing gay people "out of compassion".
Radio host Matt Murphy said that being gay was "punishable by death" in Saudi Arabia and that while "entire nations" are homophobic, he could not think of any "mainstream Christians" that would wish to kill gay people.
A study found that 42 per cent of American Muslims support same-sex marriage, according to a PRRI poll in April 2015.
In pictures: The victims of the Orlando shooting

Show all 44
Pro-LGBT thought is lower among other religions in the US. Only 28 per cent of white evangelical protestants and 27 per cent of Mormons support the same freedoms, as shown by the study.
Mr Brooks argued that the democrats' wish to ban guns after Orlando was a "distraction" from the root cause - what is prompting lone terrorists to kill people - and that it was a "mind-boggling challenge" to convince Muslims that killing gay people was a "false doctrine".
Nihad Awad, the nation director of the largest advocacy group for American Muslims, the Council on American-Islamic Relations, said that he strongly condemned the killing by a 29-year-old shooter who pledged his allegiance to Isis.
"For years, the LGBTQIA community stood shoulder-to-shoulder with the Muslim community as we have faced hate crimes, bigotry, marginalization and discrimination," he wrote in TIME. "Today, we stand firmly and resolutely to declare that this support goes both ways; that we are there for all communities who are the victims of violence and persecution in our country."
His condemnation was joined by many other prominent Muslim leaders in the US.
One ally of Mr Brooks, senator Jeff Sessions, said in a statement post-Orlando that "[…] we must face the uncomfortable reality that not only are immigrants from Muslim-majority countries coming to the United States, radicalizing, and attempting to engage in acts of terrorism, such as in Boston and Chattanooga; but also, their first-generation American children are susceptible to the toxic radicalization of terrorist organizations."
Mr Books has previously demanded that president Obama withdraw the national directive to let transgender people use the bathroom that assigns with their natural gender.
The congressman is also against proposals to close Cuba-based prison Guantanamo Bay, and has claimed the US needs to reform its immigration program to prevent Americans from being "laid off only to be replaced by cheaper foreign labour".
Register for free to continue reading
Registration is a free and easy way to support our truly independent journalism
By registering, you will also enjoy limited access to Premium articles, exclusive newsletters, commenting, and virtual events with our leading journalists
Already have an account? sign in
Register for free to continue reading
Registration is a free and easy way to support our truly independent journalism
By registering, you will also enjoy limited access to Premium articles, exclusive newsletters, commenting, and virtual events with our leading journalists
Already have an account? sign in
Join our new commenting forum
Join thought-provoking conversations, follow other Independent readers and see their replies