Adult actor claims Donald Trump tried to convince her to 'have some fun' with him and another porn star in 2006
'She's with Donald and I can hear him, and he's talking through the phone to me saying, "Oh come on Alana, let's have some fun! Let's have some fun!"'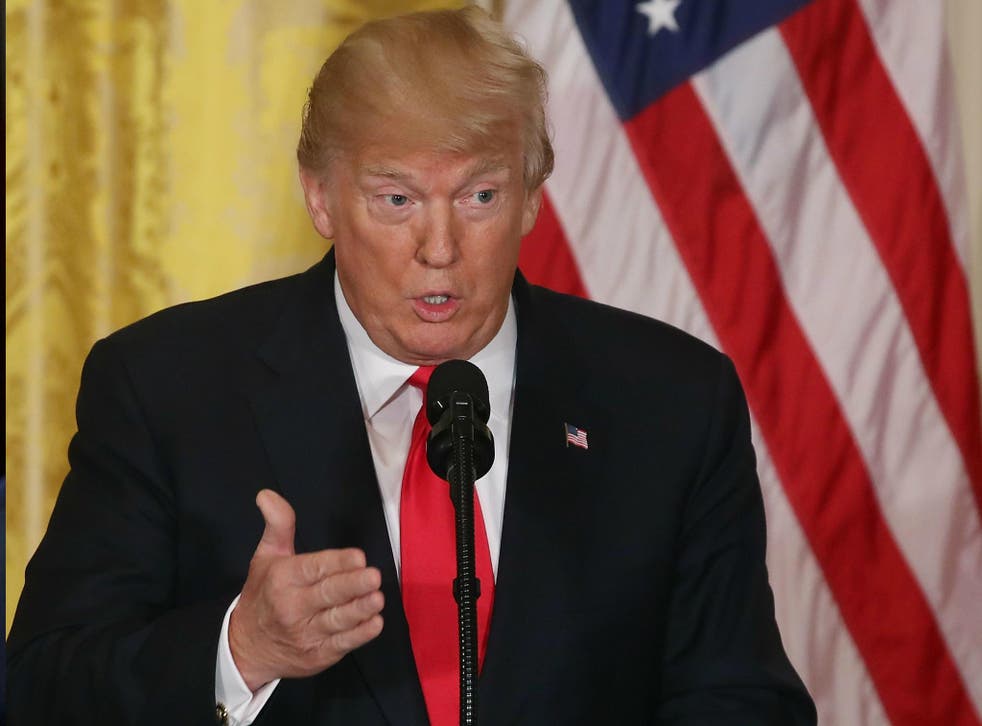 An American adult actor has claimed Donald Trump tried to convince her to "have some fun" with him and another porn star.
Alana Evans said she met the future US president when staying near the July 2006 American Century Golf Championship in Nevada.
Ms Evans, who was inducted into Adult Video News' Hall of Fame in 2015, said she ran into her close friend Stephanie Clifford, who performs under the stage name "Stormy Daniels".
According to Ms Evans, Ms Clifford asked if she wanted to come and spend time with her and Mr Trump in the evening, but she declined.
"Stormy calls me four or five times, by the last two phone calls she's with Donald [Trump] and I can hear him, and he's talking through the phone to me saying, 'Oh come on Alana, let's have some fun! Let's have some fun! Come to the party, we're waiting for you'," Ms Evans told the Daily Beast.
"And I was like, 'OMG it's Donald Trump!' Men like him scare me because they have so much power and this was way before his presidential nomination. So I bailed on them and turned my phone off."
Ms Evans said she spoke to Ms Clifford the next day to apologise for not showing up and ask how the evening had turned out.
"She tells me, 'All I'm going to say is: I ended up with Donald in his hotel room. Picture him chasing me around his hotel room in his tighty-whities,'" she told the publication.
"I was like, 'Oh I really didn't need to hear that!' Then she said he offered her keys to his condos in Florida, and I was like, 'Wow, guess you had a good night,' and that was the last we ever spoke of it."
Protests erupt after Trump recognises Jerusalem as Israel's capital

Show all 22
The site also reported Jessica Drake, a third actor who accused Mr Trump of sexual misconduct before the 2016 election, is now subject to a non-disclosure agreement.
The news outlet claimed it had been in talks with Ms Clifford about doing an interview but she decided against it just days before the 2016 presidential vote.
This comes after the Wall Street Journal reported on Friday Mr Trump's lawyer arranged a $130,000 (£95,000) payment to Ms Clifford as part of a deal to silence her about an alleged sexual encounter with Mr Trump.
Michael Cohen, a long-serving Trump Organisation lawyer, is reported to have arranged the payment to the former adult actor in October 2016 on condition she sign a non-disclosure agreement.
The alleged sexual encounter between Ms Clifford and Mr Trump took place after a Lake Tahoe celebrity golf tournament - just a year after Mr Trump married his third wife, Melania.
A lawyer for Mr Cohen denounced the story as a "complete and utter lie" in a statement sent to The Independent.
"This is recycled old fake news that has no validity whatsoever and everyone named, including Mr Cohen vehemently denies this," David Schwartz, his attorney, said.
"It is fake news like this that has people questioning what is real and what is fake."
Mr Cohen also released a statement dated 10 January and purportedly signed by Ms Clifford, in which she claimed her involvement with Mr Trump was limited to a just few public appearances. She said allegations "I had a sexual and/or romantic affair with Mr Trump many, many, many years ago" were "completely false".
The statement said: "Rumours that I have received hush money from Donald Trump are completely false."
In a statement, the White House also took aim at "old, recycled reports, which were published and strongly denied prior to the election".
But a number of outlets substantiated the Wall Street Journal report and Jacob Weisberg, editor-in-chief of the Slate Group, told the New York Times Ms Clifford told him about her relationship with Mr Trump in several interviews in 2016. He also gave the Times text messages exchanged with Ms Clifford and a draft settlement agreement.
A number of women have accused Mr Trump of unwanted sexual advances, allegations the president has consistently rejected as false. The White House has said its official position is that the accusers are liars.
The Independent contacted a representative of Ms Evans for comment.
Register for free to continue reading
Registration is a free and easy way to support our truly independent journalism
By registering, you will also enjoy limited access to Premium articles, exclusive newsletters, commenting, and virtual events with our leading journalists
Already have an account? sign in
Register for free to continue reading
Registration is a free and easy way to support our truly independent journalism
By registering, you will also enjoy limited access to Premium articles, exclusive newsletters, commenting, and virtual events with our leading journalists
Already have an account? sign in