Alex Jones' trial over Sandy Hook defamation case is put on pause after filing for bankruptcy
Trial was scheduled to start next week in Texas to determine how much the far-right radio host should pay out to families of the victims of the mass shooting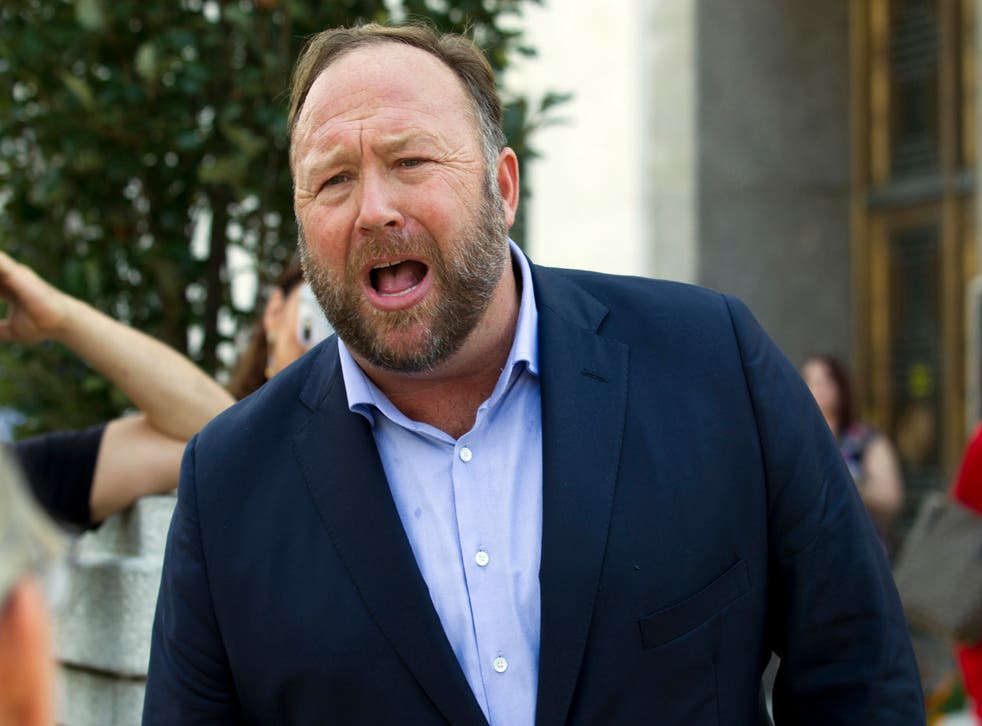 A judge in Texas has delayed Alex Jones' trial in his Sandy Hook defamation case after the far-right conspiracy theorist filed for bankruptcy last week.
Jury selection was scheduled to begin in Austin on Monday for a lawsuit brought by families of victims of the 2012 mass shooting at Sandy Hook Elementary School where 26 people – including 20 young children – were murdered.
Last year, Mr Jones lost defamation lawsuits in both Texas, where Infowars is headquartered, and Connecticut, where the mass shooting took place, after he spouted false claims that the massacre was "a hoax" and that the murdered children were actors faking their own deaths.
Next week's trial would have determined how much money Mr Jones should pay out to the families in the Texas case.
But, in the latest twist in the decade-long legal saga, a judge put a pause on proceedings on Wednesday following what appeared to be the latest attempt from the right-wing extremist to evade justice.
On Sunday, Mr Jones filed for bankruptcy for three entities he owns, including his far-right radio show Infowars, claiming liabilities of as much as $10m for each.
Court filings show that Infowars – which he used as a mouthpiece for his lies about the mass shooting – filed for voluntary Chapter 11 bankruptcy protection in the Southern District of Texas.
The bankruptcy filing enables a business to keep operating while it prepares a turnaround plan – and it also pauses civil litigation.
Attorneys for the families of the Sandy Hook victims have accused Mr Jones of making the move in an attempt to try to hide millions of dollars in assets and avoid paying out for the torment he has put them through.
On Wednesday, District Judge Maya Guerra Gamble postponed the Texas trial because of the bankruptcy proceedings but vowed to set a new date "as soon as I possibly can".
"As soon as I do get a remand (from bankruptcy court) I will be resetting this trial. We are going to go to trial as soon as I possibly can," the judge said.
The latest twist in Mr Jones' legal battles comes off the back of a dramatic month as he was held in contempt of court and fined thousands of dollars for failing to appear twice for depositions – before the money was ordered to be returned to him.
As part of settlement proceedings, Mr Jones was scheduled to appear for a deposition on 23 and 24 March but he dodged the deposition both days.
His attorneys made a last-ditch attempt to delay him from testifying, claiming he was too sick to attend due to unnamed "medical conditions" and that doctors had advised him to remain at home.
Connecticut Superior Court Judge Barbara Bellis turned down the requests, in part because Mr Jones was seemingly well enough to continue broadcasting his hours-long show – leaving his home on at least one occasion to travel to his studio to record it.
It later emerged that the doctor who advised him that he was too unwell to attend the deposition was the same doctor who appeared on his show on 21 March to attack the Covid-19 vaccines as "poison" and call the US's top doctor Dr Anthony Fauci "the greatest mass murderer in the history of the world".
After missing the deposition for a second day, attorneys for the victims' families asked the judge to find Mr Jones in contempt of court and have him arrested.
Meanwhile, Mr Jones complained about his unfair treatment to his listeners, claiming that he was being "treated worse than somebody on death row".
He then put forward a settlement offer including a "heartfelt apology" and a $120,000 payout per plaintiff – an offer that was swiftly rejected by the families who lambasted it as an attempt "to escape a public reckoning under oath with his deceitful, profit-driven campaign against the plaintiffs and the memory of their loved ones lost at Sandy Hook".
On 31 March, Mr Jones was held in contempt of court and was slapped with escalating fines starting at $25,000 for each day he failed to sit for the deposition.
After two days of fines, he finally showed for a two-day deposition on 5 and 6 April.
Court records show he paid $75,000 in fines — $25,000 on Friday 1 April and $50,000 on Monday 4 April.
But the financial ramifications were short-lived as, on 14 April, Judge Bellis ordered that the money be returned to Mr Jones because he had showed up at his rescheduled deposition.
Just three days later, Mr Jones filed for bankruptcy.
A new date is yet to be set for the Texas suit, meanwhile the Connecticut trial is still several months away from starting.
On 14 December 2012, 20 students aged six and seven years old and six staff members were shot and killed by 20-year-old Adam Lanza at Sandy Hook Elementary School in Newtown, Connecticut.
In the aftermath, Mr Jones made several false claims on his show and through his website that the mass shooting was a "false flag" operation engineered by the government to bring about stricter gun control laws.
The families of Sandy Hook victims were subjected to years of in-person and online harassment over his false claims, all the while Mr Jones financially profited by spreading the conspiracies.
Register for free to continue reading
Registration is a free and easy way to support our truly independent journalism
By registering, you will also enjoy limited access to Premium articles, exclusive newsletters, commenting, and virtual events with our leading journalists
Already have an account? sign in
Register for free to continue reading
Registration is a free and easy way to support our truly independent journalism
By registering, you will also enjoy limited access to Premium articles, exclusive newsletters, commenting, and virtual events with our leading journalists
Already have an account? sign in
Join our new commenting forum
Join thought-provoking conversations, follow other Independent readers and see their replies