Alexandria Ocasio-Cortez fires back at article about her haircut: 'They're just mad we look good doing it'
Newspaper suggested AOC could have saved $100 at the 'government-subsidised Capitol Hill barbershop'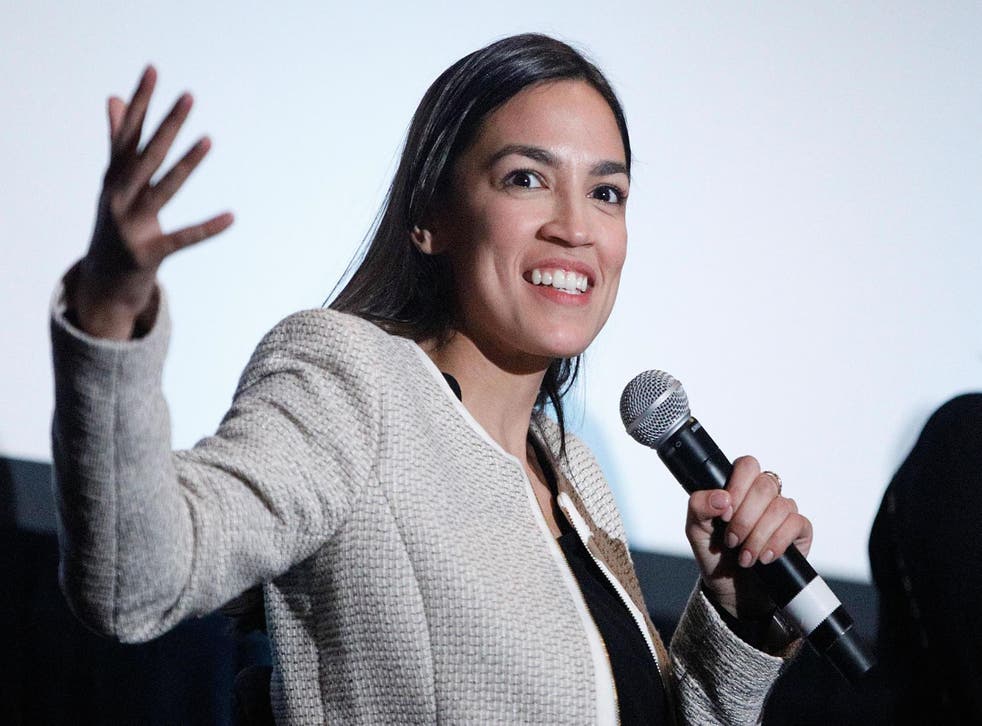 Alexandria Ocasio-Cortez has defended herself after a newspaper criticised the congresswoman for spending $300 (£244) on a haircut.
On Wednesday, the Washington Times published an article in which it said: "The self-declared socialist, who regularly rails against the rich and complains about the cost of living inside the Beltway, spent nearly $300 on her hairdo at a pricey salon she frequents in downtown Washington."
According to the newspaper, which cited sources "familiar with the salon", Ms Ocasio-Cortez visited the Last Tangle Salon last month, which charges $80 (£65) for a haircut and $180 (£146) for lowlights.
The outlet also factored in the cost of a 20 per cent tip, which would have been an additional $52 (£42), before quoting Richard Manning, president of Americans for Limited Government, who described the congresswoman as "preaching socialism while living the life of the privileged".
Rather than spend the $300 at the DC salon, the newspaper questioned why the congresswoman had not gone to the "government-subsidised Capitol Hill barbershop", where she "could have saved roughly $100".
Alexandria Ocasio-Cortez - the Democratic congresswoman in pictures

Show all 15
"Her high-dollar hairdo stands in stark contrast to that of former attorney general Jeff Sessions, a former senator from Alabama who is a regular customer at Senate Hair Care Services," the article said. "At that place, open to members of Congress and the public, a men's cut runs about $20, though men's haircuts there and everywhere else are cheaper than women's."
In response to the article, Ms Ocasio-Cortez backed up her socialist policies while mocking the idea that her hair had become a point of concern.
On Thursday, the congresswoman tweeted: "40 million Americans live in poverty under today's extreme inequality, yet the right-wing want you to blame Democratic socialism for their own moral failures. Our policies, like Medicare for All, advance prosperity for working people.
"They're just mad we look good doing it."
Many other people came to her defence on social media, pointing out that the congresswoman paid the typical price for a visit to the hair salon - and that men are often unaware how much it costs for women.
"Yeah that's pretty standard for a trip to a salon unfortunately," one person tweeted.
Another said: "As a New Yorker who has far less hair than AOC, and who spends about $250 every time I step into a salon in the city, I find it impossible to find a lick of outrage."
Others found the idea that Ms Ocasio-Cortez would have her hair cut at the same barbershop as the former attorney general laughable.
"How dare AOC, a young woman with a full head of hair, spend more money on a haircut than Jeff Sessions, a balding old man who still laments the end of slavery?" one person tweeted.
For comparison, a stylist at Aerea Salon in New York City told The Independent that it costs $185 (£150) for lowlights and $95 (£77) for a haircut and blowout.
Support free-thinking journalism and attend Independent events
"Leaving all other issues aside, $80 for a woman's haircut is a bargain in NYC," someone wrote on Twitter. "What are people expecting AOC to do? Go to a salon's free hair model night?"
Join our new commenting forum
Join thought-provoking conversations, follow other Independent readers and see their replies