Alexis Sharkey: Husband of influencer found dead says he has been receiving death threats
He says his wife was an 'amazing woman'
Chelsea Ritschel
New York
Wednesday 02 December 2020 18:25 Comments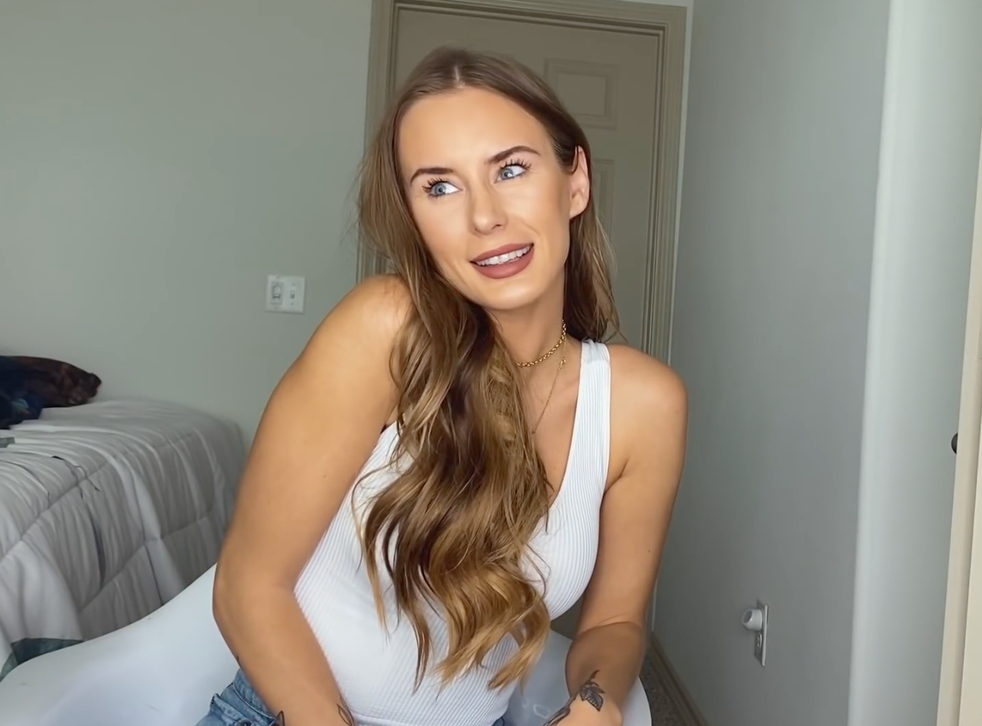 The husband of Alexis Sharkey, the Instagram influencer who was found dead Saturday, has revealed he has been receiving death threats since the news of his wife's passing.
Alexis, 26, who was living in Houston, Texas, with her husband Tom Sharkey, went missing Friday evening. Her body was discovered on the side of a Houston road a day later, with her mother, Stacy Robinault, confirming her death in a statement shared to Facebook Sunday evening.
Speaking with ABC13, Tom said since the news of Alexis' death made headlines, he has received threatening messages.
"It's horrible. People are talking tons of crap. I'm getting death threats and stuff," Tom told the outlet, adding: "None of that bothers me. What bothers me is that [the] world and everybody in it focuses on all of the stuff that doesn't matter ... should have been focused on finding my wife."
During the phone interview, the 49-year-old also disputed reports that he and Alexis had fought the day she disappeared and that she was filing for divorce, telling ABC13 that "we didn't fight when she left" and that he had "just told her she couldn't drive under the influence".
"She left anyhow. This is where we're at," he said.
However, the Florida native did say that Alexis "wasn't happy" and "was stressed," but that he was "the one holding her, cuddling her, and building her back up".
"She wasn't happy. She was stressed. I would cuddle her to try to make her strong. She was an amazing woman. Sir, my wife was an amazing woman. She really was. There's always other sides to everything. I was the one holding her, cuddling her, and building her back up," he said. "I don't need to set the record straight. I'll let it play out the way it is. I know what my life was with my wife."
According to Tom, since his wife's death, he has been cooperating with authorities, and has turned over all of their messages, emails, and phone calls.
The 49-year-old previously condemned negative messages he's received regarding his wife's disappearance on social media, where he thanked those who were helping search for Alexis while telling critics they "should be ashamed".
At the time, Tom also said he was assisting authorities and "making phone calls to find out what happened to my wife".
Since Alexis' death, Tom has shared numerous photos of his wife of less than a year on Facebook and Instagram, where the influencer had more than 22,000 followers.
According to the Houston Police Department, Alexis' body was found with no visible wounds.
However, Robinault has stated she believes her daughter was the victim of foul play.
"The way in which she was found - my child would never do that to herself," Robinault told KPRC. "That doesn't even make sense. That is absolutely foul play. There is nothing to me that suggests that this was an accident. And there's nothing to me that suggests anything else, other than that this was done to her."
On Wednesday, officials said a preliminary autopsy did not rule out foul play. The 26-year-old's cause of death is pending final autopsy results by the Harris County Institute of Forensic Sciences, authorities said.
The Independent has contacted Tom Sharkey for comment.
Register for free to continue reading
Registration is a free and easy way to support our truly independent journalism
By registering, you will also enjoy limited access to Premium articles, exclusive newsletters, commenting, and virtual events with our leading journalists
Already have an account? sign in
Join our new commenting forum
Join thought-provoking conversations, follow other Independent readers and see their replies