British artist continues to publish spoof photos of Donald Trump despite risk of being sued
'I don't think any artist, or satirist, or anybody who sits outside the establishment, should have their artistic freedom stopped,' says celebrity lookalike photographer Alison Jackson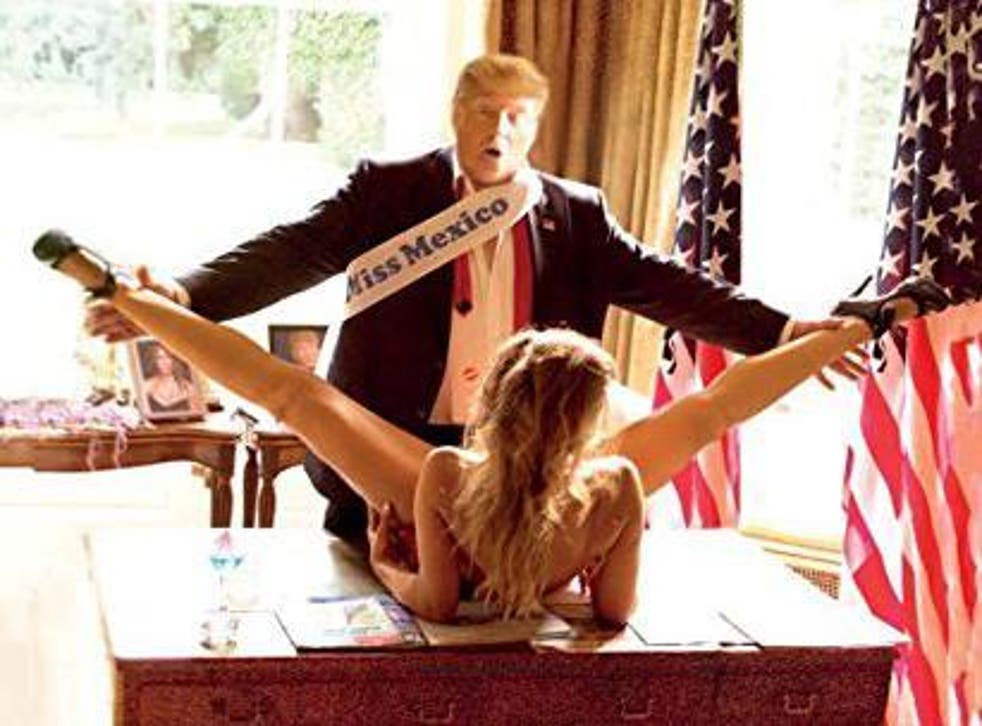 A British artist has self-published spoof photographs of Donald Trump, despite being told the next President of the United States could take legal action against her.
Alison Jackson, who uses lookalikes to make work commenting on the "cult of celebrity" and the deceptive nature of many images, said she was warned against publishing the satirical photographs by her lawyers.
She could not find a publisher prepared to release the "hard-hitting" collection, which features a Trump double having sex with Miss Mexico in the Oval Office, and as a member of the Ku Klux Klan, in addition to photographs of other celebrities like Kim Kardashian and Kanye West, and members of the Royal family.
Michael Moore suggests Trump still might not become President
Ms Jackson said she decided to release the images herself because she believes it is wrong to allow artistic freedom to be curtailed.
But she admitted the threat of litigation was "extremely off-putting and frightening".
"Nobody wants to be sued by the US President," the 46-year-old artist, who is currently based in London, told the Independent.
"[But] I don't want to stop doing the work. I don't think any artist or satirist, or anybody who sits outside the establishment, should have their artistic freedom stopped.
"It would be an outrageous moment if all artists had to stop doing their work because the President of the United States didn't like it."
She added that while an artist might expect to be censored in Vladimir Putin's Russia or in North Korea, it was not something that usually happened in a Western democracy.
"To have your artistic freedom curtailed... you're running into the realms of dictatorship, aren't you?" she said.
Ms Jackson, who won a BAFTA in 2002 and has had her photographs displayed in the Tate Modern, the Centre Pompidou in France, and the San Francisco Museum of Modern Art, has previously had Penguin publish coffee table editions of her work, featuring spoof images of Princess Diana, Tony Blair and the Clintons, as well as celebrities such as the Beckhams.
But this time, she found it much more difficult to persuade people to release her work.
"We approached publishers [but they all said no]. And then in the summer we just decided that we'd do it outselves," she said.
"The photographs are very hard hitting. If I want to create my work, I have to find other ways of doing it."
Ms Jackson self-published her book, Private, at the end of October.
Athough the project proved extremely well-timed, the photographs are far from a hasty response to the US election result. The series took months to complete, including almost a year spent just trying to find an adequate Trump lookalike.
Ms Jackson also stressed her work is not just about the President-elect, or the other celebrities she pokes fun at.
"It is about how its very difficult to tell the difference between what's real and what's not real in media imagery, or indeed any imagery at all," she said.
"It's very, very difficult to try and work out what's authentic and I'm saying you can't rely on your own perception in imagery. That's my point."
She started on this theme in the 1990s, when she created spoof images of Princess Diana, including photographs depicting her with boyfriend Dodi Al-Fayed and a mixed-race baby.
Mr Trump, she said, was an obvious muse.
"He's the biggest topical figure of now, and he's going to be the US president," she said, adding that he was also always camera ready "in every sense of the word".
"He's gold, the same colour as his brand colour, gold hair, gold skin," she said.
"I mean I'm sure he has a pop-up podium which pops up everytime he sees a camera. The Donald Trump reality show has gone viral."
She added that her Trump double had generated far more attention than any other fake celebrity she had worked with.
The paparazzi attention, she said, was comparable only to Princess Diana. Even three-year-old children, she said, have recognised him, "screaming, running and holding his leg calling him 'Donald, Donald'. Children see him as a cartoon figure, a bit like a Flintstone."
Her lookalike, she said, enjoyed the attention so much he was sometimes reluctant to take off the wig she meticulously crafted for him.
But Ms Jackson is aware the President-elect is also a dangerous person to parody.
Mr Trump and his businesses were involved in at least 3,500 legal actions over the past three decades. Since his election victory, Mr Trump has praised British libel laws and his wife, Melania, is currently suing the Daily Mail and a blogger for $150m (£119m) over allegations about her modelling career.
A group of lawyers in the US even recently decided not publish a report on his use of baseless litigation, because they were afraid of baseless litigation.
"He's a very litigious man" said Ms Jackson. "I don't think any president has sued artists before.
"I mean he sued a nightclub in Coventry for using a Halloween picture of him. It's miniutiae."
She added that she was extremely careful in the way she worked, endeavouring to be ethical and regularly seeking legal advice.
But in the past this has only ever been precautionary measure. "I've never had a legal issue, this is the first time that something this serious has emerged," she said.
Alison Jackson reveals the tricks behind her lookalike celebrity portraits

Show all 10
Fear of litigation, however, has not affected her plans for future projects, Ms Jackson said.
"Isn't it the job of artists and satirists to look at public figures and to be able to raise questions?" she said, adding that far from backing-off, she was thinking about making a "mockumentary" film about the President-elect.
Join our new commenting forum
Join thought-provoking conversations, follow other Independent readers and see their replies