Alton Sterling's 15 year-old son calls for peace: 'Please, no more violence'
The son of the man killed in the hands of law enforcement has spoken out
Rachael Revesz
New York
Wednesday 13 July 2016 15:05 Comments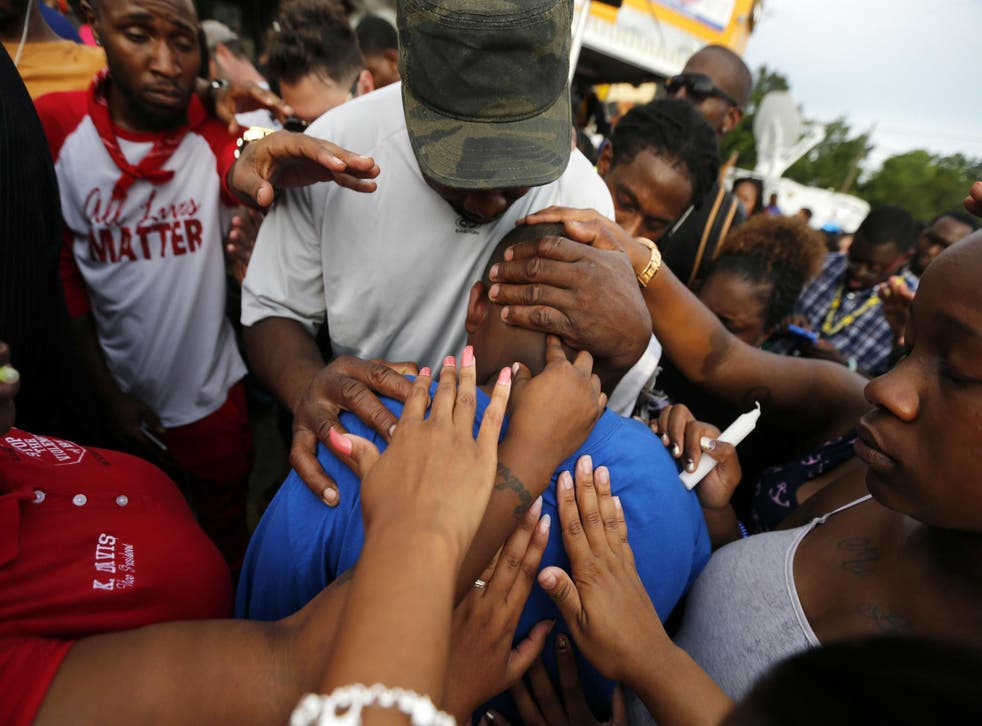 "Protest the right way," Cameron Sterling, the son of Alton Sterling, told the crowd.
"Protest with peace, not guns, alcohol and violence. Everyone needs to protest the right way. Not with violence."
The 15-year-old was speaking at a press conference for the first time since his father was shot dead by a white police officer.
"I feel that people in general, no matter what their race is, should come together as one family," Cameron said.
"There should be no more arguments, disagreements, crimes, everyone should come together as one family."
"This [death] should give everyone a push to come together and not be against each other," he added.
Police had reportedly received a call from a homeless person saying that Mr Sterling had threatened him with a weapon. When police arrived, Mr Sterling was selling CDs in his usual spot outside a convenience store.
They slammed him to the ground and, with two police officers holding him down, shot him several times in the chest and the back.
"I truly feel that my father was a good man and he will always be a good man," said his son.
Warning: Video contains graphic content
"I want to thank everyone that has supported us, I want to thank you all very much," Cameron added, referring to his siblings and his mother.
Cameron had broken down in sobs during the first press conference hours after his father's death, during which his mother spoke to the crowd.
"I want my daddy," he called out repeatedly.
Days after Mr Sterling was shot, police in Minnesota also shot dead cafeteria manager Philando Castile who was reaching into his pocket to show his license to police officers.
The deaths spurred protests around the country.
A large protest in Dallas went horribly wrong after one man, unaffiliated to Black Lives Matter, gunned down five white police officers and wounded seven more.
Register for free to continue reading
Registration is a free and easy way to support our truly independent journalism
By registering, you will also enjoy limited access to Premium articles, exclusive newsletters, commenting, and virtual events with our leading journalists
Already have an account? sign in
Join our new commenting forum
Join thought-provoking conversations, follow other Independent readers and see their replies