Police officers who shot dead Alton Sterling 'will not be charged'
Mr Sterling's death led to mass protests in the city of Baton Rouge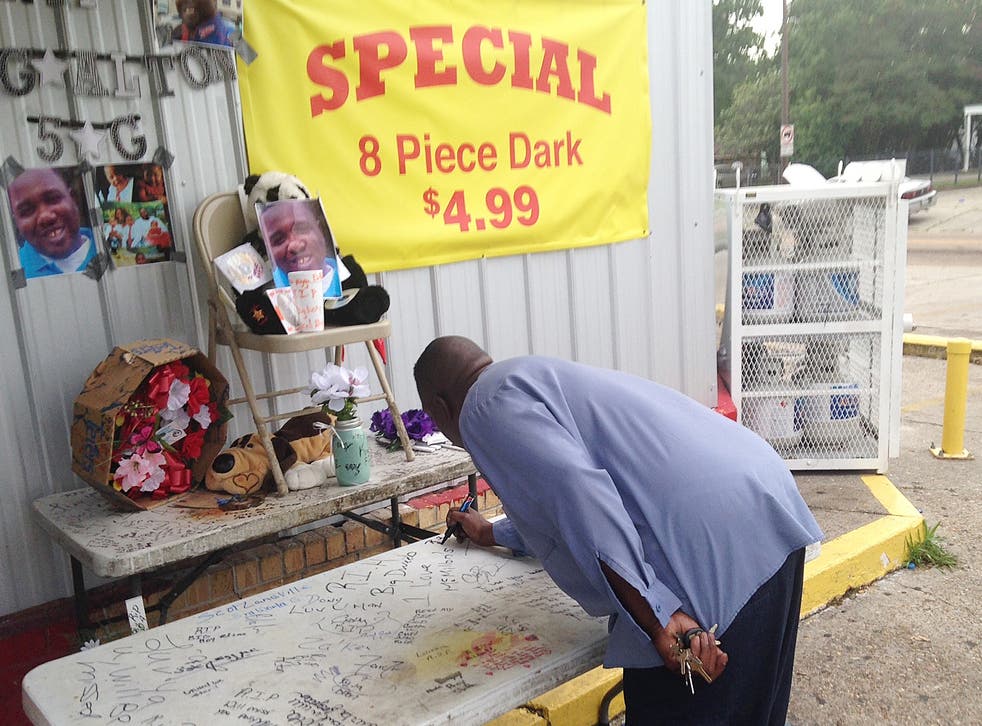 The Justice Department will reveal soon that they will not bring charges against the white police officers involved in the fatal shooting of a black man - Alton Sterling - in Baton Rouge, Louisiana, according to reports.
Police said they were were responding to a call that someone who fit the description of Mr Sterling was illegally selling CDs and threatening people with a gun outside of a convenience store in July 2016.
Bystanders' video from the scene appeared to show two white officers on top of Mr Sterling arresting him. One of the officers appears to yell, "He's got a gun!," and then shots ring out. A search warrant affidavit said that officers had observed the butt of a gun in Mr Sterling's front pants pocket. At issue in the investigation was whether Mr Sterling was reaching for the weapon, as officers claimed, when he was shot and killed.
His death led to mass protests in the city, and officials were preparing for potential further demonstrations once a decision was announced.
The Justice Department (DoJ) will apparently announce their decision sometime this week, according to the Washington Post.
Ryan Julison, a spokesman for the Sterling family's attorneys told the Post that the family "have not received word, nor has the family been given any notice of upcoming updates regarding this case."
Protests after Baton Rouge police fatally shoot Alton Sterling

Show all 10
Earlier in the day, the Governor of Louisiana, John Bel Edwards said he had not been informed when the judgement will come.
"I don't have any information as to what the decision is going to be or when it's going to be announced," he told USA Today. "But I work under the assumption it's coming sooner than later".
If no charges are brought against the officers, the case will be the first time under Attorney General Jeff Sessions that the department has publicly declined to prosecute officers investigated for possible wrongdoing in a high-profile case.
Democrat representative Cedric Richmond, whose district includes part of Baton Rouge tweeted that the fact the Washington Post appeared to confirm no charges being sought, but state officials and the family had not yet been notified was an "indictment" on the Justice Department.
Mr Richmond said the report "completely undermines the credibility and transparency" of the DoJ.
At the time of the shooting, then-President Barack Obama declared his confidence in the DoJ probe, saying that "we have seen tragedies like this too many times."
Register for free to continue reading
Registration is a free and easy way to support our truly independent journalism
By registering, you will also enjoy limited access to Premium articles, exclusive newsletters, commenting, and virtual events with our leading journalists
Already have an account? sign in
Register for free to continue reading
Registration is a free and easy way to support our truly independent journalism
By registering, you will also enjoy limited access to Premium articles, exclusive newsletters, commenting, and virtual events with our leading journalists
Already have an account? sign in
Join our new commenting forum
Join thought-provoking conversations, follow other Independent readers and see their replies