Uncontacted Amazon tribe members 'killed then chopped up by gold miners'
Prospectors were overheard in a Brazilian bar recounting a 'kill or be killed' standoff with isolated indigenous group, according to rights organisation Funai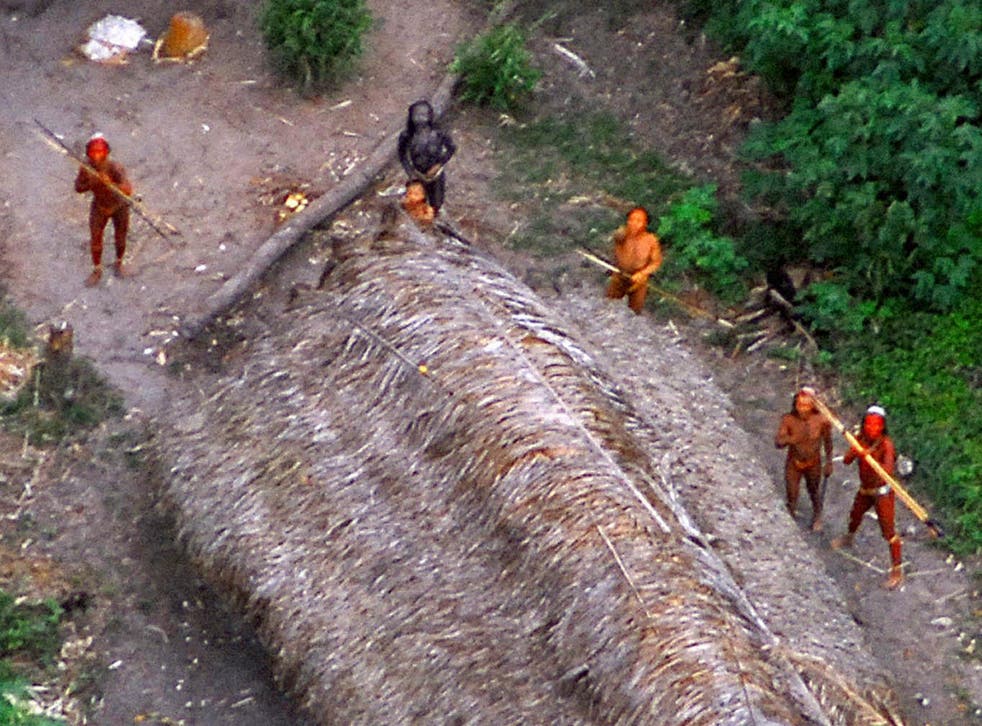 They were members of an uncontacted tribe gathering eggs along the river in a remote part of the Amazon. Then, it appears, they ran into gold miners.
Now, federal prosecutors in Brazil have opened an investigation into the reported massacre of about 10 members of the tribe, the latest evidence that threats to endangered indigenous groups are on the rise in the country.
The Brazilian agency on indigenous affairs, Funai, said it had lodged a complaint with the prosecutor's office in the state of Amazonas after the gold miners went to a bar in a town near the border with Colombia and bragged about the killings. They brandished a hand-carved paddle they said had come from the tribe, the agency said.
"It was crude bar talk," said Leila Silvia Burger Sotto-Maior, Funai's coordinator for uncontacted and recently contacted tribes. "They even bragged about cutting up the bodies and throwing them in the river."
The miners, she said, claimed that "they had to kill them or be killed" themselves.
Ms Sotto-Maior said the killings were reported to have taken place last month. Funai conducted some initial interviews in the town and then took the case to police.
"There is a lot of evidence, but it needs to be proven," she said.
The prosecutor in charge of the case, Pablo Luz de Beltrand, confirmed that an investigation had begun, but said he could not discuss the details of the case while it was underway. He said the episode was alleged to have occurred in the Javari Valley – the second-largest indigenous reserve in Brazil – in the remote west.
"We are following up, but the territories are big and access is limited," Mr Beltrand said. "These tribes are uncontacted – even Funai has only sporadic information about them. So it's difficult work that requires all government departments working together."
Mr Beltrand said it was the second such episode he was investigating this year. The first reported killing of uncontacted Indians in the region occurred in February, and that case is still open. "It was the first time that we'd had this kind of case in this region," he said in a telephone interview. "It's not something that was happening before."
Survival International, a global indigenous rights group, warned that given the small sizes of the uncontacted Amazon tribes, this latest episode could mean that a significant percentage of a remote ethnic group was wiped out.
"If the investigation confirms the reports, it will be yet another genocidal massacre resulting directly from the Brazilian government's failure to protect isolated tribes – something that is guaranteed in the constitution," said Sarah Shenker, a senior campaigner with the rights group.
Under Brazil's President, Michel Temer, funding for indigenous affairs has been slashed. In April, Funai closed five of the 19 bases that it had used to monitor and protect isolated tribes, and reduced staffing at others. The bases were used to prevent invasions by loggers and miners and to communicate with recently contacted tribes.
Three of those bases were in the Javari Valley, which is known as the Uncontacted Frontier and is believed to be home to more uncontacted tribes than anywhere else on Earth. About 20 of the 103 uncontacted tribes registered in Brazil are in the Valley.
"We had problems with previous governments, but not like this," said Ms Sotto-Maior.
Funai's budget this year for the uncontacted tribes department was just 2 million reals (£490,300), down from 7.5 million reals in 2014. "What can I do with 2 million reals?" she said.
Mr Temer, who is deeply unpopular, has sought support from powerful agricultural, ranching and mining lobbies to push economic changes through congress and shelter him from a corruption investigation. Last month, the lower house of congress voted to spare him from standing trial for corruption in the Supreme Court, but only after the President doled out jobs and agreed to a series of concessions, many of which affected long-standing deforestation and land-rights regulations.
A decree by Mr Temer that opened up a large reserve in the Amazon to mining prompted an international outcry. After a judge blocked the decree, the government announced that it would revise its decision, but critics are wary.
With land disputes on the rise in many remote areas of Brazil, indigenous groups, rural workers and land activists have all been targeted by violence. More than 50 people had been killed as of the end of July, compared with 61 in all of 2016, according to the Land Pastoral Commission.
In some cases, government or police agents have been blamed for the violence. Authorities are investigating one police raid in the Amazon region that ended with 10 activists being killed. No officers were injured.
World news in pictures

Show all 50
Activists worry that the country's indigenous groups – and especially the uncontacted tribes – are the most vulnerable when it comes to land disputes.
"When their land is protected, they thrive," said Ms Shenker. "When their land is invaded, they can be wiped out."
© The New York Times
Register for free to continue reading
Registration is a free and easy way to support our truly independent journalism
By registering, you will also enjoy limited access to Premium articles, exclusive newsletters, commenting, and virtual events with our leading journalists
Already have an account? sign in
Register for free to continue reading
Registration is a free and easy way to support our truly independent journalism
By registering, you will also enjoy limited access to Premium articles, exclusive newsletters, commenting, and virtual events with our leading journalists
Already have an account? sign in
Join our new commenting forum
Join thought-provoking conversations, follow other Independent readers and see their replies