Amelia Earhart: Recently-discovered footage shows aviator setting off on ill-fated attempt to fly around the world
Footage believed to be taken before one of two failed attempts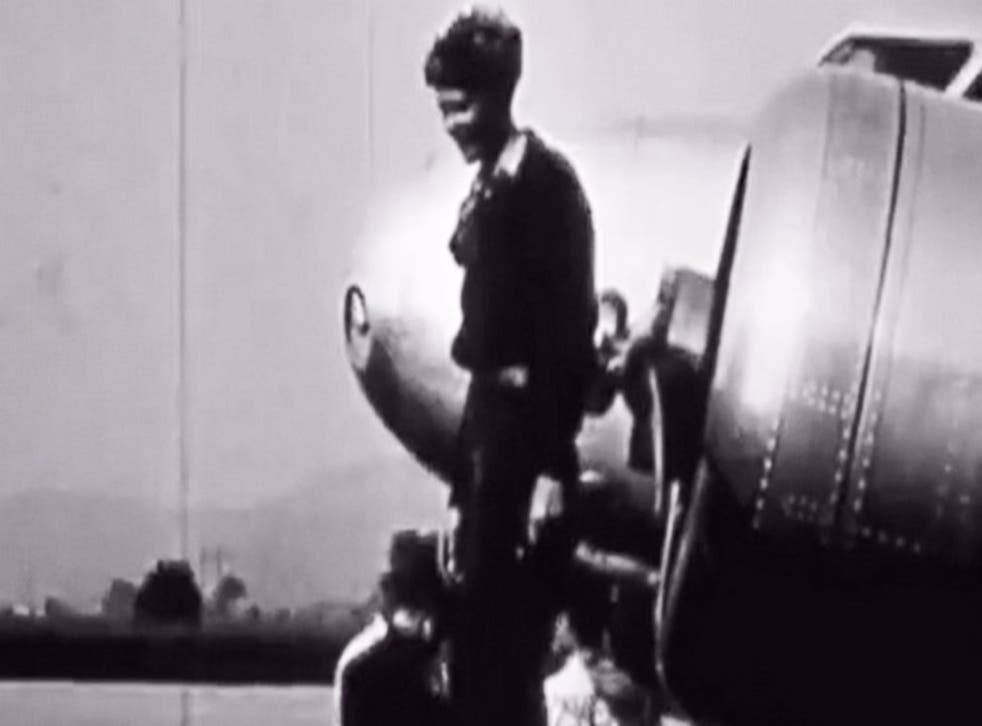 New video footage has been discovered of aviator Amelia Earhart poised to set off on one of her two attempts to fly around the world.
Her first attempt, made in March 1937, ended when she crashed her plane while taking off after a stop in Hawaii. During the second attempt, made three months later, Earhart vanished over the Pacific Ocean. To this day, her fate remains the subject of conjecture.
The newfound film was recorded at an airfield in Oakland, California, and shows a happy and smiling Earhart as she poses for photos and climbs over her plane, the Lockheed Electra L-10E.
The Associated Press said that before Earhart set off, photographer Al Bresnik took dozens of stills, including a few that have been seen by millions around the word.
Meanwhile, his brother John, who accompanied him, made a grainy 3.5-minute home movie that was seen by virtually nobody until now.
The film, Amelia Earhart's Last Photo Shoot, is being released this month by The Paragon Agency publishing house, along with an 80-page book of the same name that documents a journey that ended when Earhart's plane vanished somewhere over the Pacific Ocean, the news agency said.
The film, taken with a 16-millimetre camera, sat on a shelf in his father's office for more than 50 years until his death in 1992, said Mr Bresnik's son, also named John. After that, it sat in the younger man's home in Escondido, California, for about 20 more years.
"I didn't even know what was on the film until my dad died and I took it home and watched it," Mr Bresnik said.
"It just always sat it in a plain box on a shelf in his office, and on the outside it said, 'Amelia Earhart, Burbank Airport, 1937'."
Richard Gillespie, executive director of the International Group For Historic Aircraft Recovery, said he believed the film was taken in March 1937.
It was in March that she made her first attempt to become the first woman to circle the earth when she left from California. She only got as far as Hawaii, where she crashed her twin-engine Electra L-10E on takeoff
Earhart and her navigator, Fred Noonan, left what's now known as Bob Hope Airport in Burbank on May 21, 1937, for a second try, this time heading east. Mr Gillespie said he doubted there was a photo shoot before that flight because she left quietly that time.
Earhart and Noonan were about two-thirds through their journey when they left New Guinea on July 2 for Howland Island, a tiny speck of land in the Pacific, midway between Australia and Hawaii.
In one of her last radio transmissions, the pilot said she thought they were near but couldn't see the island and were low on fuel.
Register for free to continue reading
Registration is a free and easy way to support our truly independent journalism
By registering, you will also enjoy limited access to Premium articles, exclusive newsletters, commenting, and virtual events with our leading journalists
Already have an account? sign in
Register for free to continue reading
Registration is a free and easy way to support our truly independent journalism
By registering, you will also enjoy limited access to Premium articles, exclusive newsletters, commenting, and virtual events with our leading journalists
Already have an account? sign in
Join our new commenting forum
Join thought-provoking conversations, follow other Independent readers and see their replies