Ferguson police officer wrote in email about Obama: 'What black man holds a steady job for four years?'
Report found conclusive evidence that the Ferguson, Missouri police department routinely engaged in racially biased practises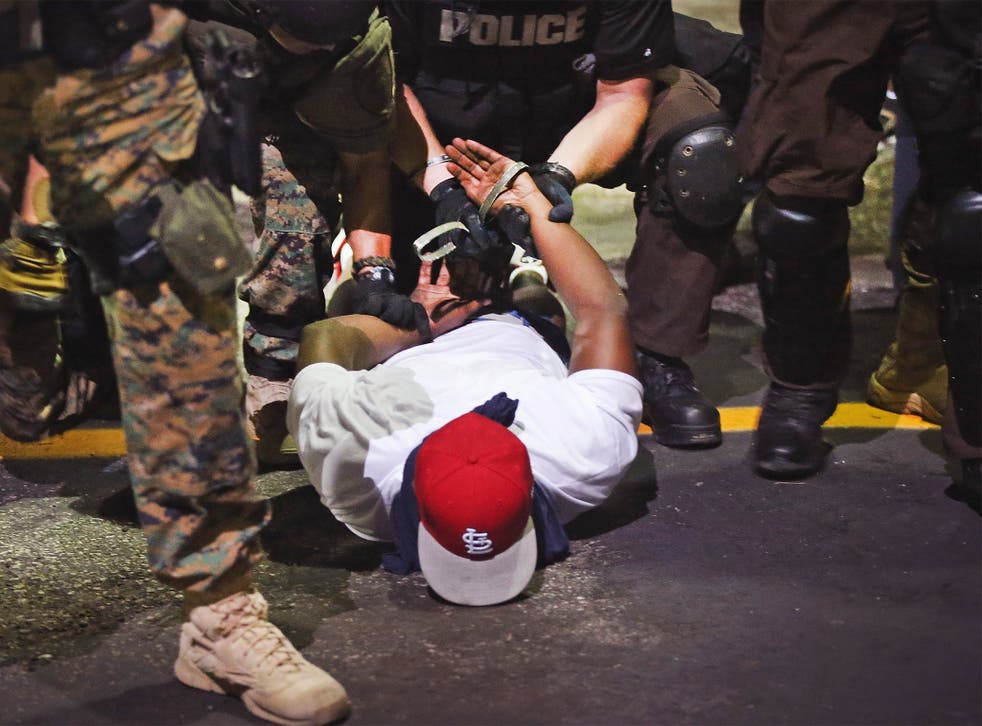 America was braced for a backlash last night as the explosive findings of a government report found conclusive evidence that the Ferguson, Missouri police department routinely engaged in racially biased practises.
The findings will compound tensions across a country that has been in a deep-rooted state of unrest since the shooting of black teenager Michael Brown last August – an incident that set off violent protests across the country.
Analysis of over 35,000 pages of police records have found that black Americans make up 93 per cent of arrests in Ferguson while accounting for only 67 per cent of the city's population.
It is also expected to charge that police disproportionately use excessive force against blacks and that black drivers are stopped and searched far more often than white motorists.
The Justice Department report, which is expected to be released Wednesday found that blacks were 68 per cent less likely than others to have their cases dismissed by a municipal court judge, and that from April to September of last year, 95 per cent of people kept at the city jail for more than two days were black.
Unrest in Ferguson over Michael Brown shooting

Show all 30
Racist emails sent by Ferguson officials – including one doubting Barack Obama's ability to serve a full term because "what black man holds a steady job for four years" – were also unearthed, it was reported last night, and are expected to be released to the public.
According to one report, another message written by a Ferguson official in May 2011 stated: "An African American woman in New Orleans was admitted into the hospital for a pregnancy termination. Two weeks later she received a check for $5,000. She phoned the hospital to ask who it was from. The hospital said, 'Crimestoppers.'" The authors of the emails were not identified.
The findings are likely to be used by the government to investigate Ferguson officials and enter a negotiation or even sue the city. It is likely to mark something of a denouement in what has been a tense year for the White House in wake of a number of incidents that have asked deep questions of US policing.
In July, black New York City resident Eric Garner died after he was put into a chokehold by Officer Daniel Pantaleo. In August, Officer Darren Wilson fatally shot Mr Brown during an altercation. Both officers were white.
Grand juries decided not to indict either officer, setting off large protests in cities that quickly swept across the country and galvanised critics of the treatment by police and the American criminal justice system of blacks and other minority groups.
It prompted President Obama to launch the so-called "Task Force on 21st Century Policing", charged with interviewing police and community leaders across the country. That committee will report back later this year.
Register for free to continue reading
Registration is a free and easy way to support our truly independent journalism
By registering, you will also enjoy limited access to Premium articles, exclusive newsletters, commenting, and virtual events with our leading journalists
Already have an account? sign in
Register for free to continue reading
Registration is a free and easy way to support our truly independent journalism
By registering, you will also enjoy limited access to Premium articles, exclusive newsletters, commenting, and virtual events with our leading journalists
Already have an account? sign in
Join our new commenting forum
Join thought-provoking conversations, follow other Independent readers and see their replies