Donald Trump administration delays plan to start allowing transgender recruits to join the US military
The decision of Defence Secretary Jim Mattis means that the US armed services can now delay processing transgender recruits until next year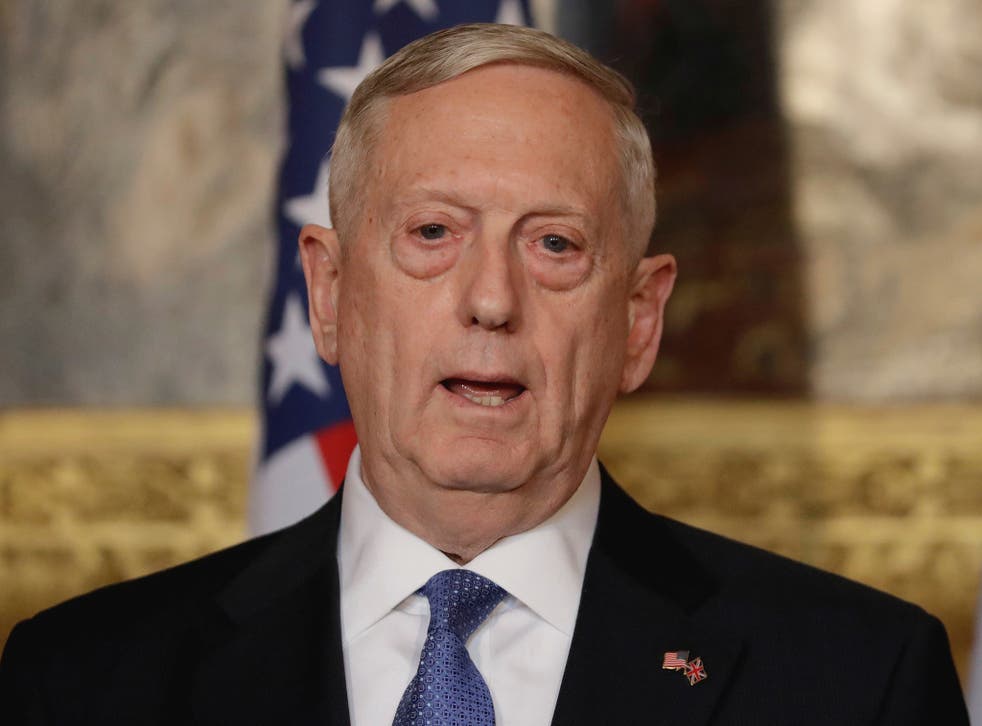 US Defence Secretary Jim Mattis has delayed a plan approved by the Obama administration a year ago to begin allowing transgender recruits to join the U.S. military, the Pentagon said Friday night, providing the Joint Chiefs of Staff with a six-month reprieve that they requested.
The decision was made on the eve of a deadline set by then-Defence Secretary Ash Carter a year ago. The services can now delay processing transgender recruits until 1 January 2018, after they "review their accession plans and provide input on the impact to the readiness and lethality of our forces," Pentagon spokesperson Dana White said.
The current transgender policy, signed by Mr Carter on 30 June 2016, banned the services from involuntarily separating people in the military who came out as transgender, and allowed the individuals to begin receiving medical care on 1 October. But it also gave the Pentagon a year to determine how to begin processing new transgender recruits who want to serve.
The decision will almost certainly prove unpopular with advocates for lesbian, gay, bisexual and transgender issues, who already had waited through a lengthy Pentagon view process that concluded last year. Opponents to transgender people serving, meanwhile, will likely see the delay as a win against political correctness and as an opportunity for the armed forces to further prepare themselves for transgender recruits if it is later approved.
The policy signed a year ago said that "not later than 1 July 2017," the Pentagon would update its medical standards to account for people who have a history of gender dysphoria, the medical term for wanting to transition gender. It added that the condition was not necessarily disqualifying if a doctor certified that a prospective recruit was "stable without clinically significant distress or impairment in social, occupational or other important areas of function for 18 months."
The policy also required transgender recruits to complete all medical treatment associated with their gender transition, be stable in their new gender for 18 months. Those guidelines were crafted with assistance from advocates for transgender people, such as the Palm Centre, a think tank promoting lesbian, gay, bisexual and transgender concerns.
Two defence officials, speaking on condition of anonymity due to the sensitivity of the issue, said that the Joint Chiefs of Staff requested the six-month delay to continue studying opening up military service to transgender recruits, as opposed to allowing service members who already were serving to begin identifying as transgender. That request was first reported last month by the Associated Press, which also said that the Air Force and Army originally wanted a two-year delay.
Marine General Joseph Dunford Jr, the chairman of the Joint Chiefs of Staff, said in an appearance at the National Press Club on 19 June that there is no issue with transgender service members who are already serving, and no ongoing review could affect their ability to serve. But he acknowledged that there were "some issues identified" by some of the service chiefs with allowing transgender recruits, and that they wanted them resolved "before we move forward."
Mr Carter repealed the ban on transgender military service after a long, internal review that fell behind schedule as military officials struggled to reach a consensus. It followed Congress repealing the decades-old policy banning gay people from serving openly in 2011, and Carter lifting in 2015 a ban on women serving in the infantry and other ground-combat assignments.
Before Mr Carter's decision, the Pentagon considered transgender people to be sexual deviants who had to be ousted from service. In 2015, it moved the authority to discharge to higher-ranking commanders, making it tougher to force out service members who came out as transgender.
There are about 2500 transgender service members among the 1.3 million active-duty members of the military and an additional 1500 among reserves, according to a Rand Corp study commissioned by the Pentagon and published last year.
Critics of allowing transgender military service have said that it could harm the ability of the military to do its job and would cost the Pentagon some extra money for medical care. One outspoken opponent, Elaine Donnelly of the Centre for Military Readiness, said in a new report published this week that the changes the Obama administration made to transgender service were administrative in nature and can be overturned.
"Confusion about gender identity requires family compassion and competent psychological treatment, not special civil rights status and extraordinary accommodations that are not offered when other physical or mental conditions affecting personal readiness are involved," the report said.
Copyright Washington Post
Register for free to continue reading
Registration is a free and easy way to support our truly independent journalism
By registering, you will also enjoy limited access to Premium articles, exclusive newsletters, commenting, and virtual events with our leading journalists
Already have an account? sign in
Register for free to continue reading
Registration is a free and easy way to support our truly independent journalism
By registering, you will also enjoy limited access to Premium articles, exclusive newsletters, commenting, and virtual events with our leading journalists
Already have an account? sign in
Join our new commenting forum
Join thought-provoking conversations, follow other Independent readers and see their replies