What is behind America's hysterical obsession with creepy clowns?
With alleged sightings of 'scary' clowns reported in at least two dozen US states since August, professional clowns fear for their reputations - and for their safety
Tim Walker
US Correspondent
Thursday 06 October 2016 23:27 Comments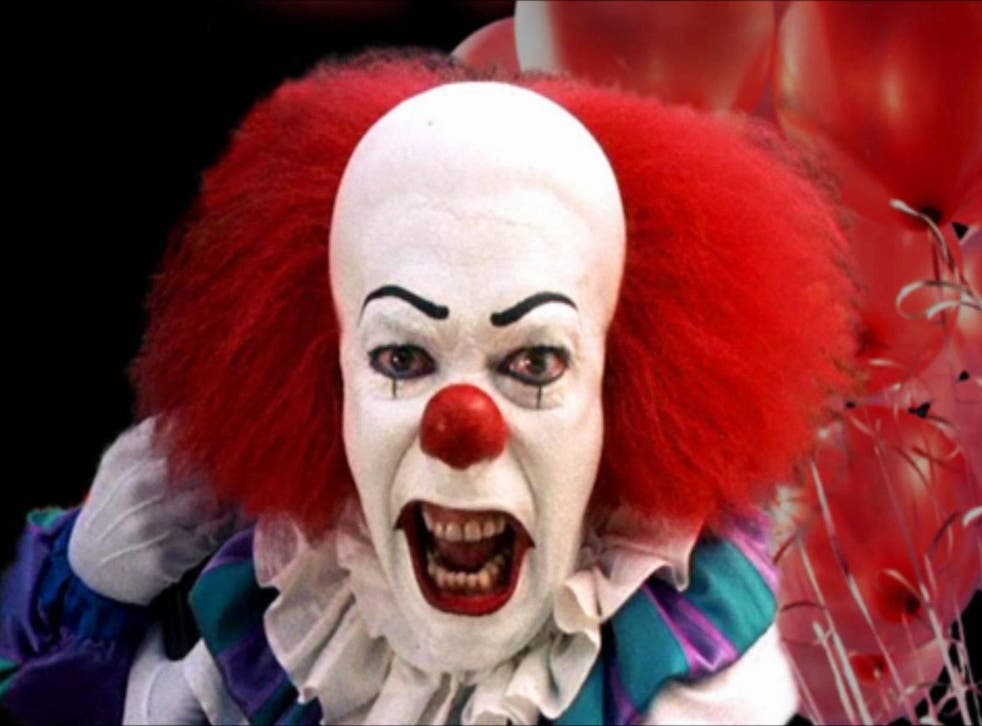 Clowns have long been a threatened species. In 2014, the World Clown Association (WCA), America's biggest clown-based organisation, reported that its membership had fallen to just 2,500 from around 3,500 a decade earlier. Elderly clowns were dying out, the group said, while young performers seemed reluctant to replace them. Two years on, clowns are back in the public eye, but many people seem determined to hunt poor Bozo and co to extinction.
In recent weeks, a clown panic has gripped the US, with a string of alleged sightings of "scary" clowns across at least two dozen states. One Connecticut school district banned clown costumes, while this week some 500 students at Pennsylvania State University took part in a "clown hunt", following claims that a strange fellow in greasepaint had been spotted on campus.
The first such sighting came in South Carolina on 20 August, when the property manager at an apartment block in Greenville told authorities that men dressed as clowns had been seen beckoning local children into nearby woods. Those reports were never substantiated, but they inspired a steady stream of copycats.
A 20-year-old man was arrested in Kentucky after police found him dressed as a clown and hiding in a ditch. In North Carolina, another man was arrested after he admitted concocting a story that he had chased off a clown who was trying to snatch local children. In Virginia, two teenagers were arrested for wearing clown outfits.
In Alabama, police detained at least nine people in September for what one police chief described as "clown-related activity." This week, a person wearing a clown costume and holding a kitchen knife reportedly chased a teenager from a subway train in New York City. In Lancaster, California, the authorities warned residents that pranksters in clown masks have been filming themselves terrorising unsuspecting strangers.
In pictures: Famous clowns

Show all 9
On Tuesday, the issue reached Washington DC, where White House spokesman Josh Earnest was asked for President Obama's opinion on the clown panic. "I don't know that the president has been briefed on this particular situation," Earnest replied, but added: "Obviously, this is a situation that law enforcement is taking quite seriously."
Amid all the hysteria, however, there has been not a single substantiated report of a genuine kidnapper clown, while any confirmed clown sightings appear to have been harmless pranksters. "We don't see any real threat here," New York Police Deputy Commissioner John Miller told reporters this week. "Don't believe the hype and don't be afraid of the clowns."
That may be easier said than done, given the widespread acceptance that clowns are scary. But when exactly did Ronald McDonald become the Joker? In 2008, a University of Sheffield study asked more than 250 children aged four to 16 whether clown images would make a hospital more cheerful. All 250 said no.
Some commentators trace the contemporary fear of clowns, or coulrophobia, to the case of serial killer John Wayne Gacy, who had worked as a children's party clown before his arrest in 1978. Others attribute the cultural shift in perception to Pennywise, the demonic clown from Stephen King's novel It, played with chilling glee by Tim Curry in the 1990 television adaptation – and by Bill Skarsgård in a forthcoming film.
"It's a fallacy to ask when clowns went bad, because they were never really good," says Ben Radford, the author of Bad Clowns, a recent study of the phenomenon. "From a historic, folkloric perspective, they were always ambiguous, trickster figures: the early versions of the clown are court jesters, the harlequin of commedia dell'arte, Mr Punch. Sometimes they were funny, sometimes they were horrific. The evil side of the clown character was always there."
The scary clown craze of 2016, Radford explains, is mostly the work of pranksters and hoaxsters in search of attention. "The whole premise of these sightings is flawed," he says. "Many children are scared of clowns, so if you want to lure them you're not going to dress as a clown. Most people who are genuinely intent on malice don't want to be caught, but if you're dressed as a clown you stand out… the cops just have to follow the size 38 footprints."
Yet real-world hysteria about scary clowns is far from a recent phenomenon. In May and June 1981 – five years before the publication of It – there were a spate of alleged "killer clown" sightings by schoolchildren in Boston, Philadelphia and Kansas City, Missouri. Similar sightings occurred throughout the US during the '80s and '90s, none of them substantiated.
The major difference between then and now is, of course, social media. In 2013, clown-based unease afflicted the East Midlands after photos of the so-called "Northampton Clown" went viral on Twitter and Facebook. The clown turned out to be a non-homicidal, 22-year-old university student.
That's cold comfort for genuine clowns, such as WCA president Randy Christensen, who recently released a video slamming the scary clown imposters. "If somebody dresses like a doctor… he is not really a doctor," Christensen said. "Whoever is doing this crazy stuff is not a clown. This is somebody that's trying to use a good, clean, wholesome art-form and then distorting it trying to gain access to a child."
Jordan Jones, 22, who works part-time playing a scary clown named Snuggles at Screamland Farms, a haunted house experience in Maryland, was so concerned by current anti-clown sentiment that he launched a "Clown Lives Matter" movement on Facebook to highlight the issue. "I fear for my life," says Jones, "People are out there clown hunting. It's becoming a very serious issue. I'm scared of people's reactions when they see me in public."
Radford agrees. "Someone fired a gun at a clown last week," he says. "In Greenville, residents were shooting into the woods where they thought clowns were. Frankly, I'm far more concerned about people overreacting to the clown panic and rumours than I am about anyone dressed as a clown doing bad things."
Even Stephen King stepped in to defend the clowns he has done so much to demonise, writing on Twitter that it was "time to cool the clown hysteria," adding: "Most of 'em are good, cheer up the kiddies, make people laugh." In an interview with the Bangor Daily News, the author said that although "the clown furor will pass… it will come back, because under the right circumstances, clowns really can be terrifying."
Still, the scary clown craze of 2016 seems destined to last at least until Halloween: sales of clown masks are up more than 300 per cent compared to 2015, according to Brad Butler of the US costume chain Halloween Express. Of the year's top 10 most popular clown masks, Butler told Eye Opener TV, "eight of them are 'evil' clown masks."
Register for free to continue reading
Registration is a free and easy way to support our truly independent journalism
By registering, you will also enjoy limited access to Premium articles, exclusive newsletters, commenting, and virtual events with our leading journalists
Already have an account? sign in
Join our new commenting forum
Join thought-provoking conversations, follow other Independent readers and see their replies