America's national parks eye corporate sponsorship to plug funding shortfall
Critics wonder what's next: Old Faithful brought to you by the makers of Viagra?
David Usborne
New York Comments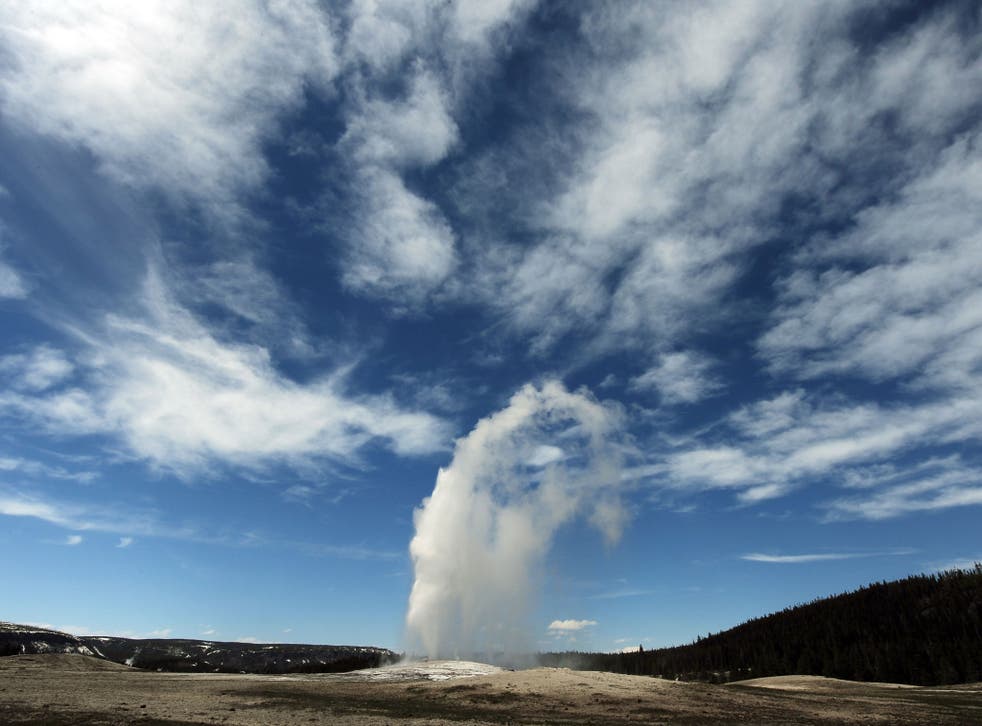 A proposal to lower the barriers to corporate sponsorship inside America's National Parks, including Yosemite and the Grand Canyon, is stirring alarm among conservationists and other groups concerned that their unique status as places of pristine tranquility is under threat.
The plan, which remains open to public comment until the end of this week, would not allow companies explicitly to advertise inside the 411 national parks. However, it envisages numerous other ways of rewarding business willing to donate cash to the system, including the display of their logos on buildings and alongside exhibits or interpretive programmes.
The revised rules would also require park superintendents actively to solicit funds from corporations, a new duty that critics say would distract them from their regular duties of caring for the parks, the flora and fauna within them and the visitors who flock to them.
The National Park System, NPS, has been exploring ways to expand on its base of traditional philanthropic support from private individuals by offering opportunities for corporate support for ten years already. Last year, it waived its own rule barring dealings with the alcohol industry by teaming up with Anheuser-Busch, the beer giant, for a parks marketing campaign.
It is penury that is driving the NPS even deeper into the corporate embrace. With insufficient funding from Congress and regular fund-raising falling short, the parks now have a $12 billion maintenance backlog. In the Grand Canyon the only pipeline supplying facilities with fresh water is so old it ruptures about thirty times a year. They have sewage leaks in Yellowstone.
Not only would big corporations have the chance to win naming rights for some key features inside the park and put their logos also on things like pathway bricks, visitor lockers and even on the backs of seats in educational theatres, they would also be allowed to franchise NPS signage for their own advertising, an attractive option for companies wanting to stress the outdoors and nature.
Critics, however, see a slippery slope. At what point will The Arches National Park in Utah be brought to the American public by McDonalds, the Zion National Park in the same state by the Israel Tourism board and Old Faithful by the makers of Viagra?
"Unlike Disneyland, our national parks serve a purpose far beyond immediate visitor enjoyment and revenue generation; they are supposed to preserve the best of our natural and cultural resources for future generations," Public Employees for Environmental Responsibility, states on its web site. The group also objects to the notion of park rangers becoming fund raisers.
"It is both unprecedented and unseemly to use tax dollars to solicit donations and cultivate potential donors," PEER Executive Director Jeff Ruch noted. "This plan would put fundraising on a par with conservation in our national parks."
Opponents of the changes also argue that the more the parks take money from large corporations, the more they will become beholden to them. At what point, for example, might a company like American Express or Victoria's Secret ask for privileged access to one park or another for corporate events or customer outings?
The director of the NPS, Jon Jarvis, stirred a furore of controversy five years ago when he blocked an attempt to ban the sale of water in plastic bottles in the Grand Canyon after objections were raised by Coca Cola. Already a major donor to the system, the soft beverage giant had been selling large volumes of its own Dasani bottled water brand in the park.
First unveiled in March, the proposed changes in policy were defended by Jeff Reinbold, the park system's associate director for partnerships and civil engagement. "The great thing about the policy is it protects those features of the park that are important to all of us," he told The Washington Post, "but it gives us new opportunities and new tools" to respond to donors eager to do deals with the parks system and impatient with current rules that make that difficult.
Register for free to continue reading
Registration is a free and easy way to support our truly independent journalism
By registering, you will also enjoy limited access to Premium articles, exclusive newsletters, commenting, and virtual events with our leading journalists
Already have an account? sign in
Join our new commenting forum
Join thought-provoking conversations, follow other Independent readers and see their replies