American airports see new strategy for soothing passengers stuck at security: clowns, lollipops and tiny horses
Airports cannot interfere with TSA security procedures, but they can find ways to ease travellers' pain
David Usborne
New York
Tuesday 17 May 2016 14:56 Comments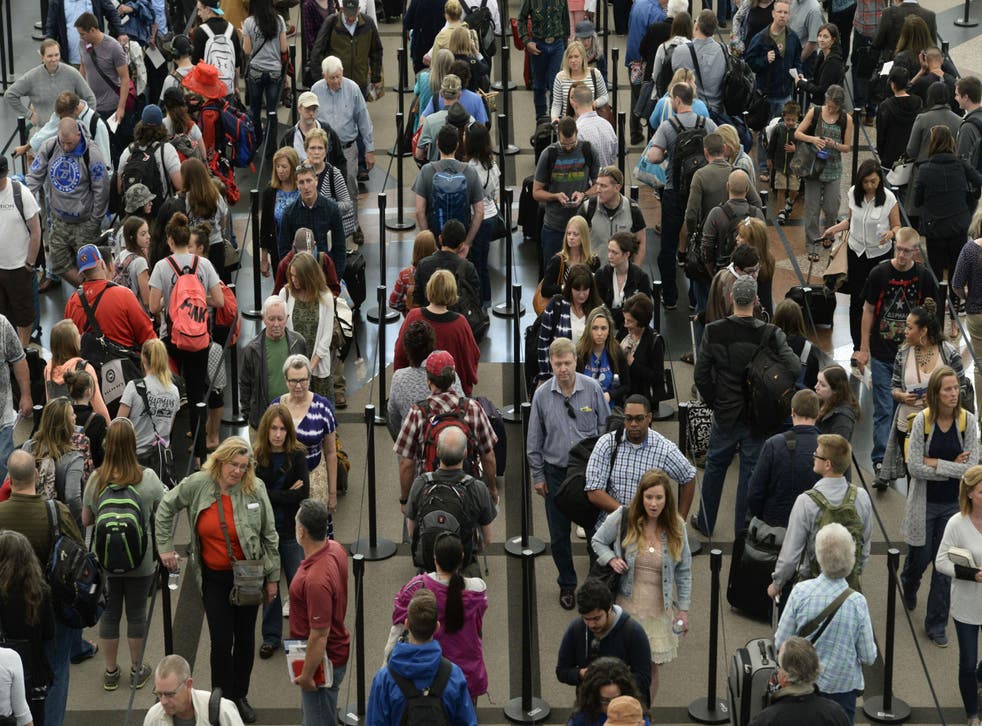 Facing a widening flyers' rebellion over increasingly lengthy queues at their security check points, some airports in America are trying a novel distract-and-delight approach by bringing in sweets, lollipops, live music and even circus acts.
Passengers stuck in queues at Cincinnati/Northern Kentucky International Airport should not be surprised if, before finally making it to screening point, run by the hard-pressed officers of the Transportation Security Agency, TSA, they come face to face with a very small horse.
It is unclear who will be more befuddled, the horse or the traveller. But according to the officials at the airport, the animals being deployed in their barely bucolic terminals are provided by the Seven Oaks Farms Miniature Therapy Horses programme in nearby Ohio.
"Animals help reduce stress and anxiety levels and put smiles on people's faces," Mindy Kershner, an airport spokeswoman, told NBC news. "Unlike service animals, who are working and should not be touched, therapy animals can be patted and hugged."
With so many passengers missing their flights because of unprecedented back-ups at security gates, the ponies may not assuage everyone's anger. On Sunday night alone hundreds of American Airlines passengers missed their planes at Chicago's O'Hare because of the queues and had to spend the night on camp beds at the airport.
Passengers taking to Twitter to voice their fury over the mounting security chaos using the hashtag #ihatethewait are increasingly berating the airlines themselves for imposing high fees for checked bags which is encouraging people to maximise hand baggage, snarling the queues.
The specific task of screening passengers is the exclusive domain of the TSA and its employees. But an increasing number of airports are deciding they can't just watch from the sidelines as the daily security traffic jams build.
In San Diego that has meant recruiting the clowns of the local Fern Street Circus in hopes they can turn tears of frustration into giggles. The logic would apparently be that missing that last flight of the night to London will be less painful if you are having a good laugh.
"They are creating content inspired by the traveller experience, so they will constantly be visible, trying out new ideas and interacting with passengers," said airport spokesman Jonathan Heller, unaware that forced fun while you fume is not always the best way to go. "We certainly think they will be at the checkpoints often, as people waiting in line are a great audience for them!"
Other airports are being little less daring, resorting more simply to live musical performances up and down the security queues or, in the case of Denver International Airport, asking airport staff to hand out sweets and lollipops.
Register for free to continue reading
Registration is a free and easy way to support our truly independent journalism
By registering, you will also enjoy limited access to Premium articles, exclusive newsletters, commenting, and virtual events with our leading journalists
Already have an account? sign in
Register for free to continue reading
Registration is a free and easy way to support our truly independent journalism
By registering, you will also enjoy limited access to Premium articles, exclusive newsletters, commenting, and virtual events with our leading journalists
Already have an account? sign in
Join our new commenting forum
Join thought-provoking conversations, follow other Independent readers and see their replies