American Bar Association dropped Brett Kavanaugh's ratings in 2006 after concerns about his temperament and honesty
Several members of the legal profession questioned Kavanaugh's 'potential for judicial temperament' and his 'ability to be balanced and fair should he assume a federal judgeship'
Wednesday 03 October 2018 10:23
comments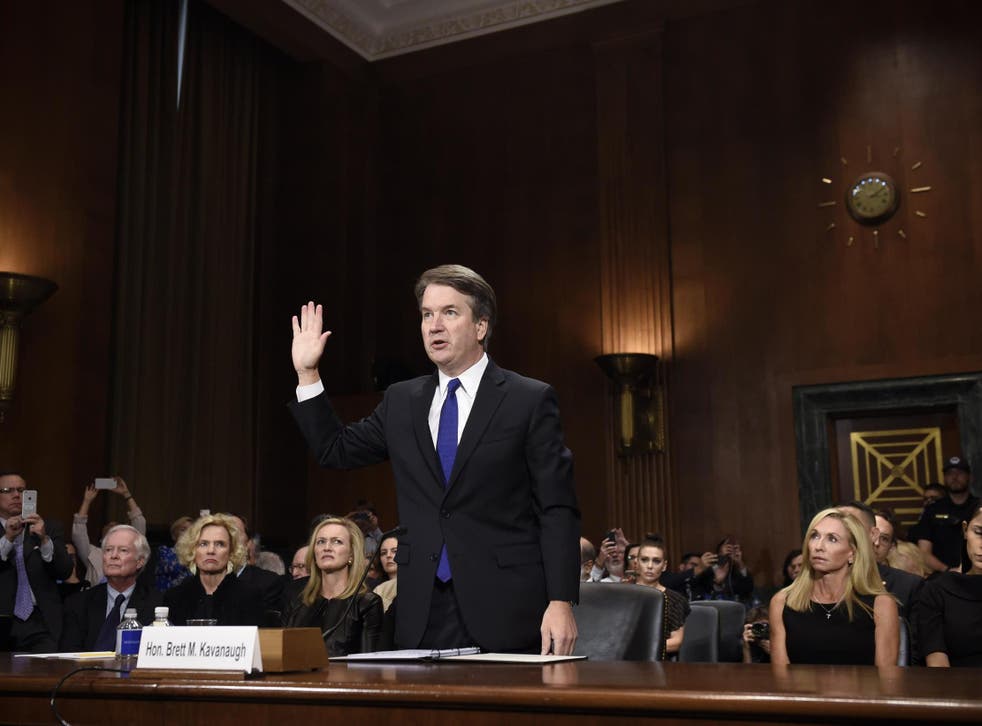 When Brett Kavanaugh was preparing for his second confirmation hearing for a seat on a federal appeals court in 2006, he got some unwelcome news. The American Bar Association, which had earlier given him its highest rating, had reconsidered.
The revised rating, the group explained, was prompted by new concerns about Mr Kavanaugh's demeanour and veracity, foreshadowing some critiques of his testimony last week before the Senate Judiciary Committee in response to accusations of sexual misconduct.
The bar association's new rating in 2006 — "qualified" instead of "well qualified" — was still quite positive. It meant, the committee explained, that Mr Kavanaugh had met its "very high standards with respect to integrity, professional competence and judicial temperament."
The revised rating was a minor blemish on a glittering résumé, and it was discounted by conservatives who viewed the bar association as a liberal interest group. The group's concerns did not prevent Mr Kavanaugh from being confirmed that year to the U.S. Court of Appeals to the District of Columbia Circuit. And when he was nominated for the Supreme Court this summer, the bar association unanimously rated him "well qualified," although Robert Carlson, the association's president, called last week for "a thorough FBI investigation" before a Senate vote.
But the group's 2006 statement, based in large part on confidential interviews, has received renewed attention in light of recent questions about Mr Kavanaugh's temperament and truthfulness.
"The 2006 interviews raised a new concern involving his potential for judicial temperament," Stephen Tober, the chairman of the bar association's standing committee on the federal judiciary, told the Judiciary Committee at the time.
Mr Tober summarised a handful of unflattering comments from unnamed judges and lawyers to support that conclusion. One judge called Mr Kavanaugh simultaneously unprepared and sanctimonious. A lawyer said he had dissembled in his handling of a case. A third interviewee questioned Mr Kavanaugh's "ability to be balanced and fair should he assume a federal judgeship."
World news in pictures

Show all 50
In an interview this week, Mr Tober declined to elaborate on his 2006 statement, citing confidentiality concerns, and he said he did not have a copy of the interview reports.
The 2006 statement was the outlier of the four ratings the bar association gave Mr Kavanaugh. When President George W. Bush first nominated Mr Kavanaugh to the appeals court in 2003, he received the same "well qualified" rating that he received this year.
"Kavanaugh had stellar credentials, a stellar intellect and his writing and briefs were stellar in 2003," said Pamela Bresnahan, who helped conduct a 2003 review of Mr Mr Kavanaugh and was the committee's chairwoman until recently. "But he was off the charts, by our criteria, by the time 2018 rolled around."
If there was a concern early on, she said, it was that Mr Kavanaugh was just 38 in 2003. "The biggest criticism was that he wasn't old enough," she said. "He didn't have enough years at the bar. That was the only rap on him."
Republican senators trumpeted the bar association's "well qualified" rating at his first confirmation hearing, in 2004. The rating was "the gold standard," said Sen. John Cornyn of Texas.
Sen. Jeff Sessions of Alabama, now the attorney general, said the rating counted even more given its source. "The American Bar Association, which is certainly a liberal political institution, in my view, has rated you the highest rating, 'well qualified,'" Sessions told Mr Kavanaugh.
Some studies have indeed concluded that the bar association tends to favour the nominees of Democratic presidents.
The New York Times
Join our new commenting forum
Join thought-provoking conversations, follow other Independent readers and see their replies