Majority of Americans want Congress probe into Donald Trump's Russia contact, poll finds
The results came as the White House was accused of banning news outlets for reporting on the President's Russian links
Lucy Pasha-Robinson
Saturday 25 February 2017 12:09 Comments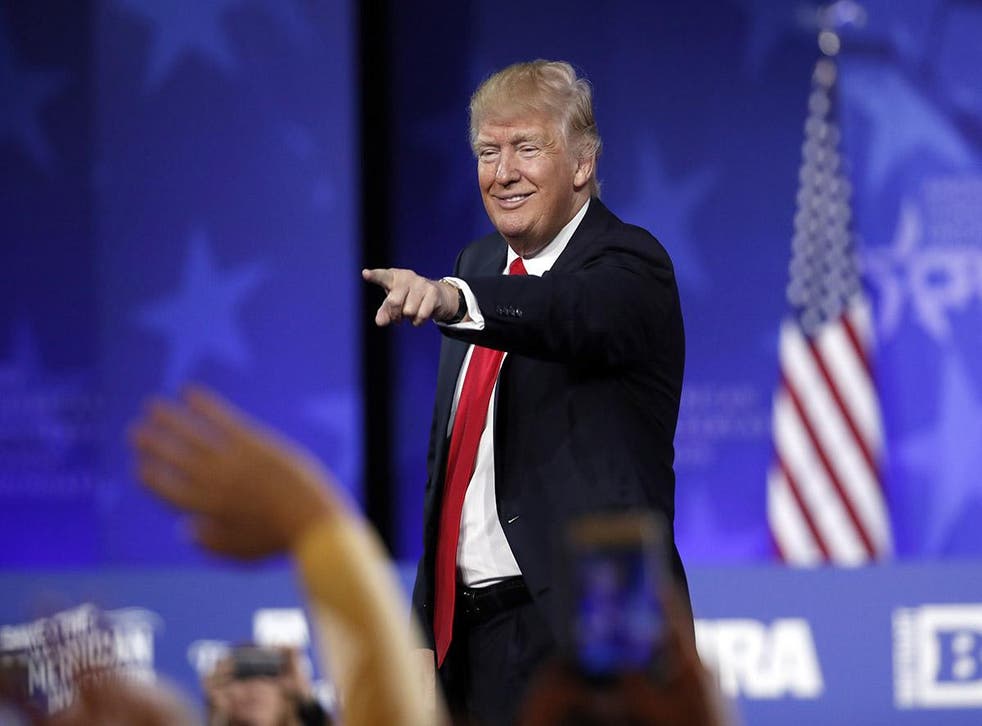 The majority of Americans support a Congress investigation into claims that Donald Trump's administration had close ties with Russia during his presidential campaign, a new poll has found.
Just over half (53 per cent) of US citizens want the alleged communications investigated, while 54 per cent want a Congress investigation into general Russian interference in the election, the survey for NBC News and The Wall Street Journal found.
The findings also revealed 38 per cent of Americans think Mr Trump's relationship with Russian President Vladimir Putin is too friendly, while 29 per cent believe the relationship is not too friendly.
Only a quarter of the 1,000 polled between 18 and 22 February did not back a Congress investigation.
Mr Trump's links with Russia have been in the spotlight since the CIA, FBI and the director of national intelligence James R Clapper Jr, all concluded that Russia intervened in the 2016 election in part to help Donald Trump win the White House.
The US President's former national security adviser Michael Flynn was also forced to resign after it emerged that he had discussed lifting sanctions on Russia, with the country's ambassador Sergey Ivanovich Kislyak, before taking office.
It is illegal for a private citizen to conduct diplomacy on behalf of the US.
Mr Trump later insisted that General Flynn was "doing his job" however said he asked him to resign because he "didn't tell our Vice President properly" and lied about remembering the content of the call.
However he accused the Washington Post at the Conservative Political Action Conference on Friday of making up the story, despite it being corroborated by nine sources.
"I want you to know we are all fighting the fake news. It's fake, phony, fake," he said.
Donald Trump: We are fighting the phoney, fake news
Shortly afterwards, Press Secretary Sean Spicer banned multiple news outlets from a White House press gaggle, leading some to suspect he had done so due to their aggressive pursuit of evidence of the Trump administration's Russian connections.
Many of the news outlets blocked from the press briefing include organisations the President has criticised by name. CNN, BBC, The New York Times, LA Times, New York Daily News, BuzzFeed, Guardian, and the Daily Mail, were among the news outlets barred from the gathering, many of whom have published detailed investigations of Mr Trump's associates' ties to Russia.
Representative Eric Swalwell wrote on Twitter: "UnAmerican to kick out press. But REAL story is @WhiteHouse kicked out outlets chasing #TrumpRussia ties. If that's missed, they've succeeded."
It came as a new poll from the Public Religion Research Institute (PRRI) found 58 per cent of Democrats would support impeachment of the US President.
However, overall support for Trump's impeachment is just 27 percent.
The PRRI noted that a similar proportion (56 per cent) of Republicans supported the impeachment of President Obama in late 2014, although by then, he was in the sixth year of his presidency.
As the case for the Iraq War was being picked apart in 2006, Democratic support for impeaching George W Bush was only at 48 percent — lower than it is today for Mr Trump.
Register for free to continue reading
Registration is a free and easy way to support our truly independent journalism
By registering, you will also enjoy limited access to Premium articles, exclusive newsletters, commenting, and virtual events with our leading journalists
Already have an account? sign in
Join our new commenting forum
Join thought-provoking conversations, follow other Independent readers and see their replies