Amtrak crash: Four passengers file lawsuit against railroad
Amtrak resumed service Monday on troubled line where crash occurred
Payton Guion Comments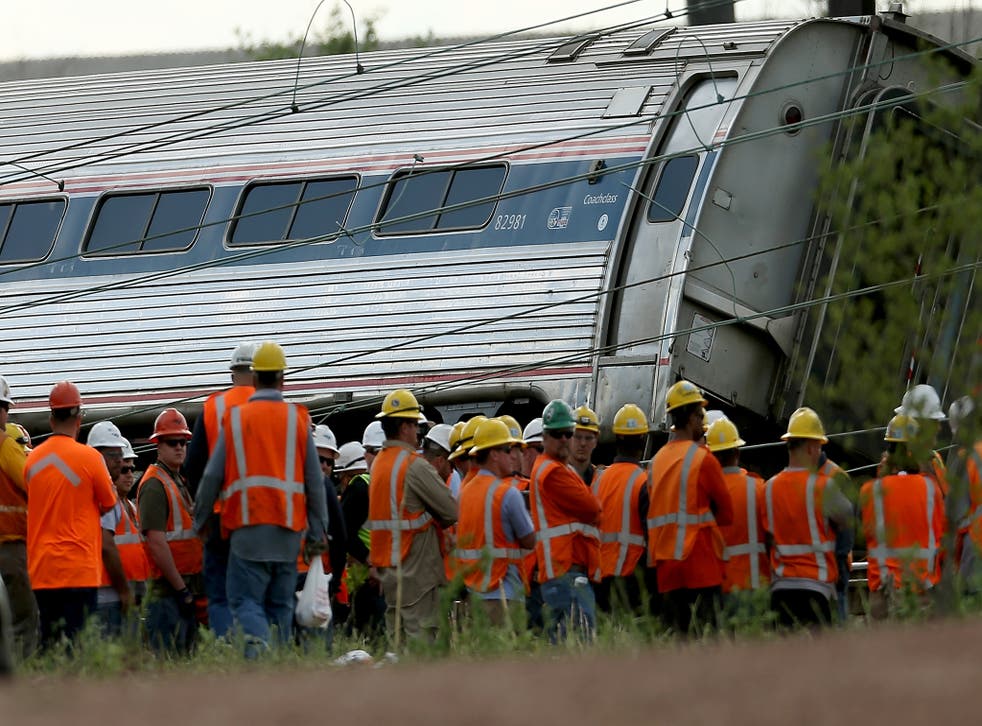 On the day service resumed after an Amtrak train crashed last week, killing eight people, four passengers who were aboard the train have filed a lawsuit against the railroad, believed to be the first suit filed by non-employees since the accident on 12 May.
The lawsuit was filed in Philadelphia on Monday on behalf of four passengers and cited "serious and disabling" injuries, according to the Associated Press. It is not immediately clear the damages being sought in the suit or if more passengers will sue Amtrak.
The plaintiffs included two Spanish citizens, Felicidad Redondo Iban and Maria Jesus Redondo Iban, and Daniel Armyn of New York and Amy Miller of New Jersey, Reuters reported.
The four passengers suffered major injuries, with Felicidad Redondo Iban requiring several surgeries to avoid amputation of her right arm, according to the complaint.
Federal law caps Amtrak payouts from a single crash at $200 million, though experts have said claims from this accident could exceed that cap.
The investigation into the Amtrak crash is on-going even as service resumed on the stretch of rail – near Philadelphia – where the crash happened. Both northbound and southbound trains between New York and Philadelphia had been canceled since the accident.
Amtrak Train 188 was travelling between Washington DC and New York on Tuesday night with some 243 people on board. Just after it stopped in Philadelphia, the train derailed in a curve. In addition to the eight people who died, more than 200 were injured.
In pictures: Amtrak Philadelphia train crash

Show all 15
The National Transportation Safety Board has been investigating the crash and determined that the train was travelling at 106 mph – in a 50 mph section of track – just before it derailed. Passengers have described being tossed around easily in the cars, with luggage and seats flying.
Reports on Friday said that the train may have been hit with some sort of projectile shortly before the crash. An assistant engineer claimed to have heard the train's engineer, Brandon Bostian, tell the engineer of another train that his train may have been hit by a projectile.
The NTSB has said they have no recording in which Mr Bostian says anything about a projectile. The FBI has said it will investigate to determine if anything hit the train before the accident.
Follow @PaytonGuion on Twitter.
Register for free to continue reading
Registration is a free and easy way to support our truly independent journalism
By registering, you will also enjoy limited access to Premium articles, exclusive newsletters, commenting, and virtual events with our leading journalists
Already have an account? sign in
Join our new commenting forum
Join thought-provoking conversations, follow other Independent readers and see their replies