Anastasia Lin: Banned Miss World beauty queen speaks out on China's human rights record
The contest has provided the Chinese authorities with the chance to promote a booming leisure industry, with all contestants quoted praising the Hainan resort of Sanya and the hospitality of the host country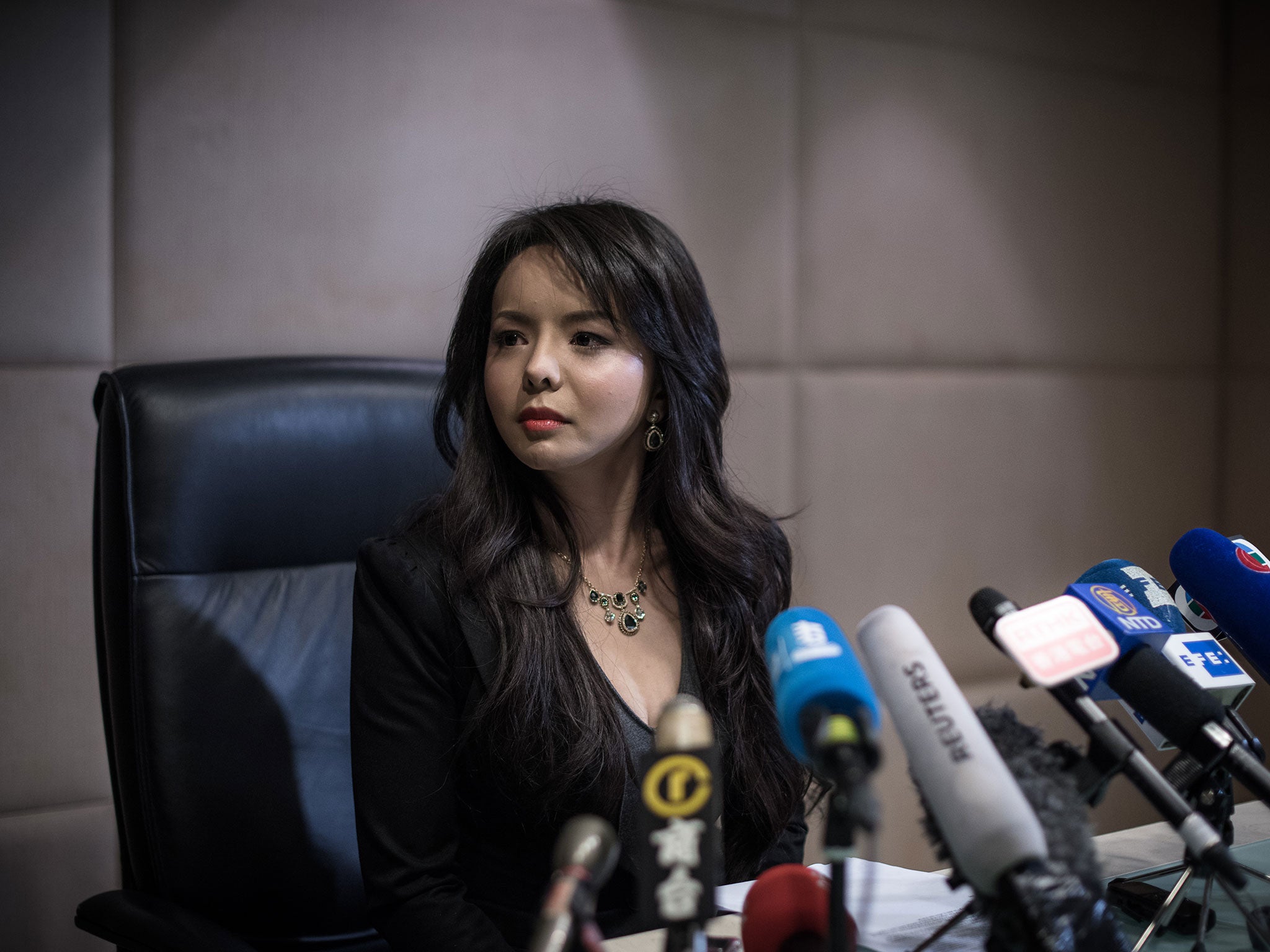 Chinese-born Miss Canada had to watch the Miss World pageant on television on Saturday night, rather than appear on stage in China with all the other beauty queens. In fact, she staged a pre-emptive strike on the whole show by denouncing China's abuses of human rights.
Anastasia Lin, who emigrated to Canada with her mother from her native Hunan Province 12 years ago, broke down in tears as she described the refusal by Chinese authorities to let her enter the country and join the pageant at a beach resort on Hainan Island in the South China Sea.
"My invitation never came," the 25-year-old actress told a National Press Club audience in Washington before the final in which Miss Spain beat Miss Russia and Miss Indonesia to win the crown. When she tried to board a flight last month from Hong Kong, she discovered she was "PNG" – persona non grata.
"For the Chinese government, I did not even exist," she said. "I was told: 'Sorry, there is no explanation. You cannot come.'"
Ms Lin, however, rather stole the show from 10,000 miles away. Alternating between charming smiles and haunted grimaces, she revealed the Chinese campaign against her and her ageing father, who still lives in Hunan Province. "My father was intimidated," she said. "I do not feel safe within my own borders." Her father wrote to her: "It is better if you don't come back."
Ms Lin broadened the story of her father's fears to a general denunciation of human-rights abuses in China.
"It is important for Chinese to express what they wish," she said. "We should encourage the Chinese people to speak up for themselves." She called on human-rights lawyers "to stand against tyranny, to let them see the truth".
Chinese authorities have not commented but are likely to have been upset by Ms Lin's involvement in films concerning the Falun Gong sect, viewed as anathema by the regime for their sweeping criticism of repression and abuses. A film graduate of Toronto University, Ms Lin stars as a Falun Gong practitioner in The Bleeding Edge, about to be released, and appeared in a Swedish film about the Falun Gong, The Red Lotus.
The ban on Ms Lin was pervasive: she was not listed in the pageant's programme among the 117 beauty queens at the contest and there have been no reports in China about the ban placed on her. The contest has provided the Chinese authorities with the chance to promote a booming leisure industry, with all contestants quoted praising the Hainan resort of Sanya and the hospitality of the host country.
Ms Lin, though, has used the publicity generated by the snub to describe constraints imposed on Chinese film-makers and the blackout on anything showing the regime in an unfavourable light. "Chinese film-makers have to alter their scripts," she said. "Everything has to be in line."
When the actress arrived in Vancouver with her mother in 2003, she said, she had never heard of the 1989 Tiananmen Square massacre in Beijing, in which Chinese troops killed hundreds of demonstrators. "My mother encouraged me to challenge the ideals instilled in me," she said. The film The Bleeding Edge, she went on, depicts "people who want to scream" as they endure sexual assaults and torture.
Asked whether she was aware of feminist objections to beauty contests, Ms Lin merely offered a disarming smile. "I want to replace the fear and hatred in people with kindness and compassion," she said. "That is what we so desperately need."
She does, however, think that the judging criteria of the contest should change somewhat. Unsurprisingly, what she would like most is for contestants to be able to express "what is their goal and what we should care about".
Join our commenting forum
Join thought-provoking conversations, follow other Independent readers and see their replies