Donald Trump's pick for Labour Secretary Andrew Puzder withdraws from nomination
The controversial choice – who ran the Carl's Jr fast food company – has stepped down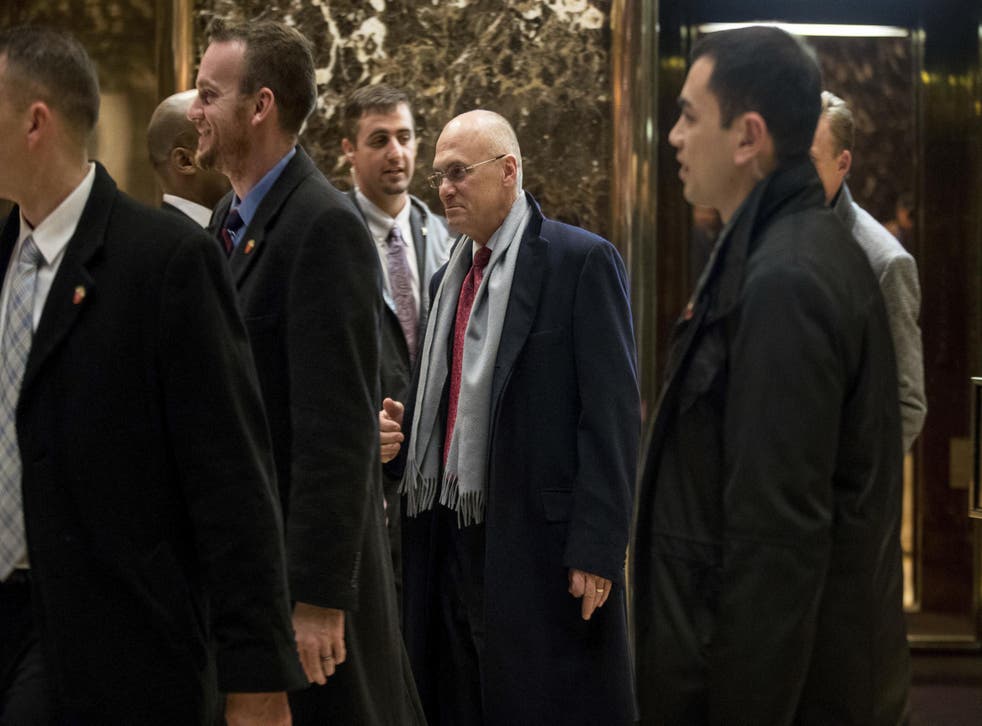 Donald Trump's pick for Secretary of Labour, Andy Puzder, has withdrawn his nomination for consideration in the new Cabinet.
The withdrawal signifies the first casualty of the Trump administration's Cabinet picks, as the Senate was expected to confirm Mr Puzder later in the week.
Still recovering from the abrupt resignation of former national security adviser Michael Flynn, the White House is now tasked with replacing the controversial Labour Department candidate.
Mr Puzder, a fast food chain CEO, has faced allegations of domestic abuse and of mistreating his workers, several of whom testified against him last month before the Senate.
"I am withdrawing my nomination for Secretary of Labour," Mr Puzder announced via Twitter late Wednesday afternoon. "I'm honoured to have been considered and am grateful to all who have supported me."
A source close to the CKE Restaurants executive told CBS that Mr Puzder was "very tired" of the abuse he had received since his nomination late last year.
His Senate hearing had been delayed five times as he failed to submit the appropriate ethics and financial paperwork.
The man who reportedly earned around $17,000 (£13,639) per day was described as a "sworn foe" of the minimum wage, and who was also against paid sick leave or maternity leave.
Republican support for the candidate quickly evaporated due to his allegations of workplace abuses and his support of increased immigration.
He would have needed 50 out of the 52 Republicans in the Senate to vote for him, due to a lack of votes from Democrats or Independents, but at least seven Republicans refused to stand by him.
"No matter how you cut it, there is no worse pick for Labour Secretary than Andrew Puzder, and I'm encouraged my Republican colleagues are starting to agree," Democratic leader Sen Chuck Schumer said prior to the announcement. "He does not belong anywhere near the Labour Department, let alone at the head of it. Puzder's disdain for the American worker, the very people he would be responsible for protecting, is second to none."
Mr Schumer later celebrated the withdrawal as a "victory for the American worker".
Abuse allegations from his ex-wife, Lisa Fierstein, recently received the most attention among Senators, after Oprah Winfrey gave the deciding Senate Committee a decades-old tape of Ms Fierstein on her show, detailing the alleged abuse.
Divorce records released this week show that Mr Puzder's ex-wife accused him of "striking her violently about the face, chest, back, shoulders and neck, without provocation or cause," according to The New York Times. A spokesman for Mr Puzder told the newspaper that sharing the allegations was "nothing more than a desperate attempt to tarnish Andy Puzder".
Ms Fierstein reportedly retracted elements of her allegations, which she related in a letter sent to the Senate committee.
Bernie Sanders says 'delusional' Donald Trump could move US into 'authoritarian mode'
Republican Senator Lamar Alexander said he had still intended to vote for Mr Puzder.
"That happened 27 years ago," he told Politico. "His former wife has said it was all not true. She has reiterated that in a heartfelt letter to members of the committee and has been willing to talk to members of the committee so I don't think that's an issue."
The cabinet setback comes shortly after Michael Flynn was forced to resign as national security adviser due to allegedly misinforming the FBI about his calls to the Russian ambassador last year, to assure the Russians that sanctions would be overturned.
Donald Trump's controversial cabinet
Education secretary Betsy DeVos also suffered a close shave to the cabinet as education secretary due to opposition from teachers, Democrats and civil rights campaigners.
Vice President Mike Pence cast a rare, tie-breaking vote in her favour, however, which ushered her into power.
Mr Trump's journey to fill as many as 4,000 government roles has been volatile, with many key cabinet roles still unconfirmed and many gaps within national security positions like the National Security Council.
Register for free to continue reading
Registration is a free and easy way to support our truly independent journalism
By registering, you will also enjoy limited access to Premium articles, exclusive newsletters, commenting, and virtual events with our leading journalists
Already have an account? sign in
Register for free to continue reading
Registration is a free and easy way to support our truly independent journalism
By registering, you will also enjoy limited access to Premium articles, exclusive newsletters, commenting, and virtual events with our leading journalists
Already have an account? sign in
Join our new commenting forum
Join thought-provoking conversations, follow other Independent readers and see their replies