Angela Merkel supports invitation for Ivanka Trump to visit Germany on official mission
The first daughter will visit vocational centres which help to train young people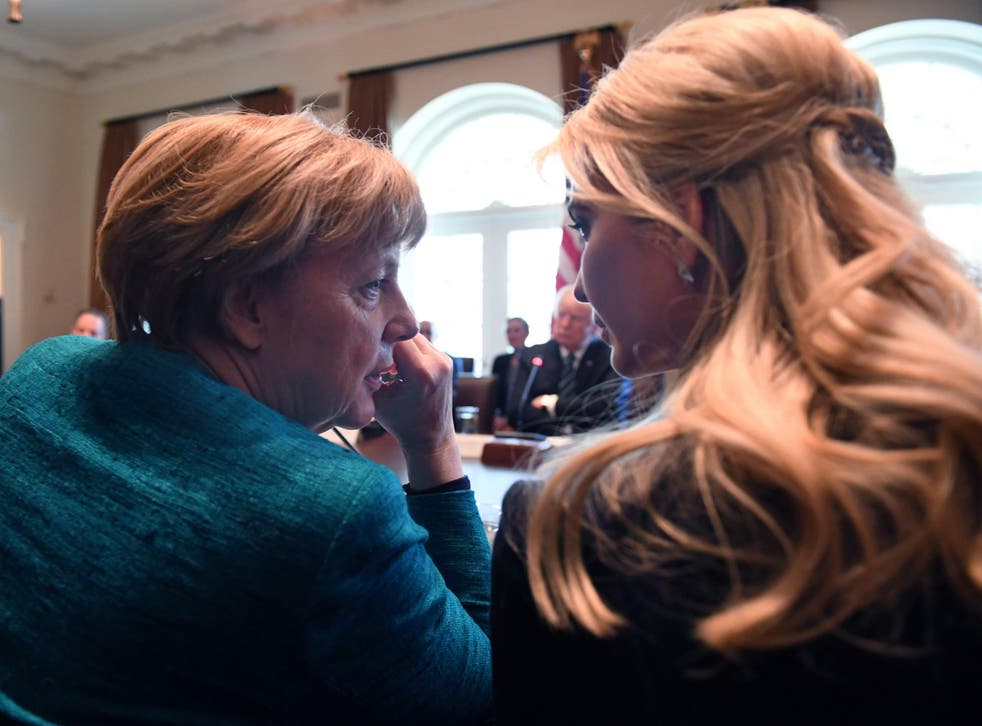 Angela Merkel has reportedly given the go ahead for Ivanka Trump to visit Germany on official White House business.
The pair met in Washington DC last week, but the first daughter has now been offered the opportunity to view some of the European country's vocational training centres by a group of business executives.
Ms Merkel is supportive of the idea, according to German newspaper, Der Speigel.
The German Chancellor was pictured speaking to Ms Trump earlier this month during a roundtable discussion on training workers in the US capital.
A White House official said Ms Merkel's staff reached out to her directly about setting up the meeting, which appeared far more successful than the one between the chancellor and her father.
The world leaders did not shake hands during their meeting in the White House's Oval Office.
Ms Trump's visit to Germany is believed to be an outcome of the meeting.
At the end of the session, Ms Trump said American and German executives in attendance would form a taskforce that will provide a report in three months detailing programmes that could be expanded and ways the countries can work together.
Germany currently offers a dual vocational training programme to young people, which combines an apprenticeship in a company with theoretical modules at a vocational education centre.
Executives have invited Ms Trump to look at the model.
Ms Trump had previously played a major role in coordinating a similar international workforce meeting during Canadian Prime Minister Justin Trudeau's visit last month.
Sevnica: Melania Trump's home town

Show all 18
At the suggestion of Mr Trudeau's office, she helped organise a discussion on economic development opportunities for women.
But despite being influential in policy making, Ms Trump – who will soon have security clearance and a West Wing office, does not currently have an official White House role, which has drawn criticism.
Being designated a White House employee triggers an array of transparency and ethical provisions, including a law prohibiting conflicts of interest.
Government watchdogs are concerned that by refusing to call Ms Trump an employee, the White House could be attempting to give her a loophole if she improperly mingles her government policy roles with her business and financial interests.
Register for free to continue reading
Registration is a free and easy way to support our truly independent journalism
By registering, you will also enjoy limited access to Premium articles, exclusive newsletters, commenting, and virtual events with our leading journalists
Already have an account? sign in
Register for free to continue reading
Registration is a free and easy way to support our truly independent journalism
By registering, you will also enjoy limited access to Premium articles, exclusive newsletters, commenting, and virtual events with our leading journalists
Already have an account? sign in
Join our new commenting forum
Join thought-provoking conversations, follow other Independent readers and see their replies