Michael Brown shooting: Anger erupts in Missouri suburb after unarmed teenager is killed by police following 'tussle'
Michael Brown, 18, died yesterday after an 'altercation with police', the St Louis Police Chief said in a press conference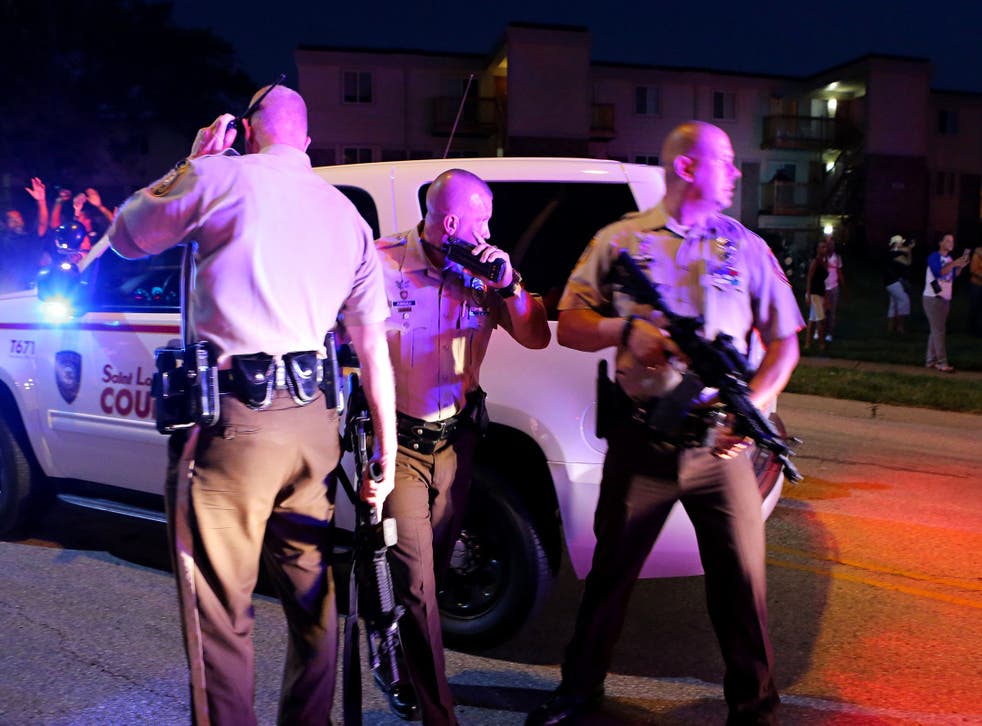 Missouri police have killed an unarmed teenager, sparking a tense confrontation between officers and residents that lasted several hours.
Michael Brown, 18, was shot yesterday afternoon as he neared the home of his grandmother, Desiree Harris, in the town of Ferguson.
Angry residents convened into the night, shouting "kill the police" and at the height of tension police backup from 60 other units were called. Shots were also heard.
In a press conference today, St Louis County Police Chief Jon Belmar said that the shooting of Brown followed an altercation with police, including the struggle for a gun.
The constable in question had had an encounter with two people, he said, one of whom allegedly assaulted and pushed the unnamed officer back into the patrol car.
In pictures: Michael Brown shooting

Show all 32
There was then a tussle for the police weapon, with one shot fired in the car, before the officer exited the vehicle and shot at "a subject". The officer has been put on paid administrative leave.
Eyewitness Piaget Crenshaw said that Brown was running away from police with his hands held in the air when he was shot multiple times, according to New York Magazine.
The residents of Ferguson, which is roughly 10 miles north-east of St Louis, are predominately black, and the local chapter of a civil rights group has called on the FBI to investigate the incident.
John Gaskin, a member of the St Louis County National Association for the Advancement of Colored People (NAACP) said: "With the recent events of a young man killed by the police in New York City and with Trayvon Martin and with all the other African-American young men that have been killed by police officers... this is a dire concern to the NAACP, especially our local organization."
He said that stronger powers should get involved "to protect the integrity of the investigation."
A memorial has since been set up in the middle of the road, where the teenager - who was black - died, while Ms Harris said that her grandson "never even got into a fight".
Around 100 protesters took to the streets, with some chanting "No Justice! No Peace!", while others held up their hands saying "Don't shoot me!" as armed officers looked on, according to the St Louis Post-Dispatch.
Brown's stepfather, Louis Head, also held a makeshift sign reading: "Ferguson Police just executed my unarmed son!!!"
Ferguson Mayor James Knowles III called for calm and asked residents to "have faith in the process."
A rally has reportedly been planned for tomorrow morning in front of the police station.
Register for free to continue reading
Registration is a free and easy way to support our truly independent journalism
By registering, you will also enjoy limited access to Premium articles, exclusive newsletters, commenting, and virtual events with our leading journalists
Already have an account? sign in
Register for free to continue reading
Registration is a free and easy way to support our truly independent journalism
By registering, you will also enjoy limited access to Premium articles, exclusive newsletters, commenting, and virtual events with our leading journalists
Already have an account? sign in
Join our new commenting forum
Join thought-provoking conversations, follow other Independent readers and see their replies