Woman who shared Britain First tweets with Donald Trump says it is 'irrelevant' they are misleading
Ann Coulter brought Islamophobic posts to US President's attention before he shared them with 43 million followers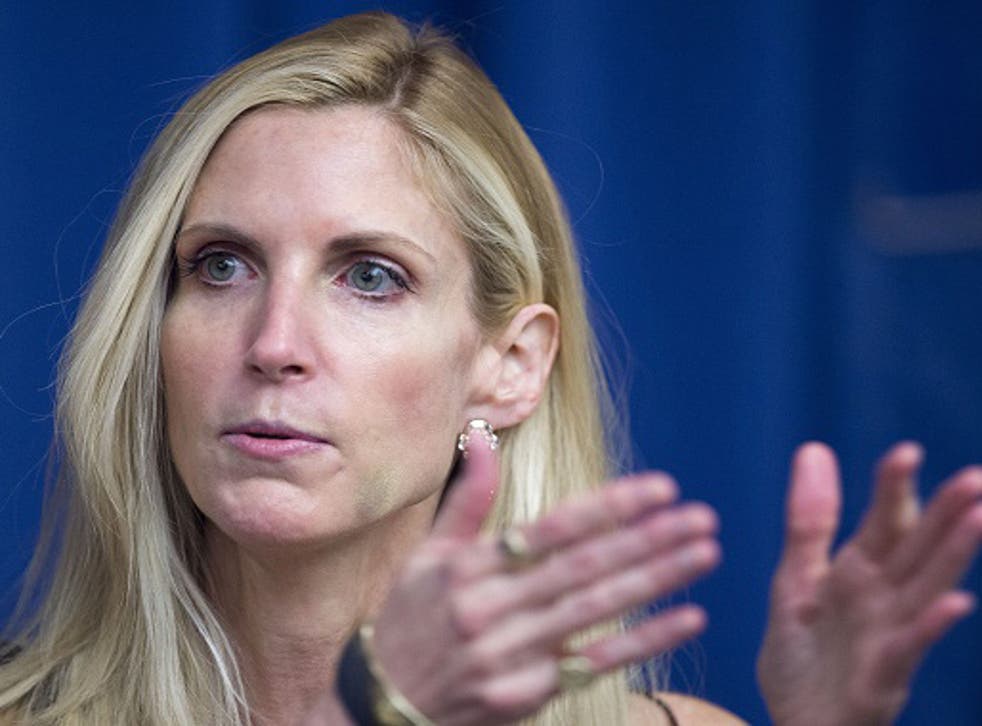 The Conservative commentator who shared Islamophobic tweets by the deputy leader of Britain First with Donald Trump has claimed it is "irrelevant" the inflammatory posts he subsequently circulated to millions of people were misleading.
Ann Coulter, one of only 45 people who the US President follows on Twitter, retweeted a video posted by Jayda Fransen purporting to show "Muslim migrants beating up a Dutch boy on crutches" shortly before Mr Trump shared the clip.
The American leader then thought to have browsed Ms Fransen's feed before he retweeted two other videos posted by the far-right leader, sparking condemnation for spreading Britain First's extremist ideology to a global audience.
Dutch authorities later confirmed the supposed "Muslim migrant" shown attacking a victim on crutches had in fact been born and raised in the Netherlands, while the other two videos the President retweeted were also shorn of important context.
But Ms Coulter said it was "supremely irrelevant" if the clips did not show what they were claimed to.
"It's a difference without a distinction," she told BBC Radio 4's Today. "This business about, 'Oh they were born here.' Yeah, from migrant parents who came in the 80s. Anybody can look at the video and see this is a Middle Easterner.
"I think it could not be more supremely irrelevant [whether the attacker was born in the Netherlands.] The issue is all of these Middle Easterners and Muslims being brought in. To pretend like there's no difference between a tenth generation Dutch person and a migrant or the child of a migrant is preposterous."
Donald Trump criticised for Britain First retweets
Ms Coulter has previously suggested Mr Trump's Muslim travel ban did not go far enough, calling on him to restrict "every other kind of immigrant" from entering the US.
Asked if she knew she was sharing posts by a far-right extremist group, Ms Coulter told Today presenter Nick Robinson: "No... I don't think it really matters. It's a video. A video is a video."
Ms Fransen and Britain First supporters have celebrated the worldwide publicity that followed from Mr Trump's retweets, which came days after she was arrested over a speech at a rally in Belfast.
She was charged with using threatening, abusive or insulting words or behaviour at the Northern Ireland Against Terrorism Rally in the latest in a series of alleged incidents of hate speech, religious harassment and incitement by Britain First members.
Ms Fransen is also facing trial over four charges of religiously aggravated harassment as part of a Kent Police investigation into the distribution of leaflets and the posting of online videos earlier this year.
Mr Trump's retweets prompted condemnation from British MPs and risked creating tensions between the President and Theresa May.
The Prime Minister said the billionaire Republican was "wrong" to have retweeted the Islamophobic videos, with her spokesman adding: "British people overwhelmingly reject the prejudiced rhetoric of the far right which is the antithesis of the values that this country represents – decency, tolerance and respect."
In response, Mr Trump tweeted: ""Theresa @theresamay, don't focus on me, focus on the destructive Radical Islamic Terrorism that is taking place within the United Kingdom. We are doing just fine!"
Ms May has faced pressure to cancel his state visit over the incident.
Register for free to continue reading
Registration is a free and easy way to support our truly independent journalism
By registering, you will also enjoy limited access to Premium articles, exclusive newsletters, commenting, and virtual events with our leading journalists
Already have an account? sign in
Register for free to continue reading
Registration is a free and easy way to support our truly independent journalism
By registering, you will also enjoy limited access to Premium articles, exclusive newsletters, commenting, and virtual events with our leading journalists
Already have an account? sign in
Join our new commenting forum
Join thought-provoking conversations, follow other Independent readers and see their replies