Anthony Scaramucci's wife 'files for divorce because of his Trump ambition'
Deidre Ball, who has two children with the new White House communications director, 'liked the nice Wall Street life...not the insane world of D.C.'
Charlotte Beale
Saturday 29 July 2017 17:00 Comments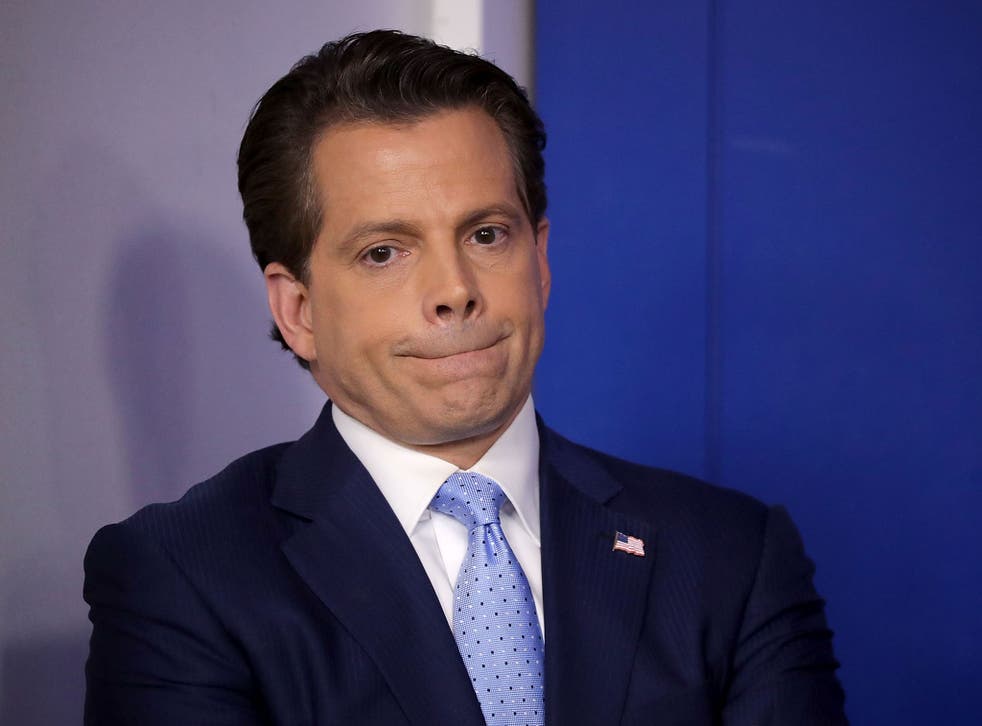 White House communications director Anthony Scaramucci's "naked political ambition" has reportedly driven his wife to divorce him.
Deidre Ball, 38, is said to be tired of her husband's obsession with Donald Trump, who appointed him to his new role this week.
"Deidre has left him and has filed for divorce" one of multiple sources told American gossip site Page Six, adding that she liked her life in New York and not the "insane" world of Washington DC.
They added: "She is tired of his naked ambition, which is so enormous that it left her at her wits' end She has left him even though they have two children together."
The couple met six years ago, and it is thought they married in 2014. Ms Ball worked as vice president in investor relations at her husband's investment firm, SkyBridge Capital.
Mr Scaramucci, who is known as "The Mooch", was "hell-bent" on being a member of Mr Trump's White House, according to one source.
He was originally intended for a senior role in January but Reince Preibus, former White House chief-of-staff, allegedly blocked his appointment.
Mr Scaramucci's sale of SkyBridge Capital in January was reportedly preparation for a job in Mr Trump's team.
World news in pictures

Show all 50
A second source told Page Six: "Deidre is not a fan of Trump, and she hasn't exactly been on board and supportive of Anthony and his push to get back into the White House."
Ms Ball reportedly gave $5,400 (£4,100) to anti-Trump Democrat Kathleen Rice's congressional campaign in 2015.
However, she also donated to two Republican presidential campaigns: $10,800 (£8,200) to Wisconsin Governor Scott Walker and $2,700 (£2,100) to Jeb Bush.
Anthony Scaramucci to Sarah Sanders: 'I'd like to continue to use the hair and makeup person'
Mr Scaramucci has written two messages on Twitter since reports of his divorce were published.
"Leave civilians out of this. I can take the hits, but I would ask that you would put my family in your thoughts and prayers & nothing more", he first wrote.
"Family does not need to be drawn into this. Soon we will learn who in the media has class and who doesn't. No further comments on this."
After less than a week on the job, Mr Scaramucci criticised his new colleagues in a foul-mouthed tirade to a reporter from The New Yorker.
He called Reince Priebus, the White House chief-of-staff who resigned on Friday, "a f***ing paranoid schizophrenic".
Mr Scaramucci also said he was not like Steve Bannon, Mr Trump's chief strategist, because "I'm not trying to suck my own cock".
Register for free to continue reading
Registration is a free and easy way to support our truly independent journalism
By registering, you will also enjoy limited access to Premium articles, exclusive newsletters, commenting, and virtual events with our leading journalists
Already have an account? sign in
Join our new commenting forum
Join thought-provoking conversations, follow other Independent readers and see their replies