Teacher accused of punching 'Nazi scum' in anti-fascist protest says standing up to white supremacists 'not a crime'
Yvette Felarca landed several blows to stomach of fascist demonstrator in Sacramento, California, before her fellow activists lashed out at the man with kicks and blows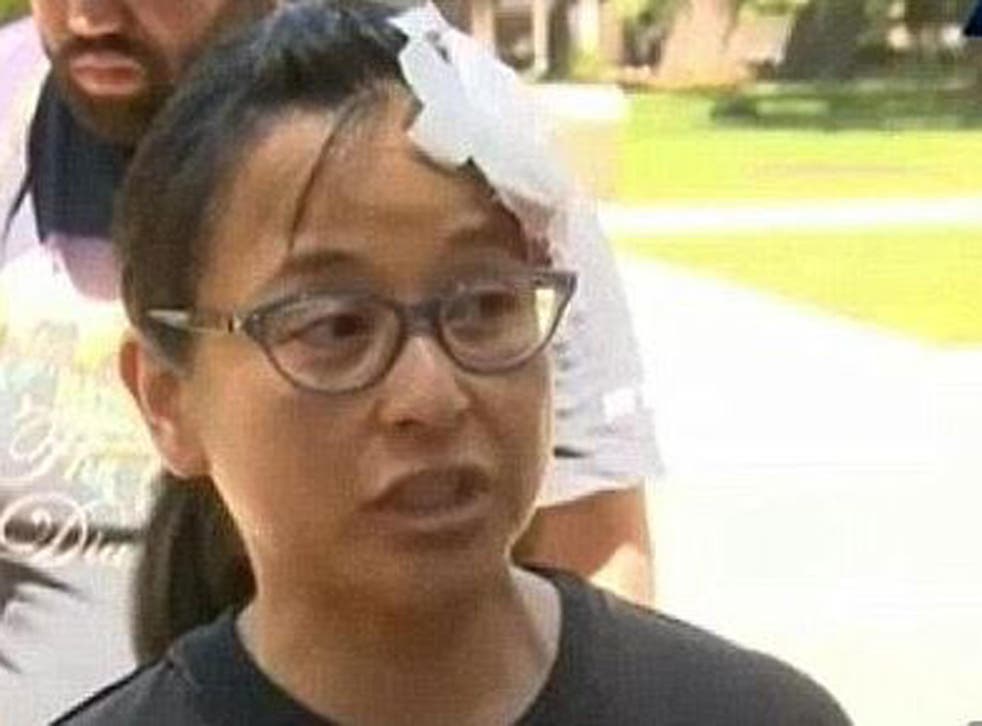 A school teacher accused of repeatedly punching what she described as "Nazi scum" during a protest has defended her actions – saying that standing up to white nationalists is "not a crime".
Yvette Felarca was among some 300 protesters who turned out for an anti-fascist demonstration on the steps of the capitol building in Sacramento, California.
But the peaceful gathering turned violent when a lone extremist approached the protesters, goading them into a confrontation by waving a neo-Nazi flag, a video of the incident appears to show.
One activist charged at the man and tried to grab his flag, while another sprayed a substance in his face before the white nationalist started swinging his flagpole at the activists.
He later retreated before a woman believed to be Ms Felarca confronts him, shouting "get the f**k off our streets" before appearing to throw several punches. Ms Felarca's lawyer has told local media the video does not show the full story of what happened.
The stand-off caused a clash between the Traditionalist Worker Party, a white nationalist group described as a front for neo-Nazi sympathisers, and the activists.
The violence left 14 people suffering stab wounds and cuts and bruises. Two of the injured survived critical stab wounds.
Ms Felarca, 47, was this week levelled with charges including a felony assault and force likely to inflict great bodily injury and two misdemeanour counts of inciting and taking part in a riot.
In an earlier hearing last month in a Sacramento court, she called for the charges against her to be dropped.
Ms Felarca said: "Standing up against fascism and the rise of Nazism and fascism in this country is not a crime. We have the right to defend ourselves."
After the clash last year, she had told reporters that the goal of the left-wing demonstration was to "shut down the Nazi scum".
World news in pictures

Show all 50
"They are organising to attack and kill us," she said. "So we have a right to self-defence. That is why we have to shut them down by any means necessary."
Police arrested Ms Felarca over the riot in Sacramento following an eight month investigation, after viewing the video footage that surfaced of her stand-off with the white nationalist protestor.
Her lawyer Shanta Driver suggested police in Sacramento on the day of the trouble were too slow to act when violence broke out.
She said: "I think anyone has the right to self-defence. I think what's shown in that video is partial and incomplete", according to a report on KPIX 5.
Ms Felarca is a member of activist group By Any Means Necessary and has been involved in other high-profile demonstrations, including Black Lives Matters protests, in California in the past.
She is due to stand trial in a Sacramento court in early October.
Join our new commenting forum
Join thought-provoking conversations, follow other Independent readers and see their replies