Antifa: US security agencies label group 'domestic terrorists'
Department of Homeland Security has reportedly been warning about growing threat of violence between left-wing anarchists and right-wing nationalists since early 2016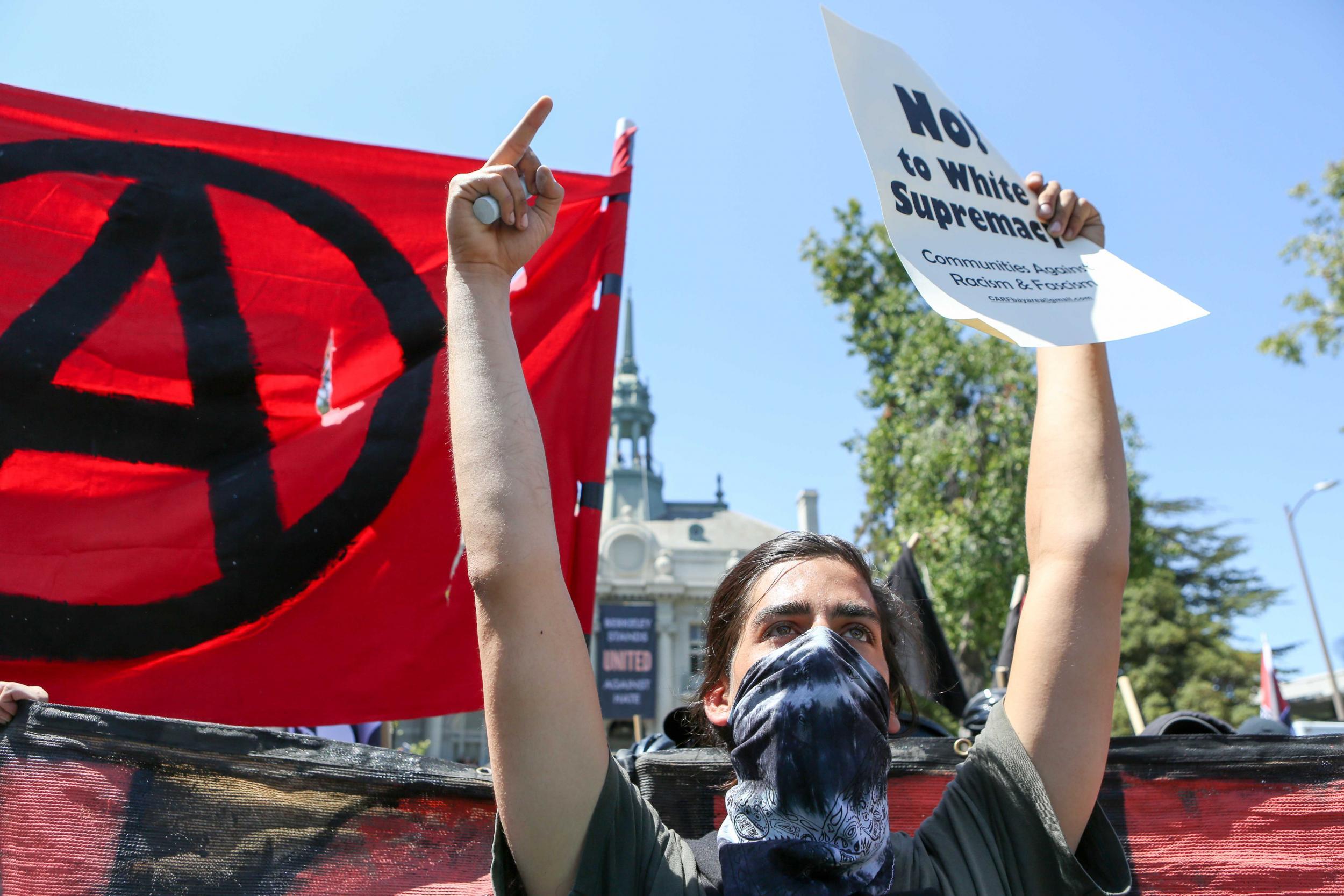 US security officials have classified the left-wing group Antifa as "domestic terrorists", confidential documents have revealed.
The Department of Homeland Security (DHS) has reportedly been warning about the growing threat of violence between left-wing anarchists and right-wing nationalists since 2016, amid claims Antifa's activity has become more confrontational, according to documents seen by Politico.
A confidential intelligence report by the DHS and the FBI accused the "anarchist extremists" of attacks on police, government and political institutions, along with any other symbols of the "capitalist system" or displays of racism, social injustice or fascism.
It described some of their activities as "domestic terrorist violence".
Antifa, shorthand for anti-fascist organisations, refers to a loose coalition of decentralised, grassroots groups opposed to the many guises of the extreme right.
The group has come under growing scrutiny in the past weeks after Donald Trump blamed the "alt-left" for the deadly violence between white supremacists and counter protesters in Charlottesville, Virginia.
But law enforcement officials said that the US President helped spur the backlash through his own divisive rhetoric.
"It was in that period [as the Trump campaign emerged] that we really became aware of them," one senior law enforcement official said.
"These antifa guys were showing up with weapons, shields and bike helmets and just beating the shit out of people ... they're using Molotov cocktails, they're starting fires, they're throwing bombs and smashing windows."
Violence on the streets of Charlottesville
Show all 9
Officials are now warning of an escalation of violence as white supremacist and far-right groups grow stronger and more militant.
"Everybody is wondering, 'What are we gonna do? How are we gonna deal with this?'" said the senior state law enforcement official.
"Every time they have one of these protests where both sides are bringing guns, there are sphincters tightening in my world. Emotions get high, and fingers get twitchy on the trigger."
In their April 2016 assessment, the DHS and FBI said the Antifa could become more dangerous if "fascist, nationalist, racist or anti-immigrant parties obtain greater prominence or local political power in the United States, leading to anti-racist violent backlash from anarchist extremists".
The comes as close to 350,000 people signed a petition calling on Mr Trump to "formally recognise" anti-fascists as terrorists.
The petition, which was created following the Virginia violence, urged the federal government to declare Antifa a terror group out of "principle, integrity, morality and safety".
Mr Trump came under heavy criticism after he claimed there had been violence "on both sides" in the wake of the rally, which left one person dead after a white supremacist allegedly drove his car into a group of counter-protesters.
Join our commenting forum
Join thought-provoking conversations, follow other Independent readers and see their replies