'Covid is a scam': Video shows anti-maskers targeting children at elementary school in Beverly Hills
Video shows six anti-mask protesters outside Hawthorne Elementary School in Beverly Hills telling children "Covid is a scam"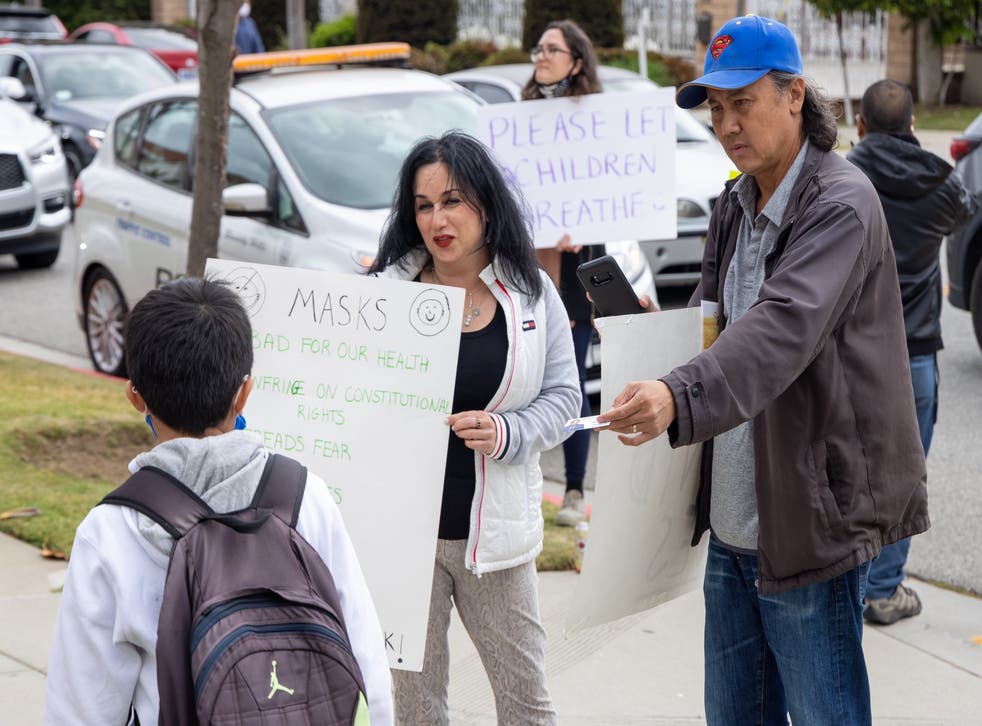 Anti-mask protesters have been captured on video targeting children outside an elementary school in Beverly Hills, in Los Angeles, California.
The group of six appeared outside the school just before home time in the mid afternoon on Wednesday and were filmed flyering the children, telling them 'Covid is a scam' and 'I'm positive you don't like that mask it smells' as well as brandishing signs saying 'question Covid lies'. and 'let the children breathe'.
In a series of videos, Beverly Hills Courier journalist, Samuel Braslow, showed the group repeatedly confronting children, before Dr Michael Bregy, superintendent of schools for Beverly Hills Unified School District, came out to ask why they weren't outside the Department for Public Health instead of a school for children aged five to 11.
Braslow posted on Twitter: "Shiva Bagheri, who organised the protest, argues with a kid who tells her that masks work. 'You think it does because they told you that, sweetheart ... it's called propaganda.' In response, the child sticks his tongue out at her."
One woman said: "Ask parents to file a lawsuit against teachers, principals and school districts. Because according to our Constitution, only a person who has a medical license can practice medicine. And a mask is a medical device."
Hawthorne Elementary School Principal Sarah Kaber sent an email to parents telling them that the school anticipated the protest and had extra security on-hand. as well as members of Beverly Hills Police Department, as reported by MSN.
She wrote: "We support every person's constitutional rights when on public property. To ensure this afternoon remains peaceful we have support here from district leadership and Beverly Hills Police Department. We ask for your support in de-escalating and disengaging with any heightened feelings in order to make our students feel calm and safe."
A photo of a flyer handed out, posted to Twitter, showed a list of alleged health problems caused by wearing a mask including cancer, heart disease and Alzheimer's.
The US Centers for Disease Control and Protection (CDC) has said that mask-wearing is not only safe but an effective way to prevent the spread of the Covid-19 virus.
MSN reported that there have been a wave of anti-mask protests in LA in recent months, including one on April 7 outside a branch of Sephora.
Join our new commenting forum
Join thought-provoking conversations, follow other Independent readers and see their replies