Interruption at AOC town hall revealed to be a pro-Trump stunt
The group has a long history of being annoying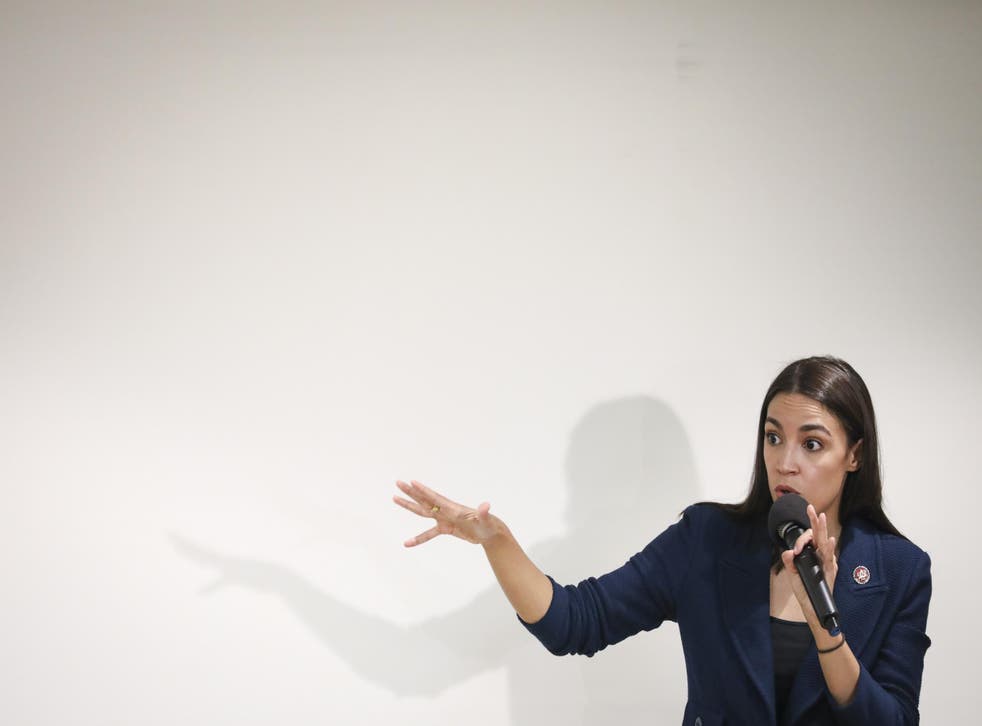 An outlandish interruption at a town hall event for representative Alexandria Ocasio-Cortez's constituents was revealed to be the work of a pro-Trump conspiracy theory group.
On Thursday night, the representative was questioned in her Queens, New York town hall by a woman who purported to be worried about the climate crisis. But the unidentified woman's questions took a bizarre turn when she suggested people should eat children.
"Even if we would bomb Russia, we still have too many people, too much pollution, so we have to get rid of the babies," the woman said. "Just stopping having babies is not enough; we need to eat the babies."
On Twitter shortly after the town hall ended, Ms Ocasio-Cortez alluded to the woman's questioning, urging people to "be decent" as the woman could be suffering from mental illness.
But after footage of the woman made the rounds, Matthew Sweet, a historian, claimed that the woman was part of a "bizarre political cult once led by Lyndon LaRouche." Mr Sweet has published a book on the group, called Operation Chaos, and considers himself an expert.
Debunked: Moon landing conspiracy theories

Show all 8
"The LaRouche group was once a fairly ordinary revolutionary Marxist group," Mr Sweet wrote. In the early days Bernie Sanders subscribed to their literature. Then came the great Brainwashing Affair of 1974, when members were convinced they had been programmed to kill by the CIA."
Known now as the LaRouche Pac, the group essentially creates "chaos" in order to halt focus, according to Mr Sweet's tweets. He noted that they've veered from all around conspiracy-spreading to being vehement supporters of Donald Trump, adding that "Putin is their first love."
The group itself later confirmed on Twitter that they were behind the stunt.
The revelation is a blow to Republicans eager to make Ms Ocasio-Cortez and others concerned about the climate crisis look unnecessarily upset, including the president and his son.
After Don Jr tweeted out video of the incident, the president quote-tweeted his son, writing "AOC is a wack job!"
These tweets were sent before the stunt was revealed to be the work of the president's own supporters.
In her own tweet acknowledging the planted chaos, representative Ocasio-Cortez acknowledged that the woman was a Trump supporter, and added "good to know they were not in crisis."
Register for free to continue reading
Registration is a free and easy way to support our truly independent journalism
By registering, you will also enjoy limited access to Premium articles, exclusive newsletters, commenting, and virtual events with our leading journalists
Already have an account? sign in
Register for free to continue reading
Registration is a free and easy way to support our truly independent journalism
By registering, you will also enjoy limited access to Premium articles, exclusive newsletters, commenting, and virtual events with our leading journalists
Already have an account? sign in
Join our new commenting forum
Join thought-provoking conversations, follow other Independent readers and see their replies