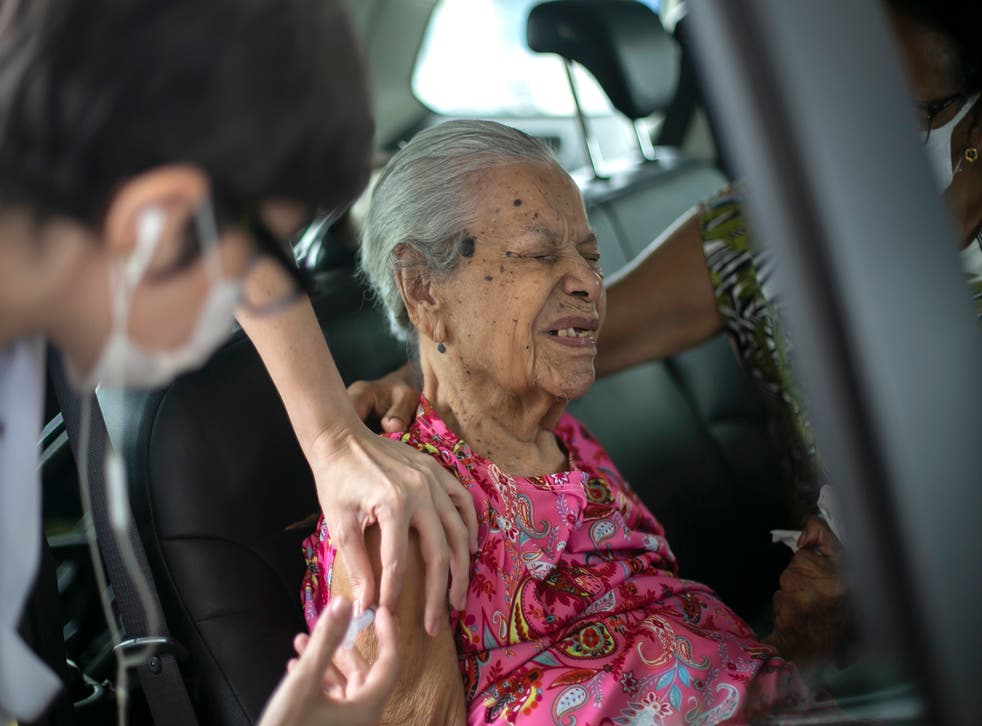 Here are the AP's latest coverage plans, top stories and promotable content. All Times EST. For up-to-the minute information on AP's coverage, visit Coverage Plan at https://newsroom ap.org.
—————————-
TOP STORIES
——————————
VIRUS-OUTBREAK — The European Union has chosen a careful route in its vaccine campaign to defeat the coronavirus pandemic. And as a result, it has seen a slow rollout of shots compared to Britain Across the channel, the United Kingdom has shown speed and agility in its vaccine strategy. It has announced vaccine deals earlier, authorized shots from different companies more quickly, and experimented with stretching out the time between doses to get more people some protection quicker. The result is that the EU is in the U.K.'s rearview mirror. Britain has given at least one vaccine shot to about 15% of its population, compared to some 3% in the EU's 27 nations. By Raf Casert and Masha Macpherson. SENT: 1,200 words, photos. With VIRUS OUTBREAK-VACCINE TIMELINE; VIRUS-OUTBREAK-THE-LATEST.
MYANMAR — Thousands of people rallied against the military takeover in Myanmar's biggest city and demanded the release of Aung San Suu Kyi, whose elected government was toppled by the army that also imposed an internet blackout. Protest crowds have grown bigger and bolder since Monday's coup. SENT: 500 words, photos.
PALESTINIANS-ELECTIONS-ABBAS — Palestinian President Mahmoud Abbas' call for elections has thrown his political future into peril, forcing him to negotiate competing demands to engage with a friendlier U.S. administration, mend the rift with his militant Hamas rivals and keep his unruly Fatah movement from breaking apart. The presidential decree issued last month, calling for what would be the first Palestinian elections in 15 years, stemmed from negotiations launched with Hamas last year aimed at shoring up ranks in the face of unprecedented crises. By Joseph Krauss. SENT: 980 words, photos.
ECUADOR-ELECTIONS — Ecuador will choose a new president facing unprecedented health measures due to the coronavirus pandemic and the influence of a populist former head of state who was blocked from a place on the ballot due to a corruption conviction. By Gonzalo Solano and Regina Garcia Cano. SENT: 560 words, photos.
VIRUS OUTBREAK-BURKINA FASO — The West African country of Burkina Faso, which managed to avoid a catastrophic first wave of the coronavirus, is now trying to cope with a much deadlier second wave. Although Burkina Faso's virus figures are still relatively small, officials worry that a general lack of understanding and adherence to basic safeguards will end up overwhelming the country's already strained health system. By Sam Mednick. UPCOMING: 960 words by 5 a.m., photos.
VATICAN-KEY-KEEPER-PHOTO GALLERY — The Sistine Chapel reopened to public view last week for the first time since its November coronavirus closure, but for Gianni Crea, the doors to Michelangelo's magnificent frescoes were never really closed. By Paolo Lucariello and Elisa Colella. UPCOMING: 580 words by 4 a.m., photos.
——————————————————————
WHAT WE'RE TALKING ABOUT
—————————————————————-
FOUR-SKIERS-KILLED — Four skiers killed, four injured by Utah avalanche, police say. SENT: 550 words, photo.
PAKISTAN-MISSING MOUNTAINEERS — Search underway for three climbers on K2 mountain in Pakistan. SENT: 320 words, photos.
.————————————————————————
MORE ON THE VIRUS OUTBREAK
————————————————————————-
VIRUS OUTBREAK-CALIFORNIA CHURCHES — California Gov. Gavin Newsom's office issued revised guidelines for indoor church services after the Supreme Court lifted the state's ban on indoor worship during the coronavirus pandemic, but left in place restrictions on singing and chanting. SENT: 740 words, photo.
Find more coverage on the Virus Outbreak on the featured topic page in AP Newsroom.
———————
SPORTS
——————-
NFL-AP-AWARDS — Green Bay Packers quarterback Aaron Rodgers earned his third Associated Press Most Valuable Player award, while Los Angeles Rams defensive tackle Aaron Donald took his third top defensive player prize at NFL Honors. By Pro Football Writer Barry Wilner. SENT: 1,030 words, photos.
HALL-OF-FAME — Peyton Manning, the quarterback whose meticulous attention to detail helped turn the 21st-century gridiron into a chessboard on turf, was awarded his spot in the Pro Football Hall of Fame in his first year of eligibility. By National Writer Eddie Pells. SENT: 1,000 words, photos.
Find complete Super Bowl coverage on APNews.com.
OBIT-SPINKS — Leon Spinks, who won Olympic gold and then shocked the boxing world by beating Muhammad Ali to win the heavyweight title in only his eighth pro fight, has died. He was 67. By Boxing Writer Tim Dahlberg. SENT: 1,070 words, photos.
——————————————
HOW TO REACH US
——————————————-
At the Nerve Center, Jerome Minerva can be reached at 800-845-8450 (ext. 1600). For photos, Shuji Kajiyama (ext. 1900). For graphics and interactives (ext. 7636). Expanded AP content can be obtained from http://newsroom.ap.org. For access to AP Newsroom and other technical issues, contact apcustomersupport(at)ap.org or call 877-836-9477.
Register for free to continue reading
Registration is a free and easy way to support our truly independent journalism
By registering, you will also enjoy limited access to Premium articles, exclusive newsletters, commenting, and virtual events with our leading journalists
Already have an account? sign in
Register for free to continue reading
Registration is a free and easy way to support our truly independent journalism
By registering, you will also enjoy limited access to Premium articles, exclusive newsletters, commenting, and virtual events with our leading journalists
Already have an account? sign in