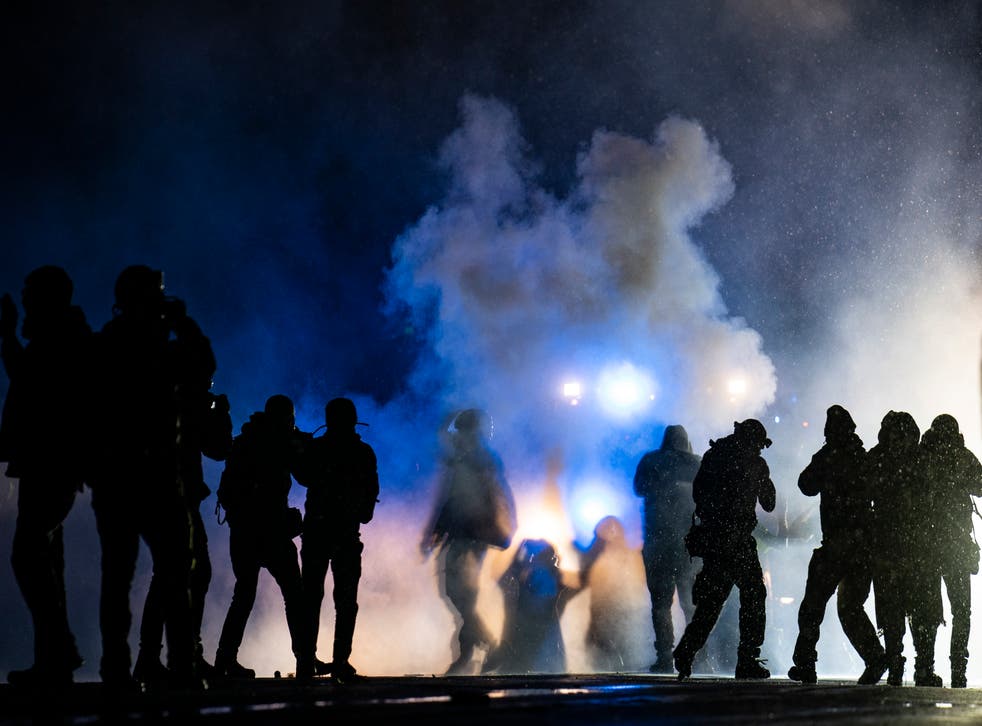 ____________
TOP STORIES
_____________
POLICE-SHOOTING-MINNESOTA — Prosecutors expect to decide whether to charge the white former police officer who fatally shot a Black man during a traffic stop in a Minneapolis suburb, sparking nights of protests and raising tensions amid the nearby murder trial of the ex-officer charged with killing George Floyd Brooklyn Center police officer Kim Potter and Police Chief Tim Gannon have resigned, two days after Potter shot 20-year-old Daunte Wright. Gannon says he believed Potter mistakenly grabbed her pistol when she was trying to pull out her Taser By Mohamed Ibrahim and Mike Householder. SENT: 890 words, photos, videos. With POLICE-SHOOTING-MINNESOTA-MAYOR — In Minnesota suburban mayor is thrust into policing debate.
GEORGE-FLOYD-OFFICER-TRIAL — The defense for a former police officer charged in George Floyd's death challenged the heart of the case against the officer, calling a use-of-force expert who testified that Derek Chauvin was justified in pinning Floyd and said it might have gone easier if the Black man had been "resting comfortably" on the pavement. By Amy Forliti, Steve Karnowski and Tammy Webber. SENT: 1,050 words, photos, videos.
CAPITOL BREACH-SECURITY — A blistering internal report by the U.S. Capitol Police describes a multitude of missteps that left the force unprepared for the Jan. 6 insurrection — riot shields that shattered upon impact, expired weapons that couldn't be used, inadequate training and an intelligence division that had few set standards. By Mary Clare Jalonick. SENT: 1,200 words, photos.
IRAN-NUCLEAR — Iran's president calls Tehran's decision to enrich uranium up to 60% after saboteurs attacked a nuclear site "an answer to your evilness," linking the incident to ongoing talks in Vienna over its tattered nuclear deal with world powers. By Jon Gambrell. SENT: 560 words, photo.
ISRAEL-SETTLEMENTS-TRUMP'S-LEGACY — An aggressive Israeli settlement spree of over 9,000 homes during the Trump era pushed deeper into the occupied West Bank than ever before, according to an AP investigation. The trend puts the Biden administration in a tough bind if it follows through on pledges to revive peace efforts between Israel and the Palestinians. By Joseph Krauss. SENT: 2,130 words, photos.
BRITAIN-PRINCE-PHILIP-HARRY-AND-WILLIAM — When Prince Philip's funeral takes place on Saturday, it will be more than a focal point for national mourning. Many will also be watching for any signs of reconciliation between Prince Harry and the royal family, especially with his elder brother Prince William. By Sylvia Hui. SENT: 970 words, photos.
______________________________
WHAT WE'RE TALKING ABOUT
_______________________________
BIDEN-CONGRESS — Biden to address joint session of Congress on April 28. SENT: 230 words, photos.
TOKYO-100-DAYS — 100 Days: Tokyo Olympics marked by footnotes and asterisks. SENT: 1,070 words, photos.
INDIANS-CHANG-RACIST-TWEETS — Taiwanese-born Chang gets racist tweets after Indians error. SENT: 510 words, photos.
FOOTBALL TEAM-RACIST INCIDENT — Black prep player in Illinois told to sit near banana peels: "I'm fine." SENT: 510 words.
JILL BIDEN — White House: First lady Jill Biden to undergo "procedure." SENT: 110 words, photo.
BELMONT FIRE — Two horses die in barn fire on Belmont Park backstretch. SENT: 190 words.
_________________________________
MORE ON THE VIRUS OUTBREAK
_________________________________
VIRUS-OUTBREAK-CALIFORNIA-SCHOOLS — Some of California's biggest school districts are starting to reopen classrooms this week, but the state is lagging the rest of the country, and in some cases offering options that parents say are unacceptable. SENT: 970 words, photos. With VIRUS-OUTBREAK-THE-LATEST.
________________________
WASHINGTON/POLITICS
________________________
CONGRESS-ASIAN HATE CRIMES — The Senate is poised to debate legislation confronting the rise of potential hate crimes against Asian Americans. SENT: 810 words, photos. UPCOMING: 900 words after Senate convenes at 10:30 a.m.
UNITED STATES-AFGHANISTAN — U.S. officials say President Joe Biden will withdraw all troops from Afghanistan by Sept. 11. SENT: 1,120 words, photos. UPCOMING: 990 words after 2:15 p.m. remarks.
BIDEN-POLICE — Biden's difficult balancing act on policing is on full display, as he mourns with the family of a fallen police officer and then pledges to help end the epidemic of Black men being killed by police. SENT: 1,090 words, photos, video.
VIRUS OUTBREAK-BIDEN — Biden's vaccination campaign hits a snag when federal regulators recommend a "pause" in administering Johnson & Johnson shots, but the White House is holding out the move as a validation of the president's measured approach throughout the rollout. SENT: 850 words, photos, video.
GAETZ-INVESTIGATION — Florida's two Republican senators are steering clear of voicing support for Rep. Matt Gaetz. SENT: 600 words, photos.
_________________
INTERNATIONAL
_________________
NEW ZEALAND-ANIMAL EXPORTS — New Zealand announced it is banning the export of live cows and other farm animals by sea due to welfare concerns. SENT: 420 words, photos.
____________
NATIONAL
____________
MISSING STUDENT-COLD CASE — Paul Flores was the last person seen with Kristin Smart before she vanished from a college campus on California's scenic Central Coast nearly 25 years ago and suspicion has followed him ever since. He went from being a "person of interest" to a "suspect" to "the prime suspect." SENT: 1,020 words, photos.
MOBILE-SPORTS-BETTING — States around the country are realizing what gamblers figured out long ago: The future of sports betting — and tax money to be made from it — is online. SENT: 820 words, photos.
CHICAGO POLICE SHOOTING — The family of a Chicago teenager fatally shot by a police officer last month has viewed video of the shooting, and a city agency said it would not immediately release the video at the request of the family of Adam Toledo, 13. SENT: 530 words, photos.
________________
BUSINESS/TECH
________________
FINANCIAL-MARKETS — Asian stock markets followed Wall Street higher after U.S. inflation ticked up and Japanese machinery orders fell. By Business Writer Joe McDonald. SENT: 490 words, photos.
JAPAN-TOSHIBA — The president of Toshiba Corp. stepped down, a week after the Japanese technology and manufacturing giant said it was studying an acquisition proposal from a global fund where he previously worked. By Business Writer Yuri Kageyama. SENT: 570 words, photos.
___________________
HOW TO REACH US
___________________
At the Nerve Center, Jerome Minerva can be reached at 800-845-8450 (ext. 1600). For photos, Shuji Kajiyama (ext. 1900). For graphics and interactives, ext. 7636. Expanded AP content can be obtained from http://newsroom.ap.org. For access to AP Newsroom and other technical issues, contact apcustomersupport(at)ap.org or call 877-836-9477.