ARA San Juan: Argentina calls off rescue mission for 44 missing submariners but continues search for lost vessel
The submarine had carried 44 crew members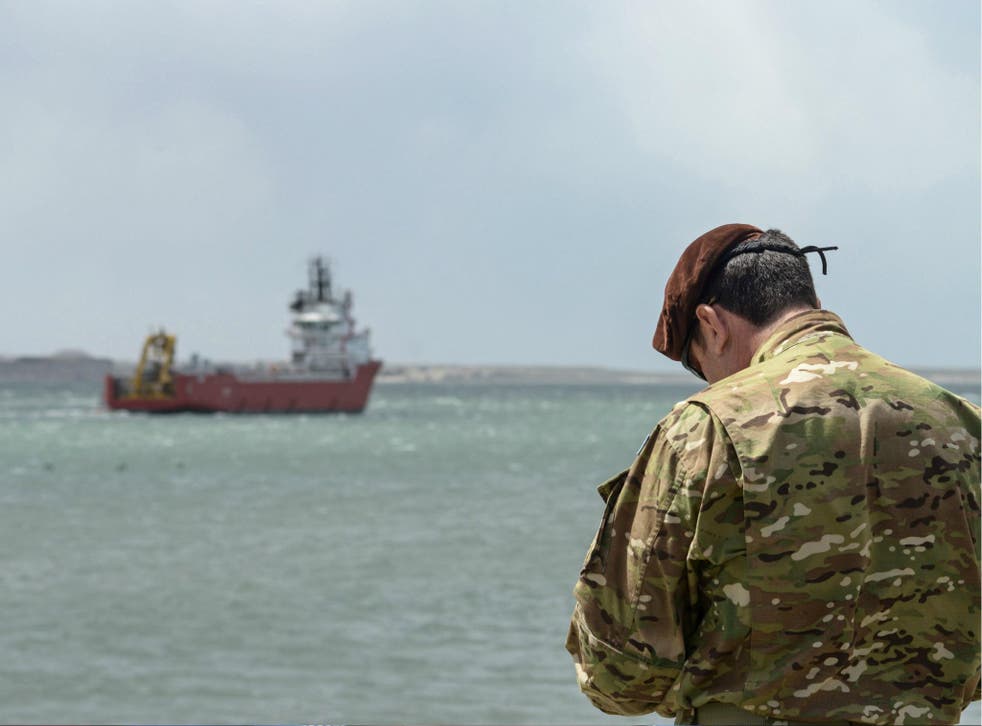 Argentina's navy says it has called off a rescue mission for the crew of missing submarine ARA San Juan that went missing two weeks ago a few hundred kilometres off the coast of Argentina.
The search for the vessel itself will continue.
Navy spokesman Enrique Balbi said that the rescue mission for the 44 crew members "extended for more than twice what is estimated for a rescue."
At least 18 countries had joined the search and rescue efforts in the 15,444-square-mile (40,000 sq km) search area. The vessel had been travelling from the southern tip of the country near Ushaia to Mar del Plata on the northern coast.
The San Juan, a German-built diesel-electric TR-1700 class submarine, was commissioned in the 1980s and was most recently refitted in 2014.
In the wake of the disappearance, however, family members have publicly called for an investigation including asking questions about the age and condition of the vessel.
The Argentine Navy had said the vessel's captain reported water entered the snorkel - or the tube that reaches above refresh the vessel's air and batteries - and caused one of the submarine's batteries to short circuit.
World news in pictures

Show all 50
He also reported fire and smoke as a result.
However, he later communicated via satellite phone that the problem had been contained and the fire extinguished.
It was not until approximately 10 hours later that an explosion occurred near the time and place of last communication from the ARA San Juan. The US and an international organisation had discovered the acoustic data - the sound of the explosion - just last week.
The crew only had about 10 days of oxygen to survive and that was only if the submarine had remained intact.
A Navy spokesman has said one possible explanation is that the reported blast was caused by hydrogen built up as a result of the earlier battery problem.
No contact has been made from the vessel since 15 November.
Join our new commenting forum
Join thought-provoking conversations, follow other Independent readers and see their replies