The horrors of backstreet abortions in Argentina as country considers legalising terminations
'Women arrive with severe contractions, severe infections and severe haemorrhaging and we have to prevent patients dying,' doctor tellsThe Independent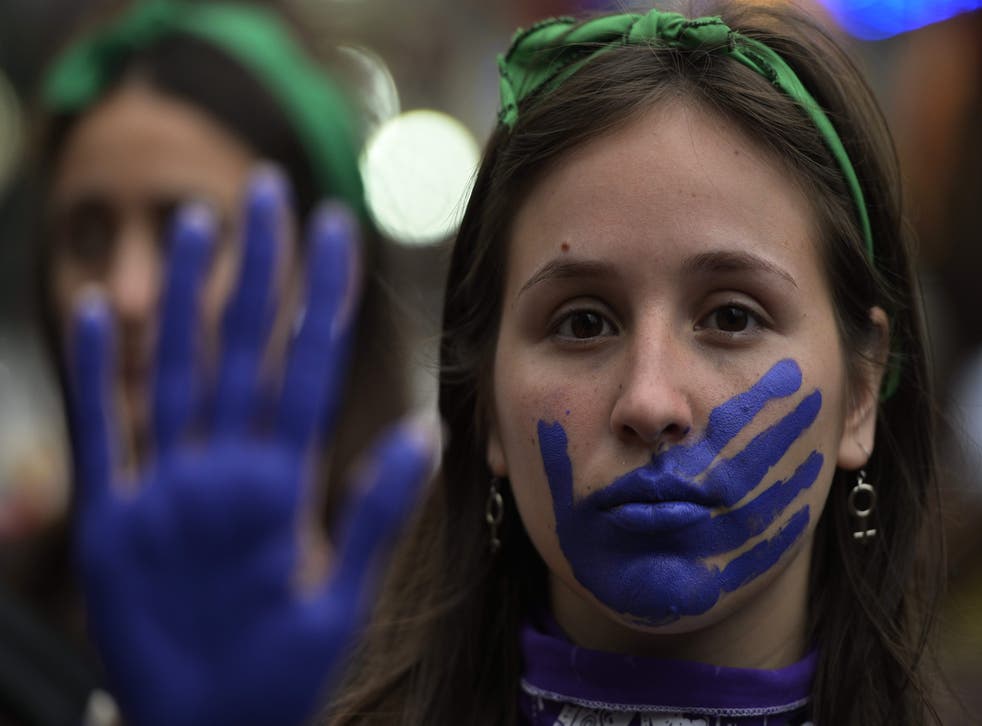 Leer en Español
"I remember a woman dying in a health centre I was working in because of having a clandestine abortion," Dr Betiana Olearo, an Argentinian doctor, tells The Independent. "This was impactful. Not just for her family. But for her community. She left behind four children. They remained alone after she died."
Dr Olearo provides abortions in Argentina but the circumstances in which she can do so are stringently restricted due to abortions only being allowed if the pregnancy is due to rape or in instances when the mother's health or life is in danger.
However, campaigners warn the law is not consistently implemented in the Latin American country and abortions are routinely unavailable even when women are legally entitled to access them.
But these laws could soon change with Argentina's president having introduced a bill that would legalise abortion. Alberto Fernandez, who was sworn in as president in December last year, has presented a draft abortion bill to congress which the House of Representatives will consider on Wednesday and Thursday.
Dr Olearo, who works in Cordoba in central Argentina, said she has witnessed women arrive at the health centre in desperate situations after having to resort to unsafe backstreet abortions.
"We have faced multiple situations of emergency when women arrive with severe contractions, severe infections and severe haemorrhaging and we have to prevent patients dying," the 41-year-old doctor adds. "A woman can face the fate of dying from a generalised infection which could have been prevented, because she took the decision to interrupt a pregnancy."
Dr Olearo noted unsafe clandestine abortions are more likely to take place outside of big cities and in poorer areas - adding there is greater access to abortion pills in urban parts of Argentina.
"In the provinces and more underprivileged areas we still see very serious cases," she says. "More clandestine, dangerous abortion methods are used. Common methods involve using the stem of a Parsley flower and grandma's knitting needles and putting it in the vagina to cause a rupture in the uterus, which is not only dangerous because of the haemorrhage this causes, but because it augments generalised infection and sepsis."
Dr Olearo said women will go to clandestine health professionals who offer abortions using methods which are no longer used by healthcare professionals around the world. She noted if the woman suffers health complications from the process, she will have to seek medical help without being accompanied by the doctor due to the procedure having been illegal.
"It has been proven criminalisation doesn't work," she adds. "It only pushes the woman to have a clandestine abortion."
The doctor said she had endured a great deal of harassment from anti-abortion campaigners in the predominantly Roman Catholic nation - noting the activists also terrorise women having abortions.
"On Thursday, the bill will pass the house of representatives and go to the Senate, and before the end of this year, we are hopeful we will have a law legalising abortion in Argentina," Dr Olearo adds. "Medical professionals have extremely high expectations for this moment. I do believe the legalisation of abortion in Argentina can set a precedent and inspire other countries in the region."
Her comments come as Argentinian healthcare professionals condemned the decision to refuse a 12-year-old girl an abortion who was pregnant with twins due to allegedly being raped.
The girl, who has not been named, lives near San Salvador in the far northwestern Argentinian province of Jujuy.
Argentina's president, who is in favour of abortion rights, has said the new legislation would ultimately save lives, as almost 40,000 women are forced to go to hospital after illegal abortions go wrong. Unsafe backstreet abortions are the chief cause of maternal mortality in Argentina.
A bill legalising abortion in the G20 country of 45 million was rejected by a close margin by Argentina's senate after getting the approval of the country's congress back in 2018. Argentina would become the first major Latin American country to legalise abortion if the current bill — which has been delayed by the coronavirus crisis — passes.
Paula Avila-Guillen, executive director of the Women's Equality Centre, told The Independent the ability to have an abortion is not just a key human right, but access to safe and legal abortion saves lives.
She added: "By championing the reintroduction of this legislation, Argentinian President Fernandez and Vice-President Cristina Fernandez de Kirchner have set a monumental precedent solidifying their commitment to protecting the rights and health of women and girls in the country.
"From the streets, hundreds of thousands of women have fought for their reproductive freedom, breaking down legal and social barriers that infringe upon this basic human right. Now, it's time for congress to follow in their steps and make history, in the name of all the women and girls whose voices have been silenced for far too long, and set a precedent for other countries to do the same."
Hundreds of thousands of activists campaigning for abortion rights in Argentina have brandished green scarves which have become an emblem of the country's long-running battle to make it legal for women to have pregnancies terminated.
Mariela Belski, executive director of Amnesty International Argentina, said: "The legalisation of abortion in Argentina could act as an expansive wave that impacts on the expansion of women's rights throughout the region.
"Historically, it has had and has a strong role in setting the regional agenda with laws that expand rights. It is a very influential country."
She noted Latin America is the only part of the world where teen and child pregnancies and births are actually rising - adding that this is due to high rates of sexual violence, and a dearth of access to reproductive health services, such as emergency oral contraception and the safe and legal freedom to have an abortion.
Join our new commenting forum
Join thought-provoking conversations, follow other Independent readers and see their replies