Argentina reopens probe into bombing of Jewish centre blamed on Iran
Re-opening of the Nisman investigation is bound to dig deeper trenches in the already torn country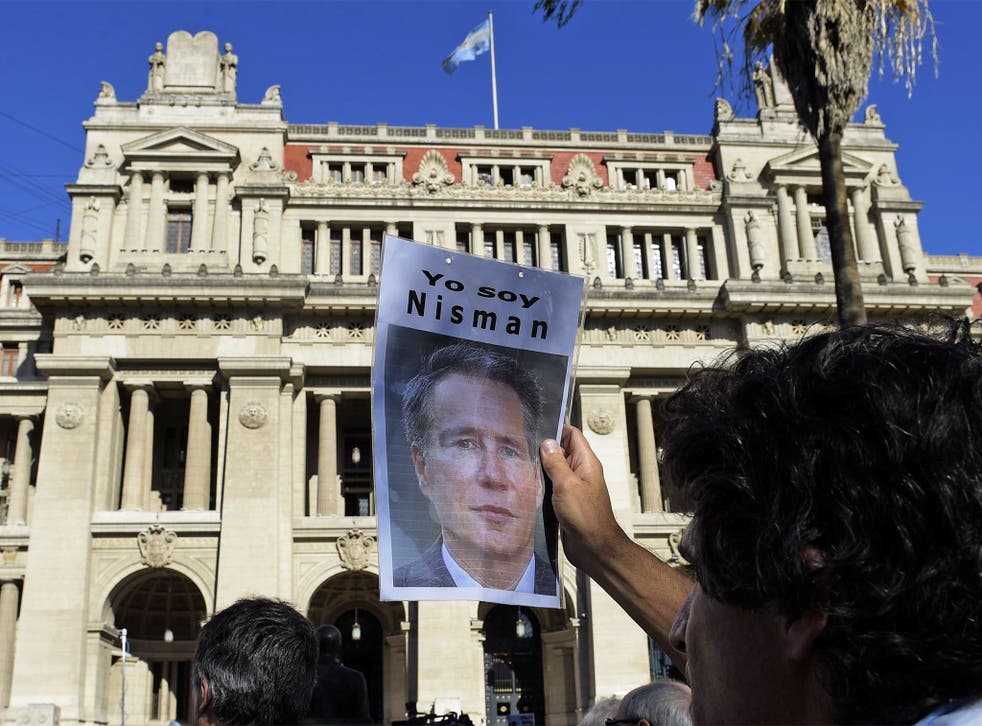 The probe into the 1994 bombing of a Jewish centre in Buenos Aires led by Alberto Nisman, a state prosecutor whose death almost a year ago has yet to be explained, may shortly be reopened following the withdrawal of key appeals in the case by the new government of President Mauricio Macri.
Mr Nisman's investigation came to a dramatic halt in January when he was found dead in his apartment a day before he was due to present his case to Congress. He was expected to claim that former President Cristina Fernandez de Kirchner had covered up evidence linking Iran to the bombing, which left 85 people dead, allegedly in a bid to strengthen commercial ties with Tehran.
Ms Fernandez's administration appealed a federal court ruling that a memorandum of understanding with Iran signed by Ms Fernandez in 2013 was unconstitutional, blocking any investigation. The withdrawal of the appeal allows for sealed files to be re-examined, including some related to the bombing of the Jewish AMIA (Argentine Israelite Mutual Association) building.
At the time, Ms Fernandez also cleared eight Iranians charged by Mr Nisman in connection with the case, including former Iranian President Hashemi Rafsanjani, infuriating the prosecutor. She continues to deny the claims supposedly made by Mr Nisman.
Earlier this year, a new book revealed Mr Nisman had been keeping the FBI abreast of his investigation through the US embassy in Argentina. "With my investigation I backed up the fact that Nisman had turned into a top contact for the FBI in the entire region," the book's author, Facundo Pastor, a prominent journalist in Buenos Aires, told The Independent. In an ominous turn for Ms Fernandez, who left office last week, Argentine state prosecutor Raúl Pleé ordered potential evidence to be sent to Judge Daniel Rafecas to weigh once more whether grounds exist for a new case to be opened against her.
Judge Rafecas previously rejected Mr Nisman's case against Ms Fernandez. "Both the case files and the content of said documentation could be useful in deciding possibly re-opening the case [initiated by Nisman]," Mr Pleé said.
President Mauricio Macri's decision to withdraw the appeal and breath new life into the case drew praise from Israeli Prime Minister Benjamin Netanyahu. "This is a welcome change of direction, and I hope that we will see a significant improvement in Israeli-Argentinian ties, as well as an improvement in ties with other South American countries, in the coming years," Mr Netanyahu said.
The Nisman case continues to divide the country as supporters of former President Fernandez assert that Mr Nisman killed himself after coming to the related conclusion that his case would not stand up to scrutiny. Many opponents of Ms Fernandez, however, are still asking if he was the victim of foul play, given the proximity of his demise to his appointment before Congress.
World news in pictures

Show all 50
"Nothing is determined, but we need to find out, right now there is no justice," Ruben Vasquez, a Buenos Aires resident who voted for neither of the presidential candidates in the recent election told The Independent. His friend, 59- year-old Macri-voter Oscar Reyes, concurred: "We need an investigation. For the families, and for the country, we need justice."
After a long election campaign, which split the country, a re-opening of the Nisman investigation is bound to dig deeper trenches in the already torn country.
Register for free to continue reading
Registration is a free and easy way to support our truly independent journalism
By registering, you will also enjoy limited access to Premium articles, exclusive newsletters, commenting, and virtual events with our leading journalists
Already have an account? sign in
Register for free to continue reading
Registration is a free and easy way to support our truly independent journalism
By registering, you will also enjoy limited access to Premium articles, exclusive newsletters, commenting, and virtual events with our leading journalists
Already have an account? sign in
Join our new commenting forum
Join thought-provoking conversations, follow other Independent readers and see their replies