Police officer who shot man crawling and crying on the floor cleared of murder
Body cam footage shows the tense moments before the deadly shooting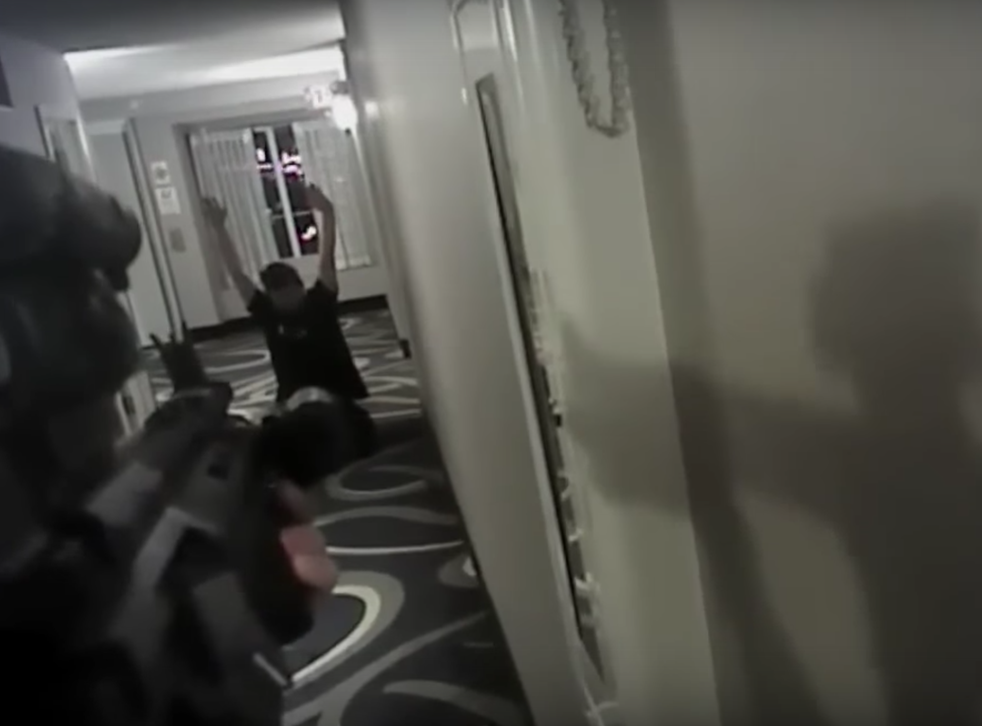 A former Arizona police officer has been cleared of murder charges after shooting and killing an unarmed man while on duty in 2016.
Officer Phillip Mitchell Brailsford met 26-year-old Daniel Shaver in the hallway outside of his Arizona hotel room in January of 2016. The officer was responding to reports of a man brandishing a gun near the hotel room window.
In body cam footage of the event, Mr Brailsford can be seen telling Mr Shaver to get on the ground and crawl toward him. Mr Shaver complies, crying and asking the officer not to shoot him. At one point, Mr Shaver puts his hands on his low back. The officer warns him not to do so again.
"You do that again we're shooting you, do you understand?" he asks. Mr Shaver, visibly upset, says yes.
Seconds later, however, Mr Shaver reaches toward his waistband. Mr Brailsford told the jury he thought Mr Shaver was reaching for a gun. A detective investigating the shooting said the motion was similar to drawing a weapon, but was most likely an attempt by Mr Shaver to pull up his drooping basketball shorts.
The officer fired five shots at the suspect with his AK-15 rifle. Mr Shaver died on the scene.
Mr Brailsford's lawyer told the court his client was concerned for the safety of his fellow police officers, and for the other woman in the hotel hallway.
Testifying before the Maricopa County Superior Court this week, Mr Brailsford said: "If this situation happened exactly as it did that time, I would have done the same thing."
Investigators found no firearms on Mr Shaver's body. The only weapons discovered in his hotel room were two pellet guns used in his pest-control job. Two hotel guests, Monique Portillo and Luis Nuñez, told the court that Mr Chaver had shown them the pellet guns near his hotel room window earlier that night.
World news in pictures

Show all 50
Shaver's widow, Laney Sweet, has filed a wrongful-death lawsuit against the city of Mesa. Mr Brailsford was fired from the police department two months after the shooting.
Jurors deliberated for less than six hours before finding Mr Brailsford not guilty of second-degree murder, and of the lesser charge of reckless manslaughter.
Ms Sweet shook her head "no" after the jury's decision and said she would not answer any questions, according to CBS. She exited the courthouse crying.
Eighty-four US police officers have been charged with murder or manslaughter related to an on-duty shooting since 2005, according to research by Bowling Green State University Professor Philip Stinson. Of the case in which a verdict has been reached, 32 officers were convicted and 40 were not.
Register for free to continue reading
Registration is a free and easy way to support our truly independent journalism
By registering, you will also enjoy limited access to Premium articles, exclusive newsletters, commenting, and virtual events with our leading journalists
Already have an account? sign in
Register for free to continue reading
Registration is a free and easy way to support our truly independent journalism
By registering, you will also enjoy limited access to Premium articles, exclusive newsletters, commenting, and virtual events with our leading journalists
Already have an account? sign in
Join our new commenting forum
Join thought-provoking conversations, follow other Independent readers and see their replies