Seven people to be executed in 11 days because lethal injection drugs are about to expire
'I would love to have those extended over a period of multiple months and years, but that's not the circumstances that I find myself in,' says governor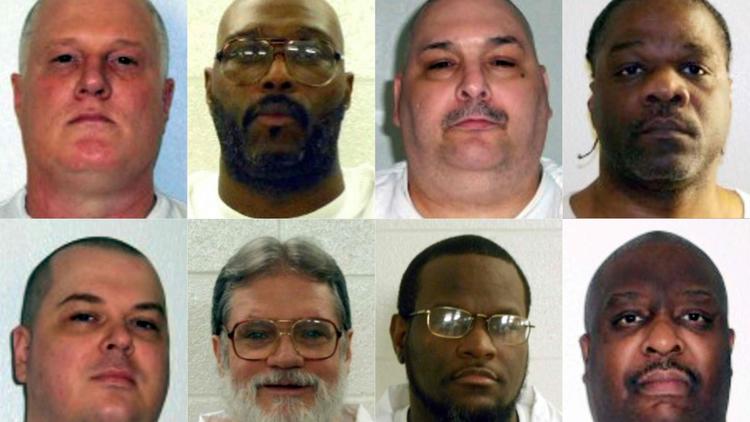 Arkansas is preparing to execute seven death row inmates in 11 days this month before the state's deadly drugs expire, an unprecedented number of lethal injections in such a narrow window.
The scheduled executions have prompted unease from the state's Republican governor, lawsuits from the condemned inmates, concerns about the frenzied schedule and criticism from an array of former corrections officials nationwide.
Though the death penalty has been dormant in Arkansas - these would be the first executions there in 12 years - the lethal injections have put the state at the centre of the debate about capital punishment as it becomes less common in the United States. Fewer states are putting condemned inmates to death, public support for executions is declining and authorities are struggling to find the drugs used in lethal injections amid a shortage spurred in part by drugmakers' objections to the death penalty.
Advocates for capital punishment argue that the delays in Arkansas amount to justice denied for the families of the victims. Civil liberties advocates worry that the rush in Arkansas could lead to "torture and injustice," in particular because corrections officials are being tasked with executing two men a day.
Arkansas officials blame the packed April execution schedule on the drug shortage, which has sent states scrambling for replacement chemicals and, in some cases, has caused them to contemplate other methods of execution. After the lengthy lull in executions - owing to legal challenges and the drug shortage - Arkansas state authorities say these lethal injections are overdue.
But Gov. Asa Hutchinson, R, who set the dates, admitted to feeling uneasy about being caught between needing to schedule them and the looming expiration of the state's stock of midazolam, a controversial sedative that will be one of three drugs used in the lethal injections.
"It's not my choice," Hutchinson said at a news conference. "I would love to have those extended over a period of multiple months and years, but that's not the circumstances that I find myself in."
The state's midazolam supply is set to expire at the end of April, officials say. And with no clear answer about whether the state will be able to obtain a new set of drugs, Hutchinson said he had little choice but to set the dates.
"It is uncertain as to whether another drug can be obtained, and the families of the victims do not need to live with continued uncertainty after decades of review," he said in a statement.
Drug manufacturers are required by law to put an expiration date on drugs in the United States, and after that date they cannot guarantee the drug's effectiveness or safety. A state official did not immediately respond to a question regarding whether Arkansas officials are prohibited by state law from using an expired drug.
Arkansas acquired its midazolam in 2015, according to documents the state provided to The Washington Post. The drug prompted controversy after it was used in a bungled execution in Oklahoma and in unusually long lethal injection procedures in Ohio, Arizona and, most recently, in Alabama in December. According to the Arkansas documents, the state got its midazolam just days after the U.S. Supreme Court upheld the use of the drug in Oklahoma's lethal injections.
Citing the state's secrecy law, the Corrections Department declined to say when all the drugs expire, where they were obtained, how much they cost and how much the state has in stock. The documents also show that Arkansas obtained vecuronium bromide, a paralytic, in 2016, and potassium chloride, which stops the heart, in March, the week after Hutchinson set the execution dates.
Hutchinson originally scheduled eight executions in an 11-day span, but a judge on Thursday blocked one of them because the state's parole board said it would recommend commuting that inmate's sentence to life in prison without parole, a process that will extend beyond the drug expiration date.
The seven inmates still facing execution all were convicted of capital murder. All are men; four are black and three are white. They all received their sentences by the year 2000, and some of them have been on death row for a quarter-century or longer. In a recent report, the Fair Punishment Project at Harvard Law School said it found concerns with the Arkansas cases, saying that some of the inmates appear to suffer from intellectual impairment and outlining qualms about the legal representation the men have had.
Executions are a rarity in Arkansas, trailing more active death-penalty states including Texas, Florida and Oklahoma. Since the U.S. Supreme Court reinstated capital punishment in 1976, there have been 1,448 executions nationwide, according to the Death Penalty Information Centre. Arkansas has executed 27 inmates in the past four decades. Texas has carried out more executions - 34 - since the beginning of 2014.
Arkansas also is not among the country's leaders in death-row populations. For every death row inmate in Arkansas, there are 20 in California. If the seven executions in Arkansas are carried out, the state would eliminate one-fifth of its entire death row population.
While executions in the United States have been rapidly declining - falling to 20 last year, the fewest in a quarter-century - states still hoping to carry out executions have tried to obtain drugs in the wake of a years-long shortage. European officials and companies, objecting to their chemicals being used to kill people, have spurred states to begin adapting new and untested combinations of drugs.
Lethal injection remains the country's primary method of execution, but due to the shortage, states have also been looking to other methods. Utah, Tennessee and Oklahoma added or broadened their abilities to use a firing squad, electric chair or nitrogen gas, respectively. Others have sought to shroud their drug suppliers in secrecy to protect them from political or public pressure; Virginia passed such a law last year.
Most executions are carried out with little public notice, but the scheduling in Arkansas has drawn remarkable national scrutiny and criticism.
"We've never seen anything like back-to-back executions, four times, over a span of 11 days," said Robert Dunham, executive director of the Death Penalty Information Center, a Washington-based nonprofit group. "We've never seen anything close to that."
Dunham said his group has tracked just 10 back-to-back executions on a single day, and none since 2000, though he noted that in the 1990s, Arkansas twice executed three inmates in one day. Texas once executed six prisoners in a 10-day span on two different occasions, but the Arkansas schedule would surpass that, Dunham said.
World news in pictures
Show all 50
"We know that the state is aware of how to do this in a more orderly and less unseemly way," Dunham said. "They've simply chosen to carry them out in 11 days because they won't be able to use their execution drug a week later."
Arkansas officials have defended their execution scheduling as needed to help families find justice and closure.
"The victims' families have waited far too long to see justice for their loved ones," a spokesman for Arkansas Attorney General Leslie Rutledge (R) said in a statement Thursday after one of the executions was called off. Rutledge would "respond to any and all challenges that might occur between now and the executions as the prisoners continue to use all available means to delay their lawful sentences."
For some relatives of the victims, though, they have been down this road before.
"I won't really believe it's going to happen until it happens," said Genie Boren, whose husband Cecil Boren was shot and killed by Kenneth Williams and has been waiting more than a decade for his death sentence to be carried out.
Williams, whose execution is scheduled for April 27 and is the last one this month in Arkansas, was serving a life sentence when he escaped prison by hiding in a garbage truck. He then travelled to the Boren house near Grady, about 70 miles from Little Rock, according to court summaries of his case.
When Williams got there, Genie Boren was at church, but he found Cecil Boren working on his car, the court records state. Williams then shot and killed Cecil Boren, dragged his body to a bayou and took the car. Williams was captured after a car chase that killed another driver. In 2000, he was sentenced to death for killing Boren.
"We'd like for it to happen before all of us die ourselves," said Genie Boren, 73. "You know, you wait that many years, you're just waiting and waiting and waiting. I'm not sitting around thinking it's going to happen for sure, but this is closer than we've ever gotten."
Boren said she still lives in the same house where her husband was killed, not far from where Williams is being held. While she had originally planned not to attend the execution because she did not want to see someone die, Boren said she changed her mind.
"I don't know if I will get anything from that," Boren said. "But you know, I live two miles from the prison. . . . I always look over that way, because I know he's there," she said. "And once he's gone, I'll know he's gone."
Attorneys for the inmates have filed challenges questioning the scheduled pace and the particular drugs used. But the rush of work is "overwhelming," said Julie Vandiver, an assistant federal public defender in Little Rock, who is representing some of the inmates.
"This is not the way that it should go," Vandiver said. "The end stage of litigation is very important, and when an execution warrant is signed, there are all kinds of processes that start up."
She pointed to clemency petitions, which can only be contemplated after an execution date is set. She dismissed the state's argument that is has a deadline approaching, calling it "manufactured" and noting that the state has gotten drugs before and can get them again.
Vandiver said the schedule "creates an impossible situation for all the people involved," including the corrections officials who "are going to have to execute these people."
Corrections officials have raised similar concerns. In a letter to Hutchinson last month, two dozen such officials pleaded with him to change the pace, warning that "performing so many executions in so little time will impose extraordinary and unnecessary stress and trauma" on the corrections officials.
"Even under less demanding circumstances, carrying out an execution can take a severe toll on corrections officers' wellbeing," they wrote.
Jerry Givens, who signed the letter and spent 17 years as Virginia's chief executioner, said corrections officers are already under enough pressure before taking on the added weight of multiple executions.
"How can you expect them to do something of this magnitude? It's rough," Givens, who executed 62 people and now opposes the death penalty, said Friday. "I know the effect it can have on you when you participate in executions . . . It takes a while to really come out of that."
Wendy Kelley, director of corrections in Arkansas, declined an interview request. A spokesman, Solomon Graves, said Thursday that the corrections department rolled out training for the executions and that it would make counseling available to any staff members who participate in an execution.
Givens and the other corrections officials also worry that the pace "will increase the chance" of a mistake. They pointed to the last state that intended to carry out two executions in one night: Oklahoma, which bungled the execution of Clayton Lockett, a convicted murderer, in 2014.
Lockett grimaced, writhed and appeared to be in pain during the process, witnesses said, dying a short time after the execution was called off. In a state review, authorities wrote that the execution team placed the IV incorrectly and that officials involved described a feeling of extra stress and urgency because a second execution was scheduled for the same night.
The second execution was postponed, and when it was carried out in January 2015, Oklahoma officials used the wrong drug. The state has not carried out an execution since, though it came close later that year.
Executions are regularly halted in the United States. In some cases, it is because a court intervenes, but executions also have been called off recently for other reasons. Oklahoma abruptly called off another execution in 2015 when state officials realized they had again obtained the wrong drug. The same year, Georgia twice called off the execution of the state's only female death row inmate, first because of a winter storm and then because the drugs looked "cloudy." Officials later said they determined the drugs were just too cold, and they executed her months later.
©The Washington Post
Join our commenting forum
Join thought-provoking conversations, follow other Independent readers and see their replies