Knife-wielding man demands shopkeeper streams his armed robbery on Facebook
'He threatened that he was going to kill me if I didn't put him on Facebook'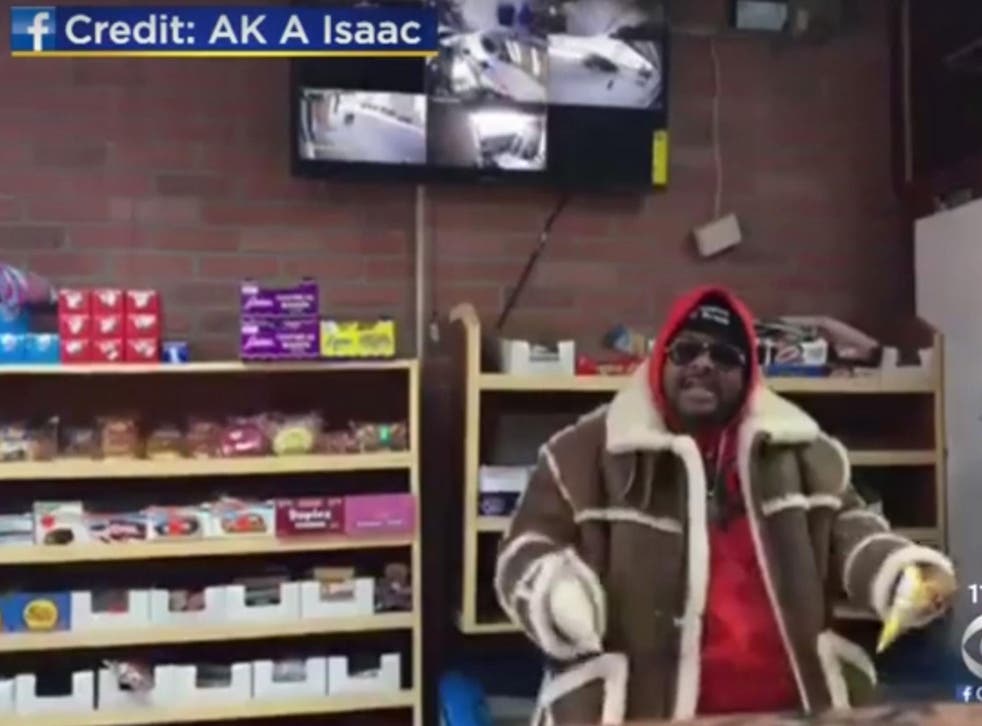 A man is facing jail after forcing his own hostage to stream his armed robbery live on Facebook.
Rasheem Harrison pulled out a large knife in an New York convenience store and asked shopkeeper Abdul "AK" Aziz to film and live stream him because of "what I got in my hand".
Charismatic Mr Abdul is a minor local celebrity in Staten Island and posts video blogs on his Facebook page, which boasts more than 6,500 followers.
"He could do something dangerous so I was nervous. At the same time, I was in fear for my life," said Mr Abdul, originally from Yemen. "He threatened that he was going to kill me if I didn't put him on Facebook."
In the video, Mr Harrison appears to say something about wanting to find someone, before grabbing an ice cream cone and refusing to pay for it.
While waving the blade, Mr Harrison seems to say in the video: "I'm gonna eat it whether you like it or not, right or wrong, and you can take it how you want to 'cos by the end of the day what I got in my hand."
The suspect stormed out after several nervous minutes but was reportedly arrested around 30 minutes later.
"I felt like I was a hostage inside my own place so I put him on Facebook," said Mr Abdul, speaking to CBS New York.
"I'm not letting none of these wannabe thugs, wannabe hustlers ruin my life or stop me from making my money to feed my family and I know God is with me."
Mr Harrison is facing multiple charges, including armed robbery, menacing and weapons possession, and the video is reportedly being used as evidence.
Register for free to continue reading
Registration is a free and easy way to support our truly independent journalism
By registering, you will also enjoy limited access to Premium articles, exclusive newsletters, commenting, and virtual events with our leading journalists
Already have an account? sign in
Register for free to continue reading
Registration is a free and easy way to support our truly independent journalism
By registering, you will also enjoy limited access to Premium articles, exclusive newsletters, commenting, and virtual events with our leading journalists
Already have an account? sign in
Join our new commenting forum
Join thought-provoking conversations, follow other Independent readers and see their replies