Armstrong cuts Livestrong ties as donors toss yellow bands
Drew Armstrong
,
Bloomberg News
Tuesday 13 November 2012 10:02 Comments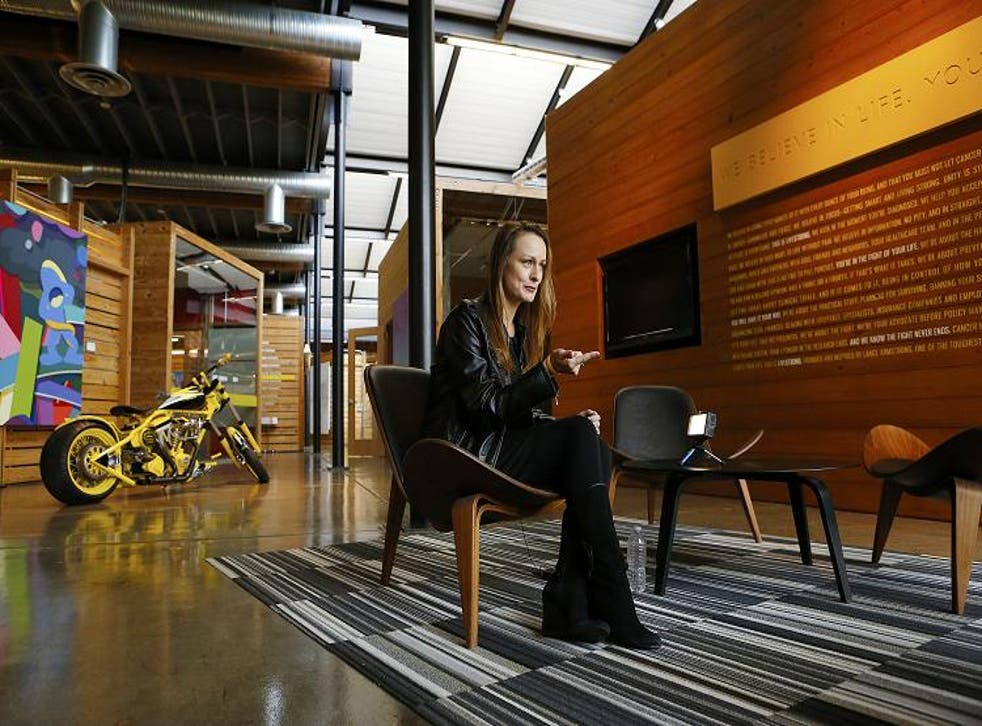 Lance Armstrong, the seven-time Tour de France cycling winner stripped of his titles on charges he cheated, has resigned from the board of the Livestrong Foundation, the charity he began 15 years ago after testicular cancer nearly ended his career.
The move, coming 18 days after he stepped down as the group's chairman, is designed to further distance him from the Austin, Texas-based foundation as a way help it survive the fall from grace of one of the world's best-known athletes, officials said Sunday in announcing the move.
Armstrong's last day as a board member was Nov. 4, said Katherine McLane, a foundation spokeswoman. While the group's officials said they have sufficient reserves to overcome a contribution downturn, supporters said they were concerned the move may not be enough to overcome the damage already done.
"It'll take years until people think of it as something other than being" Armstrong's charity, said Steve Schooner, 52, a testicular cancer survivor whose fundraising won him a bike ride with Armstrong in 2009 and brought in $50,000 for the foundation. "He is the engine behind most of the high-profile fundraising and events. Even a tour of the headquarters, with his jerseys and bike art, makes clear he's the focal point."
The foundation's mission is to connect cancer patients with resources to help with their care, and to inspire them to live active lives, a goal Schooner, a law professor at George Washington University in Washington, said he still supports.
For Armstrong, the board resignation caps a difficult two- month period.
In early October, he was targeted by a report released by the U.S. Anti-Doping Agency that alleged he was part of the largest sports cheating ring in cycling history. While Armstrong hasn't admitted to using performance-enhancing substances, as the report alleges, he has chosen not to fight the current round of charges against him. That has allowed the USADA and the Union Cycliste Internationale to strip him of his wins.
A week after the USADA report, on Oct. 17, he stepped down as chairman of the Livestrong Board.
Armstrong later decided to quit the board entirely "to spare the organization any negative effects as a result of controversy surrounding his cycling career," wrote Jeff Garvey, the group's new chairman, in an email Sunday. "We are deeply grateful to Lance for creating a cause that has served millions of cancer survivors and their families."
There is some evidence the cheating allegations may have already hurt the group. In an annual survey published last year, Livestrong was ranked 343rd among the top 400 charities in the Chronicle of Philanthropy's list. This year it fell out of the rankings, though it remains the top athlete-founded charity.
McLane, the foundation spokeswoman, wouldn't say whether Armstrong would have any unofficial involvement going forward, such as fundraising or speaking at events.
"Lance remains the creator and inspiration of the Livestrong foundation and for its mission — providing free financial, practical and emotional support services for cancer survivors and their families," McLane wrote in an email. She declined to provide a statement from Armstrong, referring to his comments in October when he said he was quitting as chairman to avoid harm to the charity.
Schooner, the George Washington University law professor, was among the top 50 individual Livestrong fundraisers in 2009, according to the organization. He still backs Livestrong's mission that people with cancer can go on to live active, full lives. Yet its continuing ties to Armstrong had made it harder for him to be a booster, he said.
After the allegations against Armstrong were detailed last month, Schooner's yellow Livestrong clothing sits in the back of his closet and the organization's trademark yellow bracelet that he's worn since 2004 has been more like a weight than an inspiration, Schooner said.
Many of Armstrong's most fervent supporters have been demoralized by the cyclist's alleged used of banned performance- enhancing substances, he said.
After the anti-doping authorities released their report, he said he and his family "started having daily conversations at home whether it was time to take the yellow band off," Schooner said in a telephone interview before Armstrong's decision to leave the board was announced.
"I don't want people who don't understand the nuance of the situation to think, 'Wow, that guy up there sympathizes with people who lie and cheat,"' he said.
Livestrong is deeply wrapped in the image of its founder. The bracelets are golden yellow — the same color of Armstrong's yellow victory jerseys. And key to its message — empowering cancer survivors to aspire to full, vigorous lives — is Armstrong's inspirational story of beating metastatic testicular cancer, then winning the world's biggest bike race seven times.
On Nov. 10, Armstrong posted a picture on his Twitter account of him lying on the couch, with seven of the yellow jerseys he won and was recently stripped of framed on the wall behind him. There is no mention of his latest decision.
Greg Lee, Livestrong's chief financial officer, said contributions haven't declined despite the controversy surrounding Armstrong. From late August through October, donations increased about 3 percent over a year before, Lee said in an email before Armstrong's decision was made public to leave the organization. The foundation has reserves sufficient to survive a downturn, he said.
To raise money, Livestrong hosts fitness events, and also sponsors teams at unrelated marathons and bike rides. Instead of just paying an entry fee, participants commit to raising money that will go to the charity. That means collecting funds from friends and families though pledges.
While contributions may not have fallen, those efforts are getting harder, said Rob Jones, 45, who lives in Reston, Va. His mother, who died of lung cancer in 2007, was his inspiration and he's done Livestrong events in Austin and Philadelphia, and on teams at the New York and Chicago marathons.
"I was always a big supporter of Lance early on," Jones said in a telephone interview. A cycling fan, he was on the road side at the 2004 Tour de France, Armstrong's sixth win. "I was probably one of the first couple to get the yellow band, they were passing it out at the Tour."
He still supports the charity's work. In total, he's raised about $3,000 at each of the Livestrong events he's participated in, and is raising money now for a Livestrong team running the 2013 Boston marathon.
However, he said he's feeling the blowback from the allegations.
"There have been a lot of people just on the very periphery who don't know the details and hear stuff on the news outlets and see my wristband and are very negative about it," Jones said. "It has picked up with the scandals and the accusations."
Leslie Lenkowsky, a professor of non-profit management at Indiana University in Bloomington, said the pressure being felt by those working with the foundation isn't surprising.
"Non-profit organizations depend on trust between them and their stakeholders," he said in a telephone interview prior to Armstrong's decision to cut ties with the group. "Armstrong's scandals have frayed the bonds of trust," he said in an interview before Armstrong quit the board.
Register for free to continue reading
Registration is a free and easy way to support our truly independent journalism
By registering, you will also enjoy limited access to Premium articles, exclusive newsletters, commenting, and virtual events with our leading journalists
Already have an account? sign in
Join our new commenting forum
Join thought-provoking conversations, follow other Independent readers and see their replies