Arnold Schwarzenegger donates $100,000 to anti-hate charity after Charlottesville violence
Terminator star tells white supremacists: 'You will not win'
Benjamin Kentish
Wednesday 16 August 2017 19:24 Comments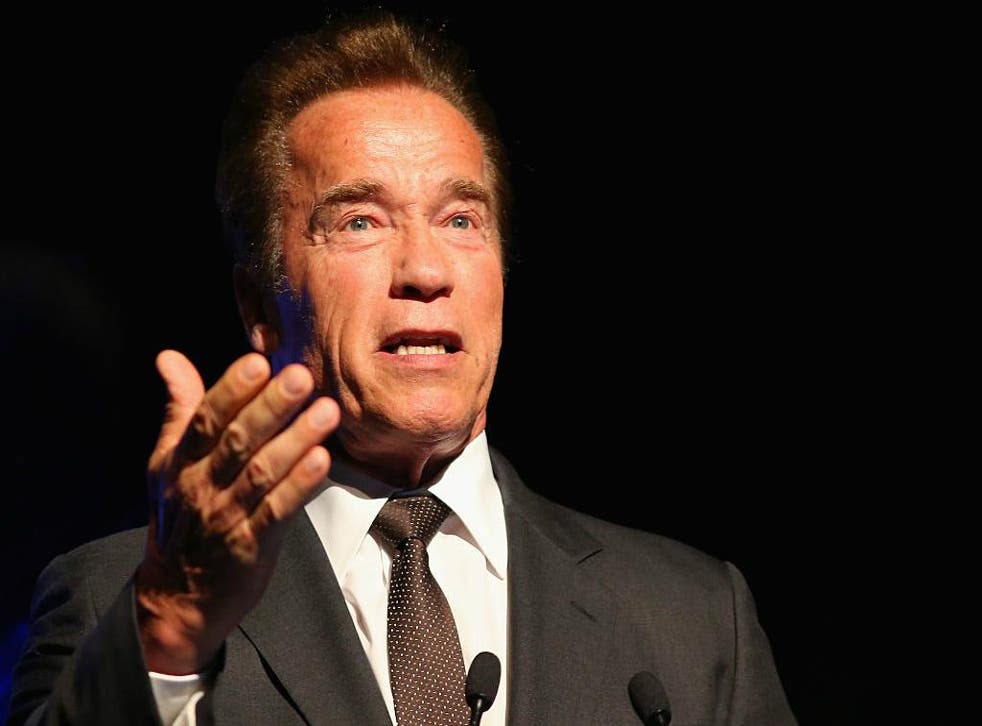 Arnold Schwarzenegger has donated $100,000 (£77,690) to an anti-hate charity in the wake of violent clashes between white supremacists and anti-racism campaigners in Charlottesville, Virginia.
The actor and former Governor of California said he was "horrified" and "heartbroken" by the violence, which claimed the life of Heather Heyer, 32, who was killed when a car rammed into protesters.
James Fields, 20, has been charged with her murder.
Two police pilots also died when the helicopter they were flying crashed outside Charlottesville. The cause of the accident is currently unclear.
Writing on his Facebook page, Schwarzenegger said he would donate $100,000 to the Simon Wiesenthal Center – "an anti-hate organisation I've worked with for decades".
The Terminator star said: "While these so-called 'white nationalists' are lucky to live in a country that defends their right to voice their awful, incorrect, hateful opinions, the rest of us must use our voices and resources to condemn hate and teach tolerance at every opportunity.
"My message to them is simple: you will not win. Our voices are louder and stronger. There is no white America - there is only the United States of America. You were not born with these hateful views - you can change, grow, and evolve, and I suggest you start immediately."
He added: "Today, I'm sending $100,000 to an anti-hate organization I've worked with for decades - the Simon Wiesenthal Center, named after the great Nazi hunter who I was lucky to call a friend."
Speaking of the centre, he said: "I have spoken to its founder, Rabbi Marvin Hier, and I know that my contribution can help advance the Center's mission of expanding tolerance through education and fighting hate all over America - in the streets and online.
Violence on the streets of Charlottesville

Show all 9
"My dream is that all of you will join me in helping your favourite anti-hate organizations in any way you can. United, we are greater than the hatred we saw this weekend."
The Simon Wiesenthal Center describes itself as a "global human rights organisation" that "confronts anti-Semitism, hate and terrorism, promotes human rights and dignity, stands with Israel, defends the safety of Jews worldwide, and teaches the lessons of the Holocaust for future generations".
Mr Schwarzenegger's intervention comes as a number of celebrities voiced concern over the far-right protests and Donald Trump's response to them.
The US President was criticised after initially refusing to directly condemn white supremacist groups and later appearing to draw comparisons between them and left-wing anti-racism organisations.
Model Chrissy Teigen, singer Lady Gaga and basketball star LeBron James were among those to speak out.
James wrote on Twitter: "Hate has always existed in America. Yes we know that but Donald Trump just made it fashionable again! Statues has nothing to do with us now!"
Actress Mia Farrow wrote: "The President's most shameful weekend was just extended indefinitely."
Register for free to continue reading
Registration is a free and easy way to support our truly independent journalism
By registering, you will also enjoy limited access to Premium articles, exclusive newsletters, commenting, and virtual events with our leading journalists
Already have an account? sign in
Join our new commenting forum
Join thought-provoking conversations, follow other Independent readers and see their replies