Billboard encouraging undocumented immigrants to get a 'sugar daddy' promotes human trafficking, campaigners say
The large advert in Austin, Texas, is set to be taken down after several weeks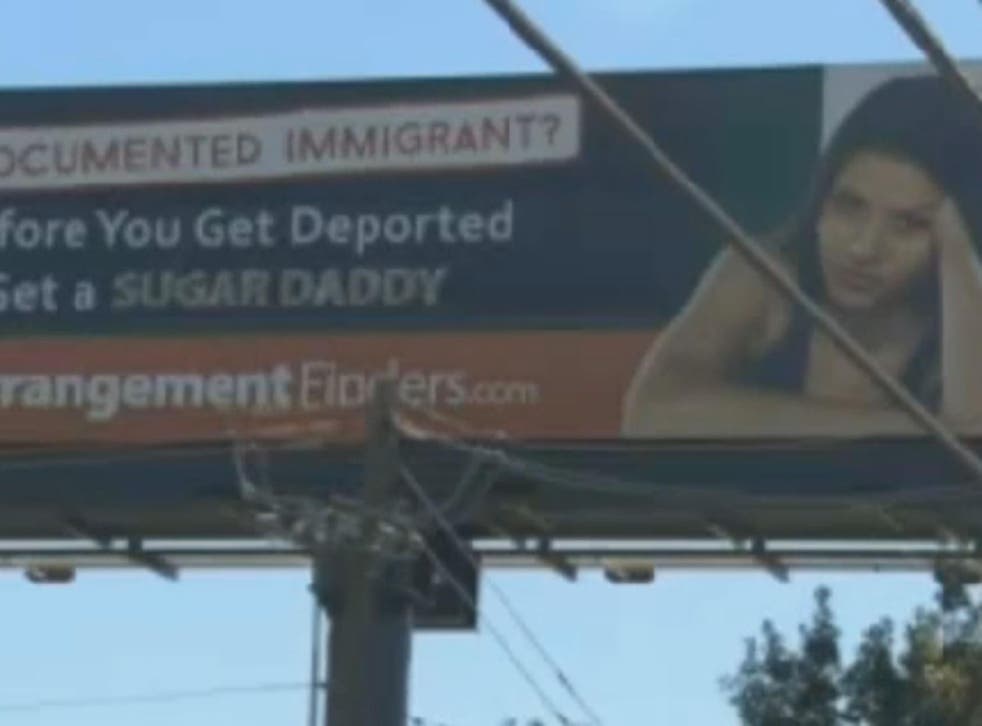 Residents, charities and police are calling for a controversial billboard that encourages undocumented immigrants facing deportation to find a "sugar daddy" to be taken down immediately.
The large billboard, placed over a highway in Austin, Texas, says: "Undocumented immigrant? Before you get deported, get a sugar daddy".
The words are placed beside a picture of a young girl with the colours of the Mexican flag behind her.
CNN reported that an undercover sergeant with the Austin Police Department's human trafficking vice unit said the advert is "dangerous".
"I was very disgusted by what I was seeing," the officer said.
"To think that somebody would do that is just a very low life individual who would put that up there.
"These young ladies, maybe they haven't been in American that long and they don't know how it goes, and seeing that on the billboards and going hey, maybe that's something I ought to look at trying to do, and the next thing you know, they're in a world they can't get out of."
The advert is from a company called ArrangementFinders.com, a website that facilitates physical intimacy for money.
The undercover officer said the women who typically approach the website are young and vulnerable, and could be threatened with sexual assault or murder.
Steven Phenix, PR director for The Refuge, an organisation that fights human trafficking in Austin, told The Independent that the billboard has been up for several weeks and is "pure exploitation".
"They are taking advantage of people and exploiting people who are in a bad shape. They are defacto pimps," he said.
The Refuge has worked alongside police sting operations and has seen phone lines linked to backpage adverts "explode" within minutes, therefore he said it was very likely that many women have called the website since the billboard went up.
Ruby Life, a third-party marketing company in Toronto, has said it was responsible for the advert. It will be taken down, as reported by KXAN.
According to the National Centre for Missing and Exploited Children, the number of minors being exploited through these websites has gone up 800 per cent in the last five years.
The same organisation found that one in five missing children is most likely to be a victim of human trafficking.
Register for free to continue reading
Registration is a free and easy way to support our truly independent journalism
By registering, you will also enjoy limited access to Premium articles, exclusive newsletters, commenting, and virtual events with our leading journalists
Already have an account? sign in
Register for free to continue reading
Registration is a free and easy way to support our truly independent journalism
By registering, you will also enjoy limited access to Premium articles, exclusive newsletters, commenting, and virtual events with our leading journalists
Already have an account? sign in
Join our new commenting forum
Join thought-provoking conversations, follow other Independent readers and see their replies