Asylum seeker in private immigration prison writes plea for help as she accuses guard of repeated sexual assault
'She looked for, or took advantage of every moment she could to touch my breasts or my legs, she knew where and when she did it'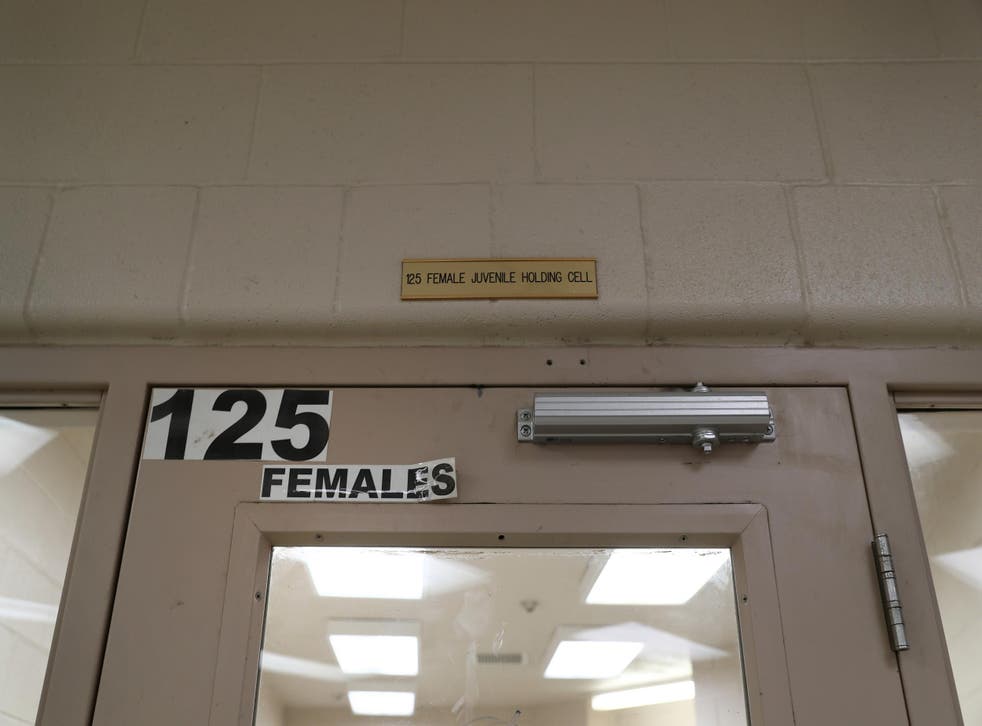 A female asylum seeker at a Texas detention centre has alleged that she has been sexually assaulted repeatedly by a female guard for almost six months.
The 23-year-old from El Salvador said that until now, she had been scared to speak out fearing retaliation at the Hutto Residential Centre in Taylor, near the city of Austin.
She has been detained there since June after she was caught attempting to cross the US border from Mexico in May.
The woman said the female guard found opportunities to lead her to a recreation room in the detention centre where she would repeatedly grope her.
"In this place, we don't have rights, only duties," the woman, whose identity is being withheld by The Independent for privacy concerns, wrote in a letter to Grassroots Leadership, an immigration advocacy group in Austin. "We are not criminals, we only want to protect our lives, we can't stand any more torture or threats."

"She looked for, or took advantage of every moment she could to touch my breasts or my legs, she knew where and when she did it, I don't remember dates because there are many," the letter continued.
The abuse only stopped when the guard was moved following an anonymous tip to officials at the facility.
The woman said she had seen the guard recently in spite of the accusations, and feared she could have simply been transferred to a different part of the facility.
She came forward after losing her asylum case last month.
"She was really scared that the guard would have some sort of influence over her case, and the guard made threats toward her saying the nobody would believe her if she said anything about it," Claudia Munoz, the immigration programs director at Grassroots Leadership in Austin, said.
She was also frightened that she would be transferred to a different detention centre, where she feared her case would be restarted with a new judge.
Grassroots Leadership learned of the alleged abuses after the victim told them during a voluntary visitation time.
The group said the woman had met with a sexual abuse task force that included representatives from the privately-contracted detention centre, officials from the Williams County Sheriff's office and an Immigration and Customs Enforcement (ICE) official earlier this week.
She had previously been visited by investigators last week after the anonymous tip to officials.
World news in pictures

Show all 50
Her advocates said it is unclear if the task force will continue with an investigation following the meeting, or if the guard in question will face any sort of reprimand if an investigation backs the allegation.
The Williams County Sheriff's Department confirmed that a representative had attended a meeting regarding the alleged assaults, but officials there haven't decided whether to pursue an investigation yet.
ICE "does not comment on pending investigations. However, the agency is committed to ensuring all individuals in our custody are treated in a safe, secure and humane manner. Accusations of alleged unlawful conduct are investigated thoroughly and appropriate action is taken to ensure the safety and security of those involved and the others in ICE custody," Nina Pruneda, an ICE spokesperson, said in a statement.
An email to Corecivic, the private corporation that runs the prison, was apparently forwarded to Ms Pruneda, who referred The Independent back to her initial statement.
It is not the first time that inmates in federal detention facilities have alleged sexual assault by their guards. In Taylor, Texas, a guard who worked at an all-women detention facility was convicted of both state and federal charges in 2011 after inmates alleged that he molested them while transporting them from the facility to the airport.
More recently, a 40-year-old guard at a Pennsylvania facility was sent to prison for sexually assaulting a 19-year-old woman from Honduras.
Join our new commenting forum
Join thought-provoking conversations, follow other Independent readers and see their replies