'It was chaos': Travellers vent fury as hundreds of flights from Atlanta continue to be cancelled
Massive power outage at Hartsfield-Jackson International Airport still causing delays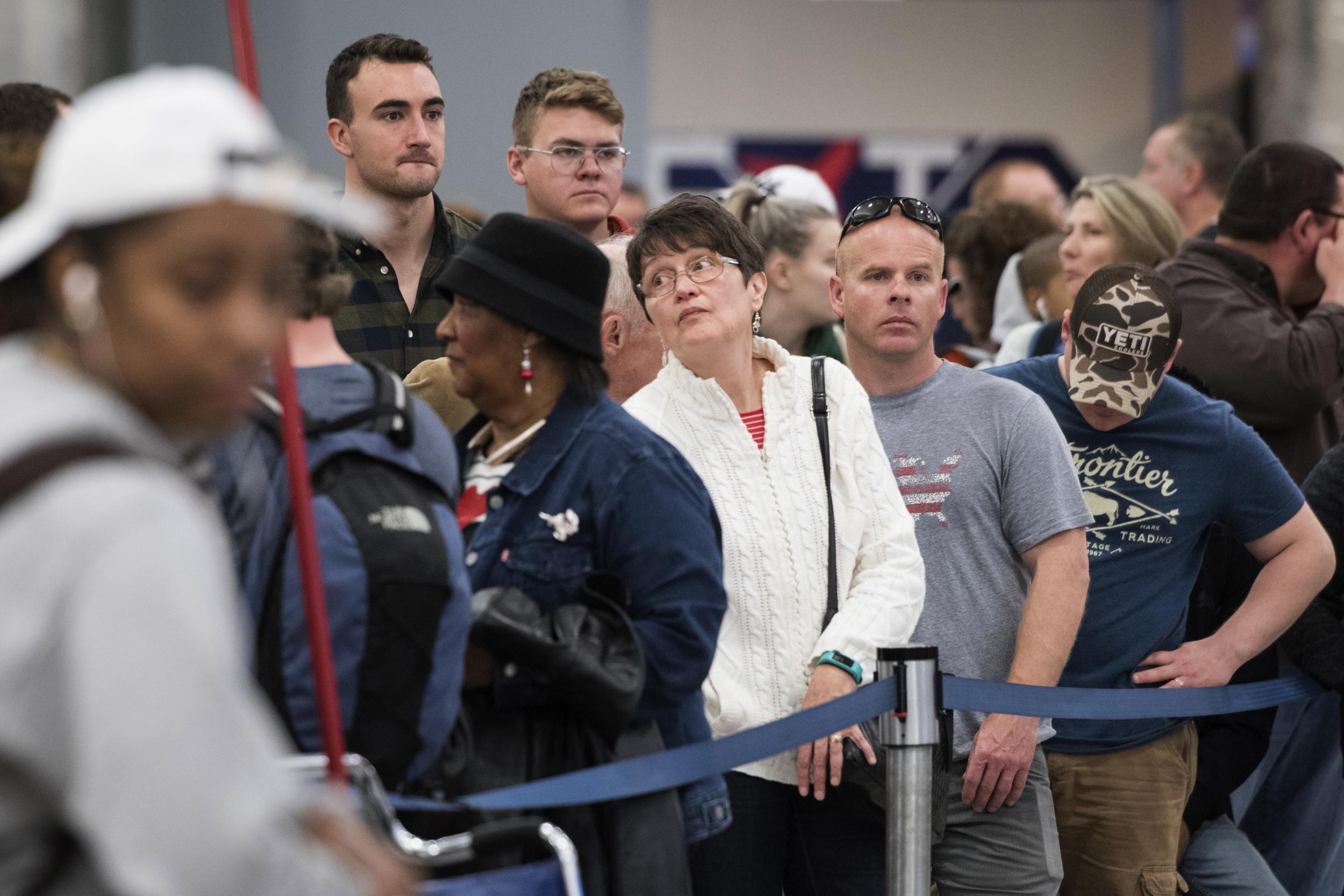 More than 400 flights have been cancelled at one of the world's busiest airports, after a massive power outage temporarily shut down Atlanta's Hartsfield-Jackson International.
Passengers were left stranded on the tarmac when an underground fire knocked out power to the entire airport on Sunday morning. More than 1,1000 flights were cancelled that day, and approximately 30,000 people were affected, according to Atlanta Mayor Kasim Reed.
Power was up and running by 12am on Monday, but 412 further flights out of the airport were cancelled as airlines struggled to address the situation, according to FlightAware.com.
Susan Riley-Hayes, a businesswoman travelling home from Sarasota, Florida, was one of those trapped on a plane on Sunday. At first, she said, it seemed like there might only be a minor delay getting to the gate. But then the pliot came over the intercom with some troubling news.
"He said, 'I don't know where we are, or how many planes are in front of us, but we're probably in the very back third of the line'," she recalled. Her business partner, who had flown in on an earlier flight, called to tell her he had been waiting for an hour.
Ms Riley-Hayes said her fellow passengers tried to stay positive as one hour turned to two, and then three, and then four. The crew on her flight, she added, was "great". But when the plane finally made it to the gate five hours later, the captain let slip some of his true feelings about the situation.
"He said, and I'll never forget this: 'In my 26 years with Delta and my 14 years as a captain, this is unprecedented,' she recalled. "You could just tell that even he was in shock."
Other passengers reported being trapped on the tarmac for up to six hours, as their planes slowly ran out of food and water. Those stranded in the airport waited on developments in the dark, using their cellphones as flashlights while concession stands closed down around them.
Atlanta airport struggles to recover from chaotic power outage
World news in pictures
Show all 50
According to Mr Reed, all of the passengers waiting on the tarmac were safely emptied of passengers by 10 pm. But that did not mean their ordeal was over.
Ms Riley-Hayes described disembarking her plane in pitch-black darkness and descending into a terminal jam-packed with impatient travellers.
"I can't describe to you the number of people," she told The Independent of the scene at the terminal. "There were people walking everywhere, there were people laying everywhere, there were people sleeping everywhere ... It was chaos."
As she made her way towards the exit, Ms Riley-Hayes saw people lined up just to get to the staircases. She watched security agents hauling wheelchair-bound passengers up the inoperable escalators by hand. But the most striking thing, she said, was what she didn't see: any meaningful official response.
"You're thinking, 'Where is the police presence, where is the fire presence, where is the traffic control?'" she said. "How is this happening like this, in the complete dark?"
Ms Riley-Hayes eventually arrived home around 9 pm on Sunday. By Monday morning, she had yet to receive her checked luggage. When she called the airport to see about getting it back, a representative told her they had no idea when she could expect that to happen.
But many travellers were even less lucky; trapped in Atlanta overnight on what was supposed to be a layover. Some managed to find hotel rooms, while the Georgia International Convention Centre provided temporary shelter to others. Airport officials said on social media that they had served more than 5,000 meals to passengers by early Monday morning.
"We're just focusing on the comfort of our passengers," Mr Reed said at a news conference on Sunday. "We know they have had a very, very long and difficult day."
Georgia Power's top executive apologised for the outage in an interview with the Associated Press on Monday. CEO Paul Bowers said the fire that caused the blackout started when a switch gear failed in the airport's underground power station. The company is unsure what caused the failure.
Such incidents are rare, Mr Bowers said, but Georgia Power will be looking into how to deal with them going forward. He suggested they may try to isolate the switch gear from the power cables, possibly by encasing one or the other in concrete.
Delta Airlines, which is based in Atlanta, said it would issue a waiver to passengers travelling through Atlanta with the airline on 17, 18, or 19 of December. American, United, And Spirit Airlines also offered waivers or flight changes. Delta offered to reimburse customers who had to book hotel rooms on Sunday.
Join our commenting forum
Join thought-provoking conversations, follow other Independent readers and see their replies