Atomwaffen Division: Who are the neo-Nazi paramilitary group linked to multiple murders?
Far-right organisation, whose name translates as 'atomic weapons', believes in using terroristic violence to bring down 'the System'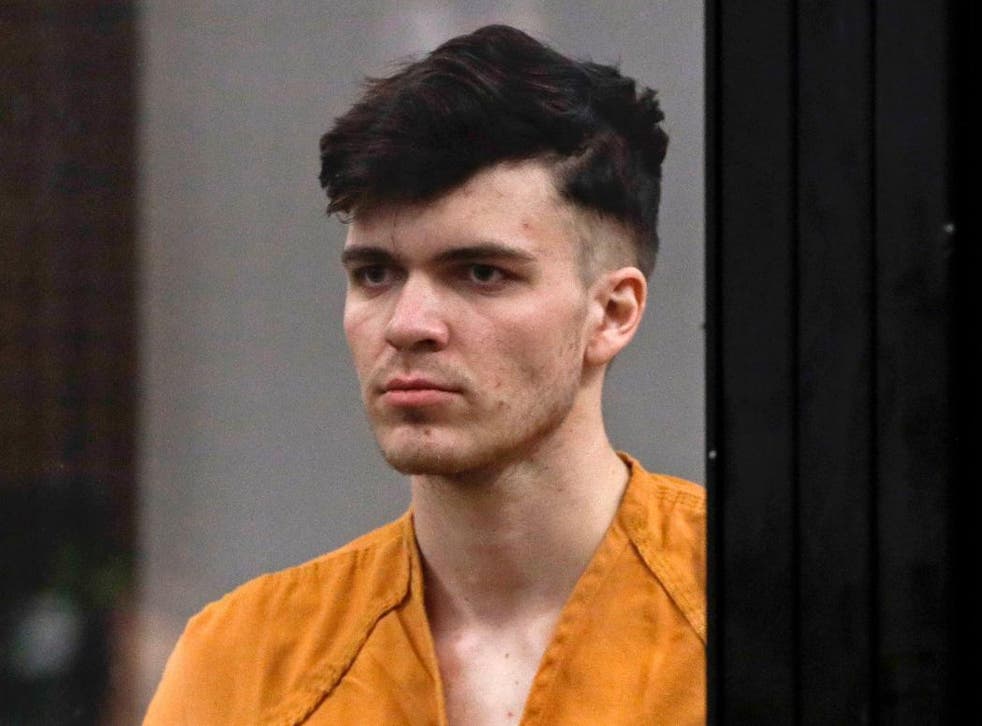 When a Florida man who had recently converted to Islam fatally shot two of his roommates, the name came up.
When the roommate he did not shoot was sentenced to five years for homemade explosives, the name came up.
And when an arrest was made after a 19-year-old college student was found dead with more than 20 stab wounds, the name came up.
That name was the Atomwaffen Division, a tiny paramilitary neo-Nazi group that has been linked to the suspects in at least five killings in the United States. It is among the most violent groups on the far-right, a mostly decentralised organisation about which much is unknown.
The Southern Poverty Law Center and the Anti-Defamation League have both done research into the group, and spoke to The New York Times about their findings.
What is Atomwaffen?
Atomwaffen or the Atomwaffen Division is a small extremist group that hopes to use terroristic violence to bring about the collapse of what its literature calls the "System," the government and other institutions that organise society. It formed in a now defunct online forum, Iron March, and is organised into distinct cells that comprise a handful of members.
Researchers disagree on how large the group is. Keegan Hankes, an intelligence analyst at the Southern Poverty Law Center, cited a ProPublica report that said the group had about 80 members.
But Carla Hill, a senior researcher at the Anti-Defamation League, said she had no evidence that the group had that many members. She estimated that there were between 24 and 36 actively participating in weapons trainings and hate camps held by the group. All agree that the group's nebulous nature makes the number hard to pin down.
Atomwaffen means "atomic weapons" in German.
Researchers believe that some cells are based in Texas and Florida, and Hill, based on pictures she has seen of the organised groups, believes there are others in Washington, near the Seattle area, and Richmond, Virginia.
But details about the group are difficult to confirm.
What do they believe?
Atomwaffen describe themselves as national socialists, or neo-Nazis, with an eschatological viewpoint. That means they expect and invite a breakdown of society that will lead to a race war, after which they intend to construct a new society based on their political principles.
They hold virulently racist and anti-Semitic views informed by the writings of James Mason, a member of the American Nazi party who idolised Hitler and Charles Manson.
Hankes said the group fetishised violence and looked to use degeneracy to establish order in a depraved modern world. He said it was difficult to estimate how many members had military training, but said some literature encouraged adherents to join the Armed Forces to get free weapons and combat training while staying underground.
"This group is so extreme that they cause a ton of controversy within the radical right," he said.
Other white supremacist and white nationalist groups have disavowed Atomwaffen, and have even speculated about whether the group is a plot to discredit their movement
Hankes said that recently the group had also embraced ideas associated with the occult and Satanism, ideologies that have further estranged its members from other white supremacists.
How is the group linked to violence?
In the past year, the group's name has cropped up several times in connection with homicide investigations.
In May, a Florida teenager, Devon Arthurs, told police he had killed two of his neo-Nazi roommates for disrespecting his Muslim faith. (He had recently converted.) His arrest led to the discovery that a fourth roommate, Brandon Russell, had been stockpiling explosive material. Russell, who told law enforcement officials he was a member of Atomwaffen, was revealed to be a founding member of the group, and was sentenced to five years in prison for having stockpiled the explosives.
In December, a husband and wife were shot dead in their Virginia home three days before Christmas by a teenage neo-Nazi. The suspect was identified as Nicholas Giampa by HuffPost, which found him to have been influenced by neo-Nazi literature republished online by Atomwaffen.
Last month, ProPublica reported that Samuel Woodward, who has been charged with the murder of a college student, Blaze Bernstein, was a member of the group.
The organisation has promoted its cause on college campuses in Washington, Pennsylvania and Illinois, according to the Anti-Defamation League.
Is the FBI investigating Atomwaffen?
An FBI spokesman would not comment directly.
"The FBI does not and will not police ideology, but has been investigating the criminal activities of white supremacy extremists for nearly a century," he said. "When an individual takes violent action based on belief or ideology and breaks the law, the FBI will enforce the rule of law."
In an interview Friday, Danny Coulson, the former deputy assistant director of the FBI, explained that the bureau was somewhat constrained in what it could do when no violence had been committed.
Coulson was one of the leaders of the investigation into the 1995 bombing of the federal building in Oklahoma City by Timothy McVeigh, who is much admired in Atomwaffen literature. He also led the operation that ended in the death of neo-Nazi leader Robert Jay Mathews and helped bring to justice the white supremacists of the Covenant, Sword and Arm of the Lord.
He said that once a group had been associated with murder or other forms of violence, it would become much easier to place wiretaps on them, and place informers in their midst, which the FBI has found relatively easy to do.
Coulson called participants in such groups "inadequate personalities" who chose to hate others because of their own insecurities.
"We all have our own insecurities," he said. "There's always something we'd like to be better at. To be stronger, a better shot, a better dad."
Violence on the streets of Charlottesville

Show all 9
"But these are things that are more like chronic inadequacies," he said of the quality that unites white supremacists, adding that McVeigh "never succeeded at anything."
He pointed out that McVeigh had been invited to join the Green Berets, but had not made it far in the training.
"He barely lasted one day because of a blister," Coulson said. "Give me a break."
The New York Times
Register for free to continue reading
Registration is a free and easy way to support our truly independent journalism
By registering, you will also enjoy limited access to Premium articles, exclusive newsletters, commenting, and virtual events with our leading journalists
Already have an account? sign in
Register for free to continue reading
Registration is a free and easy way to support our truly independent journalism
By registering, you will also enjoy limited access to Premium articles, exclusive newsletters, commenting, and virtual events with our leading journalists
Already have an account? sign in
Join our new commenting forum
Join thought-provoking conversations, follow other Independent readers and see their replies