AT&T actress Milana Vayntrub reveals she now hides her body in adverts over online bullying
The 34-year-old actor plays the famed character of salesperson Lily Adams in the commercial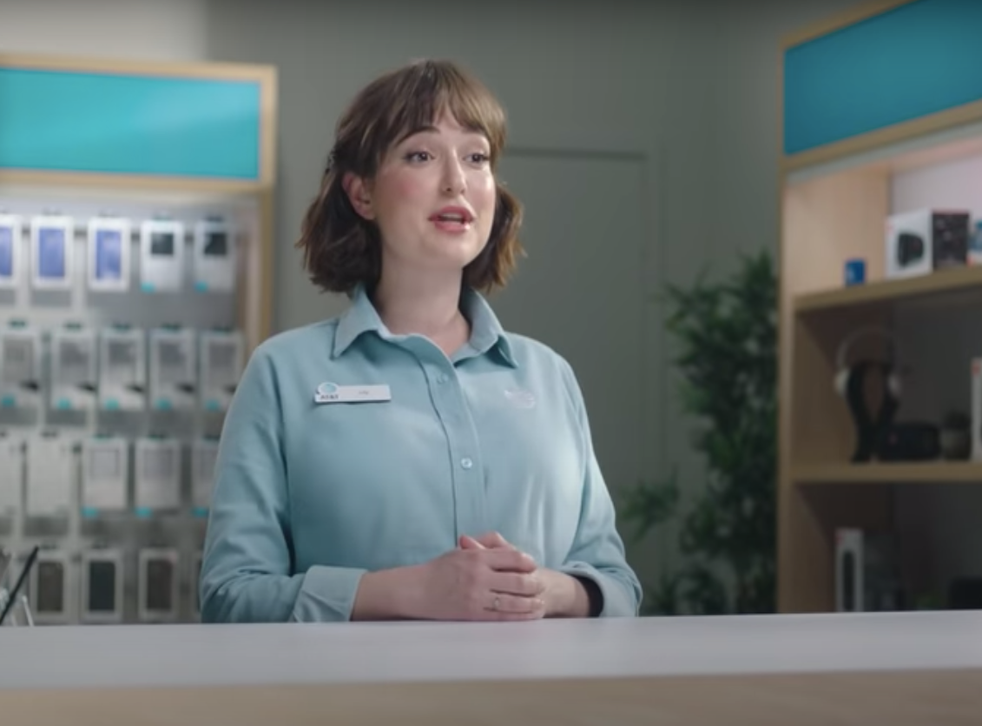 Actor Milana Vayntrub, who has been the star of AT&T campaigns for years, spoke about the body shaming and online sexual harassment she has been facing after her new commercial.
The 34-year-old plays the famed character of salesperson Lily Adams in the commercial and has been the face of the media company since 2013.
Ms Vayntrub recently took to Twitter to respond to the comments she has been receiving following her recent adverts that air during the NCAA Tournament where people noticed she was behind a desk.
"Been getting a lot of 'Why are they placing her body like that in those ads?'" Ms Vayntrub wrote on Twitter. "Well, I direct the ads. I place myself like that."
"And it's because of the thousands of unwelcome comments I receive about my body. You've lost the privilege of looking at it until I feel safe again," she said.
Read more:
The American actor, who has also acted in TV shows like This Is Us and Days Of Our Lives, used to stand in front of the camera in most of the company's commercial, sometimes in the company's stores, and during the Covid-19 pandemic, sitting on a couch. 
However, Ms Vayntrub's response to the unwanted comments about her body triggered more of such comments about her, where people began complimenting her body, only to be corrected by others who pointed why it was wrong.
"Really impressive how many dudes think they should respond to this by commenting on her body," a Twitter user Erin M Callahan wrote. 
"Bro. She's tired of people talking about her body/looks in any context," another user Ben Nicolls wrote. "Telling her she's super pretty is not the move. Take the conversation away from her appearance. PERIOD."
The actor and activist spoke about online sexual harassment earlier last year as well on an Instagram live where she read out some of the derogatory comments she was receiving. She also said her old photos from her college pool party were also getting circulated. "I am not consenting to any of this," she reiterated.
Mr Vayntrub has been hugely popular as Lily and her return to the commercial as AT&T launched two new adverts in 2020 after a break of three years was highly celebrated. She had been a part of 40 ads with the company between 2013 and 2017.
Jim Kimberly, director of corporate communications at AT&T, in a statement to Yahoo Life, said: "We will not tolerate the inappropriate comments and harassment of Milana Vayntrub, the talented actor and director who portrays Lily in our ads."
"Last summer, we disabled or deleted these comments on our social sites. We continue to fight to support her and our values, which appreciate and respect all women."
Yahoo Life said a similar message was circulated last year by the company.
Register for free to continue reading
Registration is a free and easy way to support our truly independent journalism
By registering, you will also enjoy limited access to Premium articles, exclusive newsletters, commenting, and virtual events with our leading journalists
Already have an account? sign in
Register for free to continue reading
Registration is a free and easy way to support our truly independent journalism
By registering, you will also enjoy limited access to Premium articles, exclusive newsletters, commenting, and virtual events with our leading journalists
Already have an account? sign in
Join our new commenting forum
Join thought-provoking conversations, follow other Independent readers and see their replies