US Attorney General promises crackdown on 'filth' in hardline immigration speech
The attorney used the speech to debut new, stringent border control plans
Emily Shugerman
New York
Wednesday 12 April 2017 01:55 Comments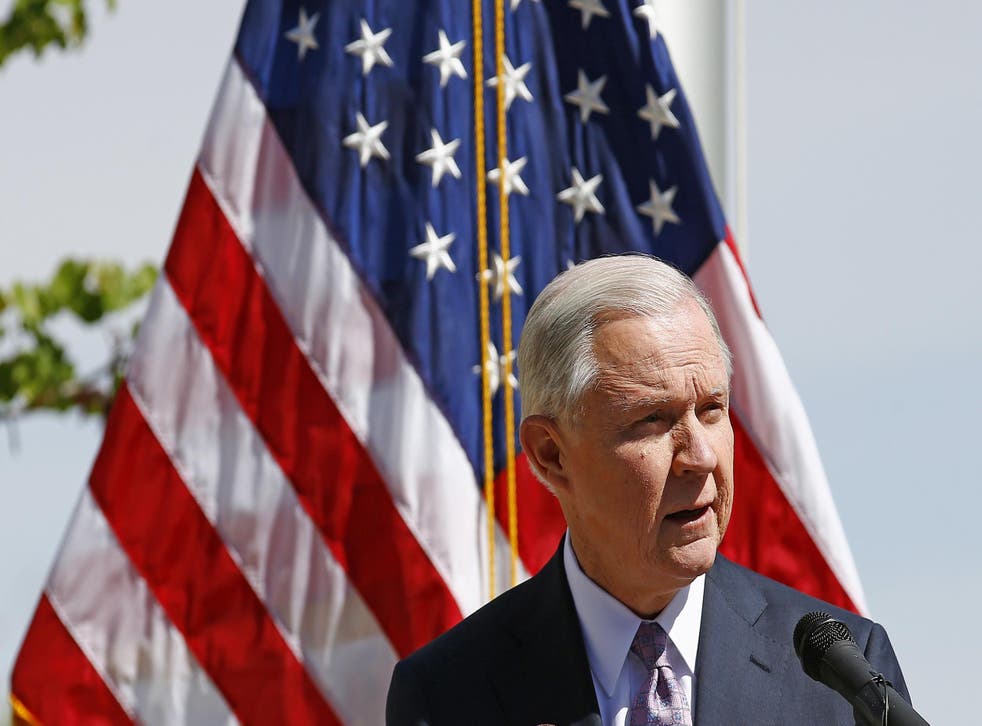 US Attorney General Jeff Sessions outlined a hard new stance on immigration prosecutions in his first visit to the US- Mexico border. He told border control agents the Trump administration would crack down on immigration crimes and direct new funding to border control efforts.
"It is here, on this sliver of land, where we first take our stand against this filth," Mr Sessions said in a speech from the border town of Nogales, Arizona.
Mr Sessions made his remarks as part of his official border tour on April 10. The attorney general laid out his plans for a crack-down on illegal immigration, telling agents that the Trump administration marks "a new era" in immigration reform.
"This is the Trump era," he said. "The lawlessness, the abdication of the duty to enforce our immigration laws, and the catch and release practices of old are over."
The same day, Mr Sessions released a memo outlining his border control plans. He urged prosecutors to focus on immigration crimes like illegal border crossing, and the smuggling or harbouring of immigrants. He vowed the Trump administration would bring more felony charges for illegal border crossings, and promised to add 125 immigration judges in the next two years.
Statistics from the last three years, however, show immigration crimes already constitute more than 50 percent of all federal criminal prosecutions. Gregory Chen, director of government relations for the American Immigration Lawyers Association accused Mr Sessions of drawing false connections between illegal immigrants and violent crime.
"He and President Trump are wasting more federal taxpayer dollars going after illegal border crossers instead of protecting the American public," Mr Chen told The Associated Press.
Mr Session's statements echo a hard-line stance immigration stance that the president has promoted for years. Mr Trump infamously accused Mexican immigrants of being rapists and drug dealers in his presidential announcement speech. Shortly after taking office, he issued an executive order denying funding to "sanctuary cities" that protect undocumented immigrants from deportation.
Homeland Security Secretary John F. Kelly also issued stringent border control guidelines in February, broadening the scope of immigrants who could be targeted for deportation. Among those targeted are unaccompanied child immigrants and those suspected of committing a crime.
"This is no accident," Mr Sessions told border control agents on Tuesday. "This is what happens when you have a President who understands the threat, who is not afraid to publicly identify the threat and stand up to it, and who makes clear to law enforcement that the leadership of their country finally has their back."
Mr Session's plan is reinforced by the Justice Department's latest budget proposal, which would direct hundreds of millions of dollars to hiring new Border Patrol agents, federal prosecutors, and deputy US Marshals, while cutting the department's overall budget by more than $1 billion.
Register for free to continue reading
Registration is a free and easy way to support our truly independent journalism
By registering, you will also enjoy limited access to Premium articles, exclusive newsletters, commenting, and virtual events with our leading journalists
Already have an account? sign in
Register for free to continue reading
Registration is a free and easy way to support our truly independent journalism
By registering, you will also enjoy limited access to Premium articles, exclusive newsletters, commenting, and virtual events with our leading journalists
Already have an account? sign in
Join our new commenting forum
Join thought-provoking conversations, follow other Independent readers and see their replies