James Holmes: Aurora shooter secretly transferred to another prison after being attacked by inmate
James Holmes was moved to a prison outside of Colorado for his own safety without informing the victims' families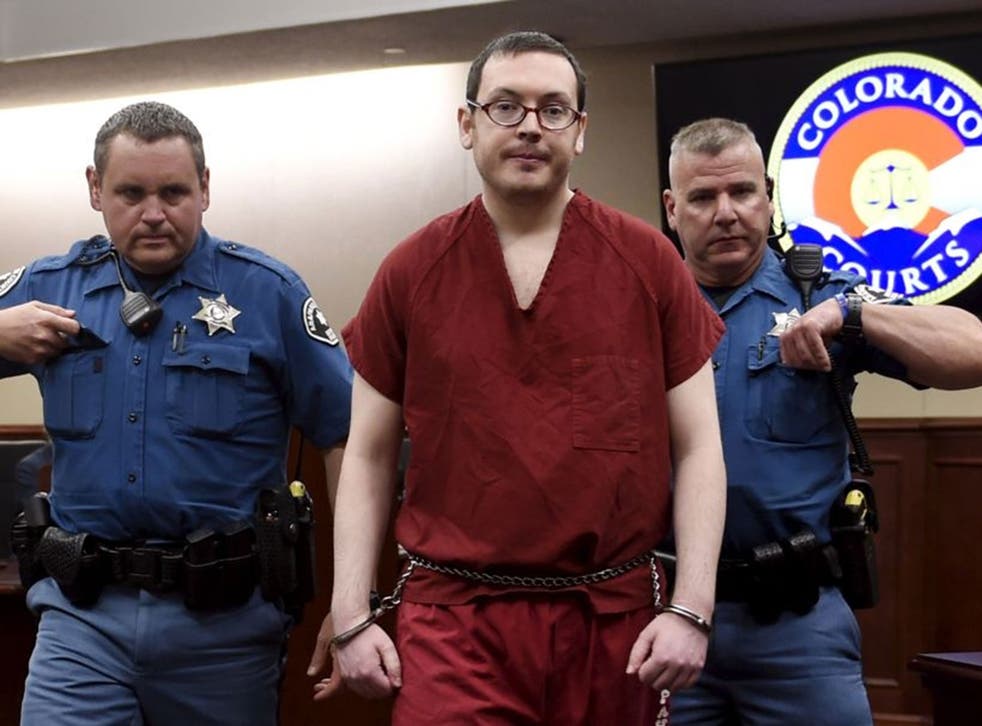 Mass killer James Holmes, the man who opened fire in a Colorado cinema, has been secretly moved to an out-of-state prison after he was attacked by another inmate.
His location has not been disclosed, even to the victims' families.
Mr Holmes was moved from Colorado State Penitentiary to a prison outside of Colorado after he was assaulted by an inmate, as reported by ABC News.
In October the 28-year-old was being held in a cell by himself. An inmate called Mark "Slim" Daniels managed to slip through an open security gate and punched him several times. Mr Holmes had been in the prison for around five weeks by this point.
The officer escorting Mr Holmes back from his case manager's office reportedly did not radio the officer who was controlling the gate because "his battery had gone dead".
"We had not allowed Holmes at that time to come into daily contact with other offenders. That was not part of the management plan of him," Colorado Prisons Director Steve Hager told ABC News.
"The attack was part of the reason for moving him," he added. "There were many concerns; the attack was part of the concern."
Inmate Mr Daniels received letters of support and money from the public but in prison was punished to 60 days in segregation and a 45-day loss of privileges.
"I'm so sorry I couldn't wipe him out and sent [sic] him packing to Satan's lake of fire," Mr Daniels wrote to Denver's Westword newspaper in December. "It was just impossible to do by myself with so many cops. I did get him six or seven good ones…. He was very scared."
Mr Daniels is due for parole in January 2017 and is serving time for theft.
The move was kept secret from the victims' families. Officials cited the prisoner's security as well as the wellbeing of prison workers and the other inmates.
Mr Holmes was given multiple life sentences for opening fire during a cinema screening of "The Dark Knight Rises" on 20 July 2012, killing 12 people and injuring more than 70.
Register for free to continue reading
Registration is a free and easy way to support our truly independent journalism
By registering, you will also enjoy limited access to Premium articles, exclusive newsletters, commenting, and virtual events with our leading journalists
Already have an account? sign in
Register for free to continue reading
Registration is a free and easy way to support our truly independent journalism
By registering, you will also enjoy limited access to Premium articles, exclusive newsletters, commenting, and virtual events with our leading journalists
Already have an account? sign in
Join our new commenting forum
Join thought-provoking conversations, follow other Independent readers and see their replies