Awá tribe: World's most endangered people fight for survival in the Amazon after return of settlers and logging
Two years after the army evicted illegal settlers, outsiders are returning to the indigenous reserve
Dom Phillips
Thursday 26 November 2015 19:33 Comments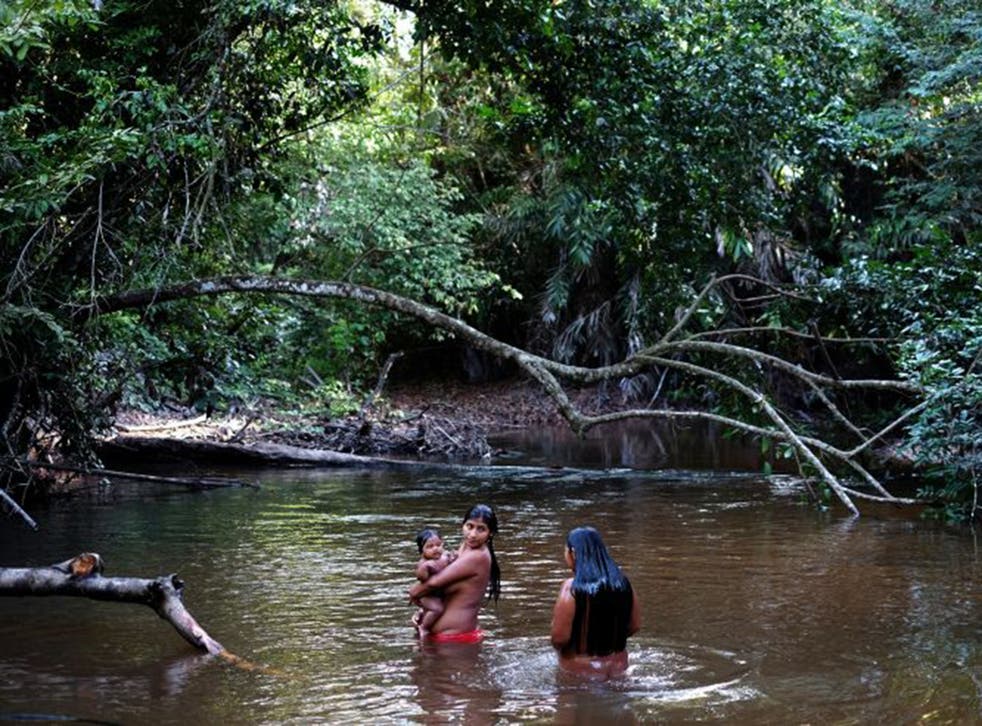 In January 2014, the Brazilian government sent the army into a corner of the Amazon, backed by bulldozers and helicopters, to clear out hundreds of families living illegally on a reserve for indigenous people.
The three-month offensive was aimed at saving what has been called the world's most endangered tribe – the Awá – from extinction. It was Brazil's biggest operation of its kind and was hailed by activists.
But now, it looks like the settlers are returning. Cattle are grazing on the sprawling reserve. Vegetable plots have been found in isolated areas. Loggers are culling the valuable wood in the forests.
It took more than 200 soldiers, police officers and government agents to evict 427 families of farmers and settlers last year and flatten their homes and outbuildings. But today, only half a dozen employees from the government's agency for indigenous people protect the 450 sqm reserve in north-eastern Maranhao state.
Raimundo Oliveira, 54, is one of them. He pointed a stick at the thick forest to show where loggers had built a rough road a couple of miles away from the Awá tribe's tiny village of Juriti.
"They are squeezed," he said of the indigenous people. "Loggers one side, settlers the other."
Brazil has hundreds of indigenous tribes and is believed to have more "uncontacted" people living in its forests than any other country.
Stunning images of the Amazon rainforest from award-winning photographer

Show all 5
But the Amazon has been subjected to waves of development, starting with a 19th-century rubber boom. Today, the Awá population has fallen to about 450, from an estimated 600 in 1960. Most live in small villages on the reserve, staying close to their hunter-gatherer traditions, unlike other tribes that survive on government welfare payments. About a hundred Awá tribe members still roam the rainforests with no contact with society.
Washington Post journalists were given rare permission by the Awá to visit the reserve. In Juriti, residents share their mud-brick homes with pets: small raccoon-like creatures called coati, large rodents called agouti, as well as tortoises, birds and monkeys. Hunting provides most of the tribe's food, although its members also do some farming.
Their land was declared a protected indigenous reserve in 1992, but in the lawless Amazon, little was done to stop outsiders moving in. Over time, an estimated 34 per cent of this reserve was deforested by loggers and settlers. As the activity edged closer to Juriti, a village of 67 Awá, the sound of trucks, tractors and chainsaws scared off the prey hunted by the tribe.
"My family were hungry," said Pyray-Ama-A Awá, 35, the chief of Juriti. "There is no prey when the loggers are close."
Last year, the Brazilian government acted. Settlers were given a 45-day warning to leave the territory. Some had to be removed by force. "Now, it is beautiful. They took the people out," said Pyray-Ama-A Awá.
And the Awá can hunt. "The prey comes closer," said Hamõ-Koma-Á Awá, 28.
But the gains are limited. There are areas of the forest where loggers still operate. And sightings of the remote Awá are increasing. This is a problem because the "non-contacted" tribal members have low immunity to infections such as the flu and can die after exposure to outsiders. In the 1980s, the government reversed decades of policy and decided it would leave isolated indigenous groups alone unless they were in danger.
Two employees of the agency for indigenous affairs were recently manning the gates of the Awá's reserve. One, Claudmiro Silva, wore a pistol in the waistband of his shorts. Both men said they felt vulnerable in this dirt-poor area, where gunmen can be hired for $100 or less and local landowners and loggers have been known to resort to violence. "We hope for an improvement here, for our security," said João Sampaio, Silva's colleague.
In the scruffy, bustling farming town of Sao Joao do Caru, a half-hour drive outside the reserve, resentment over the government's military operation still simmers. Many of those who were evicted moved here. Raul Ferreira, 48, lost 741 acres. He said he had bought the land in 1997, after it had been declared part of the reserve but before the final presidential decree was issued. The government has declared such sales invalid. "I hope nobody has to go through what I went through," he said.
Shopkeeper David Ferreira said at least 30 people in the town were logging in the reserve, which is targeted because much of the rest of the region was deforested years ago.
"It is invaded from one side to another, with people making plots and cutting down trees," he said. "Everybody knows."
"Not even the American army could defend all the indigenous areas in Brazil, because of the size of them," said environmental protection head Luciano Evaristo.
© The Washington Post
Register for free to continue reading
Registration is a free and easy way to support our truly independent journalism
By registering, you will also enjoy limited access to Premium articles, exclusive newsletters, commenting, and virtual events with our leading journalists
Already have an account? sign in
Join our new commenting forum
Join thought-provoking conversations, follow other Independent readers and see their replies