BA plane fire: Flight 2276 passengers describe 'scary' 'mad dash' to evacuate burning aircraft
None of the 153 passengers and 13 Boeing 777 crew members were seriously hurt
Rose Troup Buchanan
Wednesday 09 September 2015 08:11 Comments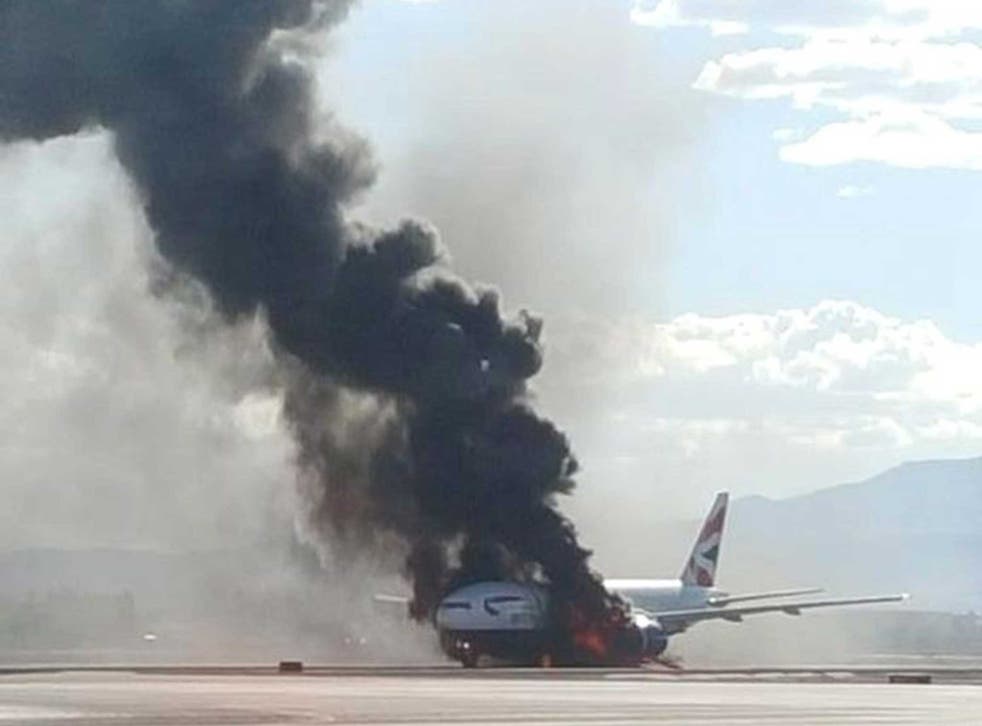 Passengers have spoken of the "mad dash" and "panic" to evacuate a British Airways plane that caught fire on the runway of a Las Vegas airway on Tuesday evening.
Dramatic pictures and videos on social media showed flames and huge plumes of black smoke pouring from the centre of the Boeing 777-200 as it sat on the tarmac at McCarran International Airport.
The 159 passengers and 13 crew were evacuated using safety slides as around 50 fire fighters fought to control the blaze. Seven people were later treated in hospital for minor injuries.
Jacob Steinberg, a Guardian sports writer, was on board the plane bound for London.
"Was asleep as the plane took off. Came to a crashing halt. Smell of smoke," he wrote on Twitter.
"Could smell and see smoke but was on other side of plane. One person said fire melted a couple of windows.
"They opened the back door and slide went down and smoke started coming in plane, followed by mad dash to front. A lot of panic."
In the aftermath of the incident a voice recording of the pilot in the moments before the evacuation has emerged. "Speedbird 2276 heavy, we are evacuating on the runway. We have a fire, repeat, we are evacuating."
The pilot has been praised for his actions. He was greeted with a round of applause by passengers after the evacuation. Images on social media showed passengers streaming from the flaming aircraft, many carrying their bags.
Another passenger Jay Jennings, from Southampton, said the experience was "pretty scary".
He told CNN the plane was preparing for take-off when he heard a big thud. When he lifted the window blind he claims he saw "flames on the engine".
Dominic Worthington, from London, was also on the flight. He wrote on Twitter: "Scary day, captain and crew saved our lives today".
From the airport terminal, the 24th busiest in the world, passenger Reggie Bugmancher, of Philadelphia, watched in horror as she saw "bursts of flames coming out of the middle of the plane."
"Everyone ran to the windows and people were standing on their chairs, looking out, holding their breath with their hands over their mouths," Ms Bugmancher said.
British Airways released a statement in which they said they were "looking after passengers" as a McCarren airport spokesperson praised the calm thinking and quick actions of crew and passengers.
Register for free to continue reading
Registration is a free and easy way to support our truly independent journalism
By registering, you will also enjoy limited access to Premium articles, exclusive newsletters, commenting, and virtual events with our leading journalists
Already have an account? sign in
Register for free to continue reading
Registration is a free and easy way to support our truly independent journalism
By registering, you will also enjoy limited access to Premium articles, exclusive newsletters, commenting, and virtual events with our leading journalists
Already have an account? sign in
Join our new commenting forum
Join thought-provoking conversations, follow other Independent readers and see their replies